Pasteli | Ancient Greek Honey Sesame bar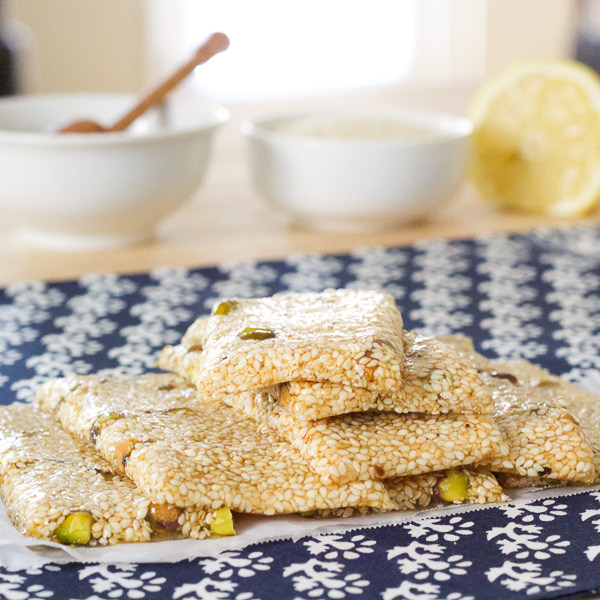 Recipe type:
Ancient Greek
1 cup sesame seeds
⅓ cup pistachios (optional), cut in halves
½ cup honey
1 inch lemon peel
1 teaspoon lemon juice
¼ cup sugar (optional - see notes below)*
Add sesame seeds to pan and cook over low to medium heat until lightly golden brown.
Once done, remove from heat, and empty seeds onto plate to stop them from getting too dark, set aside.
Add honey, lemon peel, lemon juice, and sugar if using, to a pot.
Heat over medium heat until simmering, stir continuously for 5 minutes.
Turn of heat and immediately add sesame seeds and pistachios to honey and mix well.
Empty onto a baking pan lined with parchment paper.
Flatten with back of spatula brushed with olive oil to avoid sticking.
If not using sugar, place in refrigerator and allow to cool for about 20-30 minutes.**
Once it is semi-hard remove and cut into bars or desired shapes (pro tip: wrap each bar in parchment paper and store in container in fridge).
Serve!***
*Adding sugar will make them harder and they should stay firm even while being left at room temperature.
**If using sugar, cool at room temperature and check to see when they become semi-hard and cut into bars. Don't wait too long, as the sugar will make them hard and difficult to cut.
***These will be soft and bendable. They won't be rock hard like in the stores, as this recipe says true to its ancient roots. Store in refrigerator. They make delicious chewy energy bars!
Recipe by
Lemon & Olives
at https://www.lemonandolives.com/pasteli-ancient-greek-honey-sesame-bar/