Greek Quinoa Salad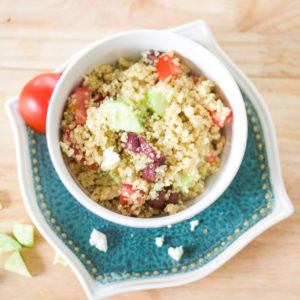 Recipe type:
Appetizer or side
1 cup quinoa
1¾ cups + 1 tablespoon chicken broth
¼ cup olive oil
¼ cup lemon juice (more or less to your preference)
½ cup diced cucumber
½ cup diced tomatoes
¼ cup diced kalamata olives
½ cup crumbled feta
2 tablespoons toasted pine nuts
1 teaspoon oregano
salt and pepper, to taste
Rinse quinoa under cold water and place in pot.
Add chicken broth and bring to boil.
Reduce heat, cover, and simmer for 15 minutes.
Remove from heat and set aside for 5 minutes.
Add quinoa to mixing bowl.
Add in all remaining ingredients, mix well.
Place in fridge to cool.
Serve!