Sfougato | Rhodes Quiche | Greek Style Omelette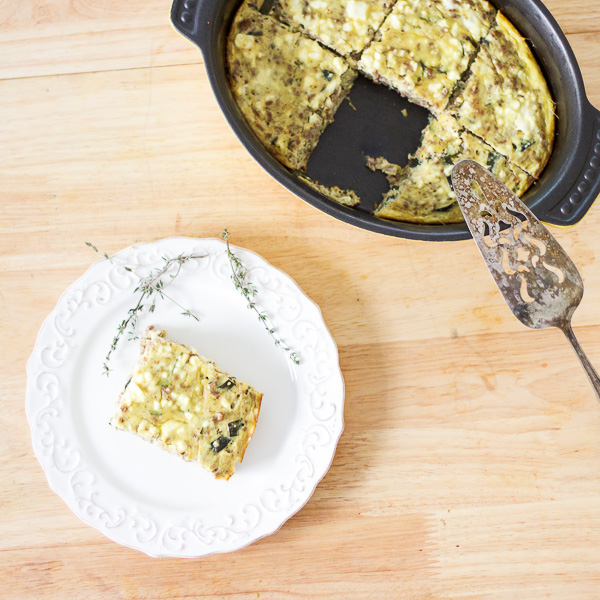 ½ onion, diced
1 garlic clove, pressed (more if you're a garlic lover)
½ pound ground beef
2 small zucchinis, diced
½ cup chicken broth
1-2 sprigs thyme
½ teaspoon oregano
1 tablespoon diced parsley
4 eggs
¼ cup crumbled feta cheese, plus extra for garnish
salt and pepper
Add onions and garlic to an oiled pan. Cook until onions are soft, about 5 minutes.
Add ground beef and cook for another 10 minutes.
Next add: zucchini, chicken broth, thyme, oregano, parsley, and some salt and pepper. Cover and simmer for 30 minutes or until zucchini is soft.
When done, using a slotted spoon, take meat mixture and spoon into a mixing bowl to cool.*
Beat eggs in separate bowl and pour into meat mixture, add feta, and mix well.
Pour into an oven safe dish.
Top with more feta (optional).
Place in preheated oven at 350F for 25-30 minutes, or until eggs are cooked and dish is set.
Serve warm!
Only need about 5 minutes or so to cool a bit.
Recipe by
Lemon & Olives
at https://www.lemonandolives.com/sfougato-rhodes-omelette/