Greek Tomato Fritters | Domatokeftedes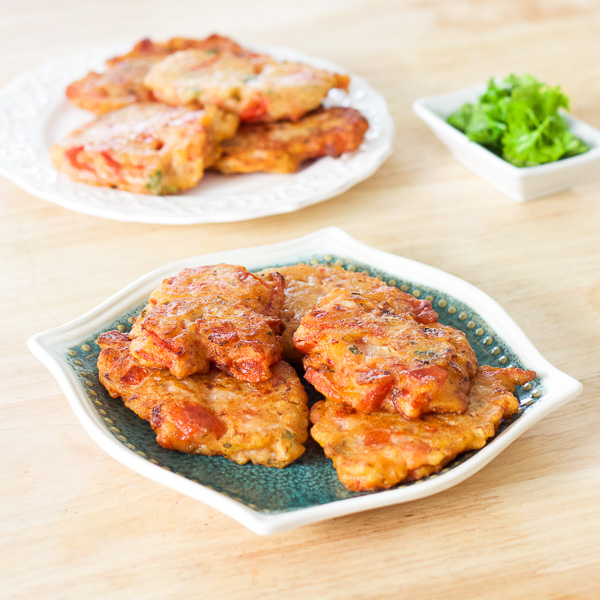 5 roma tomatoes, diced
¾ onion, finely diced*
1 teaspoon oregano
½ teaspoon thyme
1 tablespoon fresh parsley
1 garlic clove, pressed
Salt and pepper
11/2 cups flour**
1 tablespoon bread crumbs (optional)
½ cup olive oil, for frying
Add diced tomatoes to mixing bowl.
Add diced onions, oregano, thyme, parsley, garlic, salt and pepper, mix well.
Add 1 cup flour, mix well and place in fridge for 30 minutes.
Remove and add remaining flour little by little. You want it to resemble a pancake style batter.
If using bread crumbs, mix in now. This is optional and gives it an extra crunch.
Heat oil in pan and add one spoonful of the tomato mixture to create one fritter.
Cook 2-3 minutes on each side, remove and place on a plate lined with a paper towel to absorb excess oil.
Repeat until all mixture is used.
Serve hot.
*if you don't like onion, you may cook them for 5 minutes to tame their flavor. Do this as your first step, set aside to cool and then add in as normal.
**add as much flour as needed to create a batter consistency.
Makes about 12-14 fritters, depending on size.
Recipe by
Lemon & Olives
at https://www.lemonandolives.com/greek-tomato-fritters-domatokeftedes/