Tirokroketes | Fried Cheese Balls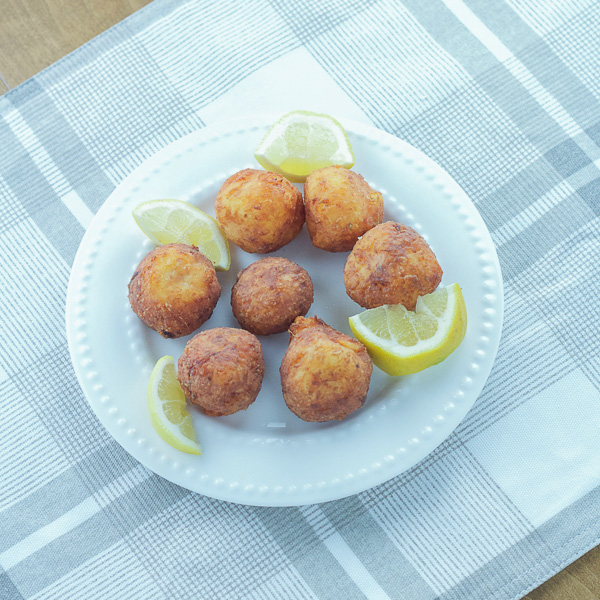 2 oz feta cheese
3 oz smoked gouda cheese, grated
3 oz sharp cheddar cheese, grated
2 eggs (1 whole and 1 egg white)
3 tablespoons panko bread crumbs
a splash of milk
pepper
all purpose flour for coating
vegetable oil for frying
In a mixing bowl, combine the following: feta, gouda, cheddar, eggs, panko bread crumbs, milk and pepper, mix well.
Once everything is thoroughly mixed, cover the bowl with plastic wrap (cling film) and place in the refrigerator for 30 minutes, or until mixture becomes a bit firm.
When the cheese mixture is ready, add some flour to a bowl. This is what we'll use to coat each cheese ball.
Next, heat the vegetable oil in a pan. Once that's nice and hot, we are good to go.
Grab about a spoonful of the cheese mixture and roll it into a ball. Use more or less to achieve desired size.*
Roll the cheese ball in the flour bowl to evenly coat and shake off excess and place in pan. Repeat until all cheese mixture has been used. Make sure not to overcrowd your pan, so fry in stages if needed.
Cook evenly for 3-5 minutes, rotating each ball. They're done when they are a nice light brown/golden color.
When they are done, remove with a slotted spoon and place on plate lined with a paper towel to absorb excess oil.
Squeeze a little lemon juice over (option) and serve hot!
*We recommend not going much bigger than a golf ball, but feel free to adjust to your preference.

Also, feel free to experiment with your favorite cheeses!

Serving depending on size.
Recipe by
Lemon & Olives
at https://www.lemonandolives.com/tirokroketes-fried-cheese-balls/