Greek Chicken Gyro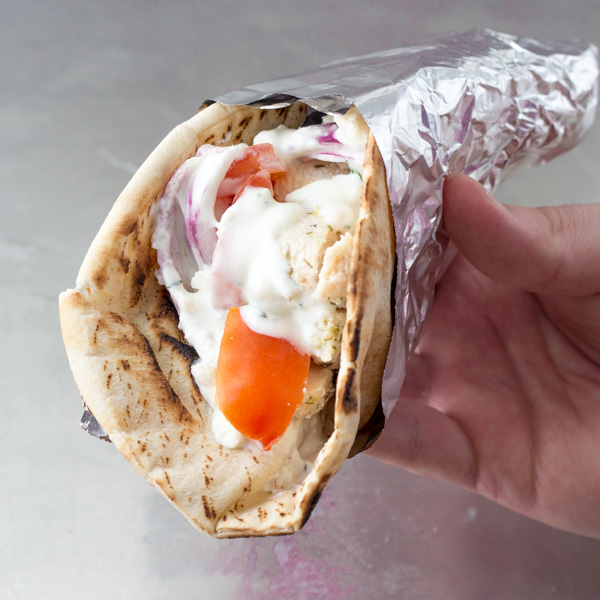 --Cooking The Chicken--
1-2 tablespoons olive oil
½ lemon, juiced
1 tablespoons oregano
½ tablespoon thyme
1 clove garlic, grated (optional)
Zest from ½ lemon
Sea salt and pepper to taste
1-1.5 lbs chicken
--Prepare Chicken Gyro--
4 pitas
3 Roma tomatoes, diced
½ red onion, cut into strips
cooked chicken
8 tablespoons tzatziki (more the better!)
4 tablespoons crumbled feta
-Cooking The Chicken-
In a large bowl, combine: olive oil, lemon juice, oregano, thyme, garlic, lemon zest, and some salt and pepper - mix well. Taste and adjust seasonings as needed.
Once marinade is ready, add chicken and coat, evenly.
Cover and let marinate for 30 mins in the refrigerator.
Ready your BBQ
Place chicken on BBQ and cook for about 6-7mins on each side (this will vary depending on heat so periodically check for doneness).
Once done, remove, and cut into strips.
--Prepare Chicken Gyro--
Warm pitas up on stove or on top rack in bbq, remove and set on plate.
Place chicken on pita and top with: tomatoes, onions, tzatziki and feta.
Enjoy your Greek Chicken Gyro!