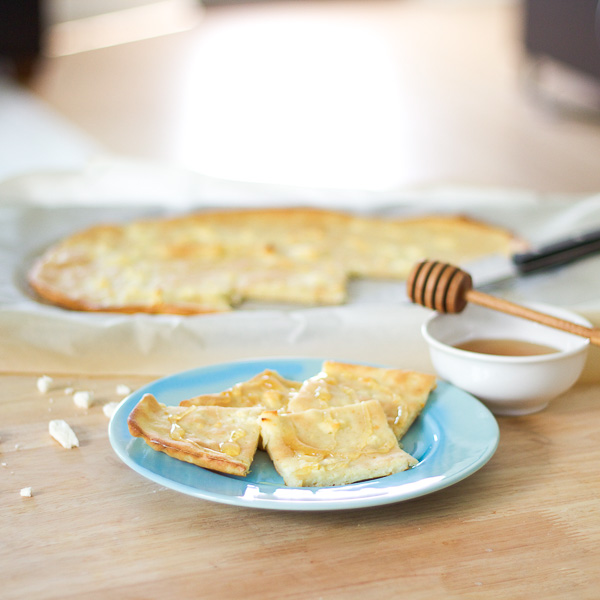 For those of you that have been to Greece, you'll know all about the wonderful mezethes (μεζέδες), but for those of you that aren't sure what they are, there Greece's tapas, small bites, or appetizers.
The Greek meze can be all types of things, from Kolokythokeftedes to Dolmathes, it's the perfect way to try a plethora of different foods. Actually, a lot of main dishes can be had as a meze in places across Greece.
Just picture sitting in a taverna in Santorini overlooking the water, a few small dishes of food, and a glass of wine (or ouzo if you're looking for some courage to attempt the Hasapiko – χασάπικο in front of the fellow guests). Ahhh…
This meze is one of my personal favorites, because it's not only very easy to make, but it is also full of cheese – a perfect combination Jane and I love.
Know as Τηγανόπιτα Με φετα (Tiganopita Me Feta), it is more or less a feta pancake. It has the texture like one, and goes great paired with a sugary syrup – in this case honey.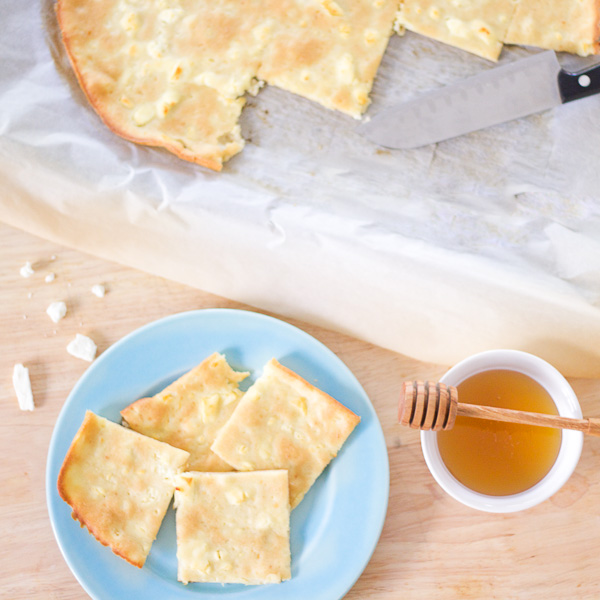 Unlike a pancake however, you bake this on a baking sheet and cut it to desired sizes once it's cooked. It really is a simple dish to make, and a quick way to feed guests/family in the morning.
While you'd be hard pressed to find this served during breakfast time in Greece, as it's usually served as a mid-day appetizer, it doesn't stop Jane and I from having it on Sunday mornings.
The saltiness of the feta infuses the flour, and when it's solidified, the sweet honey brings it all together.
As always, we hope this recipe enters your cooking rotation.
Enjoy!
Kenton & Jane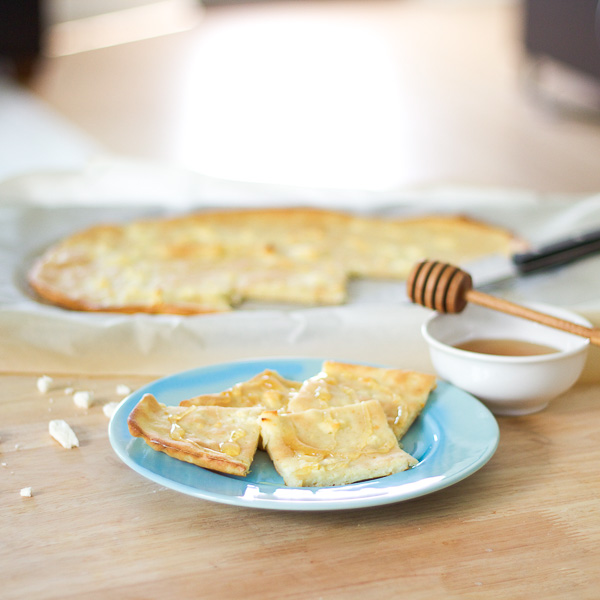 Feta Cheese Pancake | Tiganopita Me Feta
A Greek feta cheese style pancake.
Ingredients
3/4 cup flour
2 eggs
1 cup water
1 teaspoon honey
1 teaspoon olive oil
2 tablespoons butter, melted
4 ounces feta, crumbled, plus extra for topping
Pepper
Instructions
In bowl, beat eggs and add water, honey, and olive oil, mix.
Add in flour, melted butter, and some pepper, mix well.
Cover and let sit for 20 minutes, or until it thickens a bit.*
During this time, preheat oven to 400F.
Once batter has thickened, mix in 4 ounces of feta.
Pour onto baking sheet lined with parchment paper.
Sprinkle some extra feta over top.
Bake in oven for 25-30 minutes, or until golden brown.
Remove, cut into small squares or to preference.
Serve with honey.
Notes
*while it sits, the flour will absorb more of the liquid. You're looking for it to be a lose pancake batter. Skipping this step and adding more flour to speed up the process may result in the flour altering the taste.
Nutrition Information:
Yield:

3
Serving Size:

1 grams
Amount Per Serving:
Unsaturated Fat:

0g
Recipe adapted from:
The Foods of The Greek Islands