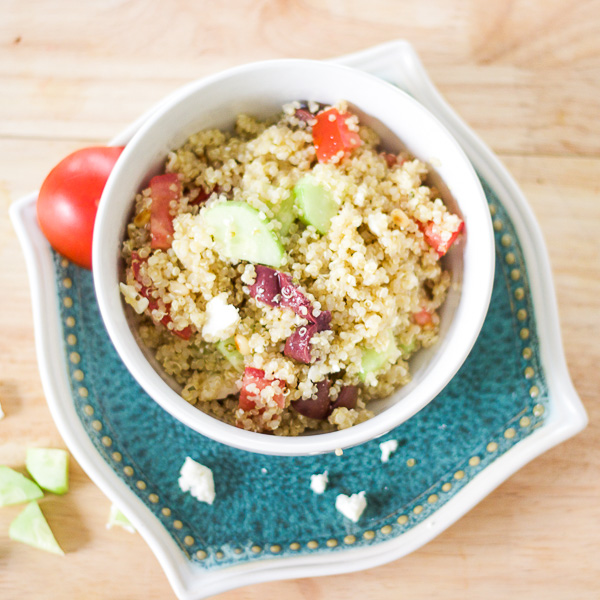 I'm happy to report that the new design has been getting great reviews. We've been so happy with it. It's mobile responsive, which is great because more and more people find us on their phone. So if there is a recipe you like, pulling it up on your mobile device while you're in the kitchen is no problem and pages load perfectly.
We've also started to experiment with different ads. This blog has really become a blessing to us, and we're starting to spend more and more time, money, and energy on it. Thinking of ways to help offset that will be one of our many focus points in year 2.
By the way, we have a whole series on how to start a food blog if you're interested. It really is a great way to document food and explore different types of cuisine – like today's recipe.
Quinoa – Greek Style.
Quinoa (pronounced: keenwa), it seems to be all the rage lately. At least here in the US, this grain has risen to the top of everyone's list. I recently noticed that they are now selling boxes of "pasta" and "pasta shells" made out of quinoa.
I can see why there is love for this grain, as it is high in protein, lacks gluten, and since it comes from a plant and is natural, it's easy on the body.
Jane is in love with it. As a matter of fact, she's pretty much solely responsible for this recipe. As she makes this at least once a week as a side with dinner or lunch. Since it's something we eat often, she wanted to take it and give it a Greek twist.
What we ended up with is something resembling a traditional Greek salad interwoven with this lovely grain. As with the horiatiki salad, the flavors work well and stand nicely against each other for a perfect balance, we mimicked that here – with the added crunch of toasted pine nuts.
The trick is cooking the quinoa in chicken broth, so it absorbs a nice flavor and just adds another layer of flavor.
As you'll see from the recipe below, it's very easy to make and requires little time.
We hope you enjoy this recipe. Tonight, let's give quinoa a Greek twist!
Kali Orexi,
Kenton & Jane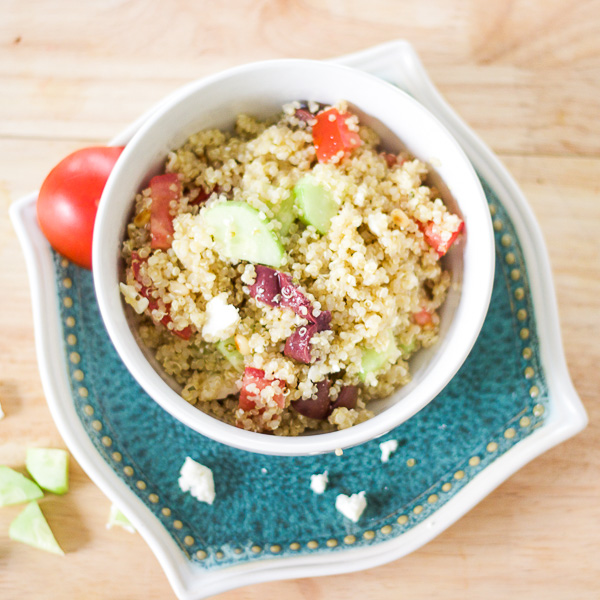 Greek Quinoa Salad
Greek quinoa salad recipe
Ingredients
1 cup quinoa
1 3/4 cups + 1 tablespoon chicken broth
1/4 cup olive oil
1/4 cup lemon juice, more or less to your preference
1/2 cup diced cucumber
1/2 cup diced tomatoes
1/4 cup diced kalamata olives
1/2 cup crumbled feta
2 tablespoons toasted pine nuts
1 teaspoon oregano
salt and pepper, to taste
Instructions
Rinse quinoa under cold water and place in pot.
Add chicken broth and bring to boil.
Reduce heat, cover, and simmer for 15 minutes.
Remove from heat and set aside for 5 minutes.
Add quinoa to mixing bowl.
Add in all remaining ingredients, mix well.
Place in fridge to cool.
Serve!
Nutrition Information:
Yield:

4
Serving Size:

1 grams
Amount Per Serving:
Unsaturated Fat:

0g