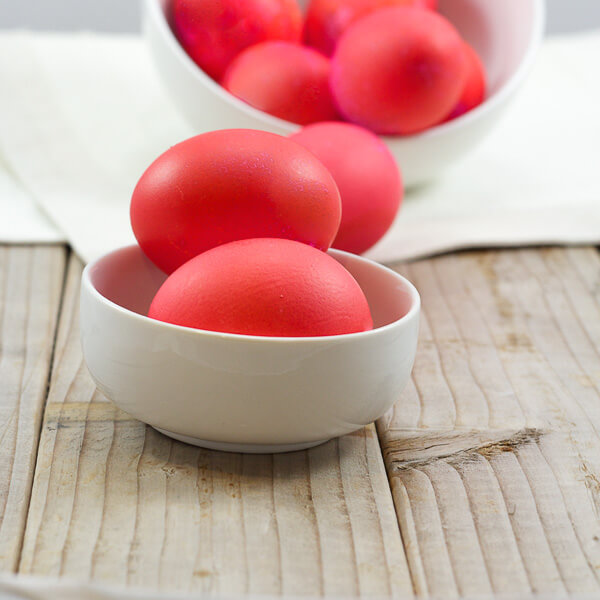 Alright, it's that time of the year again. Greeks get your eggs ready!
Okay, so what exactly are you talking about, Kenton? I'm talking about the age old Greek Easter game, where people will gather around the table and discuss their best techniques and someone gets yelled at for holding their egg too close to the top while letting someone else hit it. Yes, it's an egg tapping game we call: Tsougrisma (τσούγκρισμα).
When I was younger, I remember my pappou (grandpa) going through all the dyed eggs searching for the right one – it's a serious game folks.
How Does The Game Work?
Basically, everyone chooses their dyed egg, which is always red, representing the blood of Christ. If you're wondering, there is no other color used, and Greeks don't hide Easter eggs like you may find in the US and various parts of the world. However, this egg tapping game can be found in other countries as well.
Once everyone picked their egg, we normally had the eldest person go first. That person, in my family it was always my grandpa, would line up their egg with the second oldest person's, and hit it – tip to tip. The hit had to be on the tip, and while there were many arguments about if the crack was justified, there would eventually be a winner.
So, each person takes turns hitting each other's egg. If your egg breaks, you're out. If it doesn't you then hit the next person's. The one his is left with an unbroken game is the winner and is said to have good luck the rest of the year!
Something we did, and I'm not too sure if this is traditional or what, but the winner would hold onto the egg and keep it in the fridge until the following Easter. It was like a good luck charm I suppose. Last year, I won (Jane came in second), and yes, it's still in our fridge! Surviving a move and everything.
Dyeing The Easter Eggs
Last year, we did an organic route. We used beets. They didn't come out really dark, but it served a purpose.
We juiced 6 beets and placed some hard boiled eggs in and let it sit for about an hour.
This year? Well, we just bought the dye that you can find at the store. We had to buy a few packs as we only needed the red tablet. Next year we want to try the onion dye, which is supposed to make nice red eggs.
To complete your Greek Easter experience, make sure you bake some fresh tsoureki and the delicious butter cookie, Koulourakia.
You could also cook up some lamb recipes like Lamb Chops or Baked Lamb With Oregano
Happy Easter (Καλό Πάσχα – Kalo Pasha) from Jane and I!