Since summer is approaching, and people are planning their trips around the world (hopefully to Greece!), Jane and I thought it would be fun to start doing travel posts. We cover Greek food and culture – why not travel?
Have no fear, once summer has passed and we're all back to the work grind, we'll continue to write these – as a way for all of us to take a quick trip to the shores of Greece. This will become a staple here at Lemon & Olives.
So without further adieu, let's take a peek at what WE think are 5 sites most people miss/don't notice too much while visiting Greece because, well, there's so much other cool stuff to see.
1. D'Amboise Gate
Rhodes (Ρόδος) is an island in the Dodecanese region of Greece. It is packed with history and was home to one of the 7 wonders of the ancient world – The Colossus of Rhodes. A huge statue of the Greek titan, Helios, which stood over 98 feet tall before it was removed due to an earthquake in 226 BC. On the island are the remains of an medieval fort built by the Order of Hospitallers, a Christian military order during the 1300's.
The reason to capture and fortify an island? The vantage point of the Aegean and the ability to monitor and interfere with trade from east and west if needed.
What's really cool about this is that the "new" town is actually separate from the "old." Thus most of the fortress is still intact outside the city. This unique opportunity gives visitors a chance to experience two different times.
A lot of towers, cannons stands, weapon vantage points, etc., all still exist and can be seen. It's a great way to see the remains of a military castle encompassing a town that protected as much as it laid siege to enemy approaching ships.
If you like medieval history, this is a place to see as it's one of the best preserved medieval towns in Europe. So go ahead – walk through the Grand master gate entrance know as D'Amboise.
Rest assure, if you're significant other or traveling partner wants to head to this island and you're not a fortress buff, there is still a lot to see, like old churches, a temple, stadium, and a theater all dating back to days long forgotten.
2. Melissani Cave
Something most don't know: Greece has tons of caves – more than most countries in Europe. Some have recently been explored and others are still in the works of being excavated. There have been over 8,500 discovered to date! You could literally write a book about the caves of Greece (Hmm…that's a good idea). For an overview of caves, check out VisitGreece's Cave section.
The one in this picture is the Melissani Cave. Discovered in 1951, it's a cave of beauty. What makes this one to see is the roof has fallen in, creating a beautiful sunbeam that shines in enhancing the clear blue waters. Words cannot describe being in the center of it on a small boat (you can join a tour group nearby).
According to Greek mythology, Melissani was the cave used by the nymphs. During antiquity, the cave was established as a place of worship and was dedicated to Pan and Nymph Melissanthi. The lake is also the location that Melissanthi committed suicide because Pan did not reciprocate the love she showed him.
It truly is a sight to see. If you can't get to this one – research where you'll be going and be sure to include a Greek cave into your travels.
This cave is located on the island of Cephalonia and is part of the Ionian islands. It's nearest the village of Karavomilos.
3. The Church of the Holy Apostles – Athens
Located in the Ancient Agora of Athens (northwest of the Acropolis). Yes, it's located in a "touristy" part of Greece, but I feel like a lot of people miss it because there is so much to see in and around the area – like the Parthenon, Acropolis, and the new museum. This site doesn't get the attention it deserves! I know on my first visit to Athens, I didn't see this, so I thought it would be good to put it on the list. Others may have seen it, but didn't know much about it or even remember noticing it among all the other big sights to see in the area.
The church, built around the late 900's, is a thing of beauty. It's one of only two building in the Agora to have survived from the foundation up. It was also the first church built during the Byzantine period in Athens. That in itself is something worth taking the trip and spending the money to get the Ancient Agora ticket.
It's exterior is made with some kind of red brick (not an architect major), it kind of reminds me of old university buildings here in the USA. Much like Royce Hall at my alma mater (UCLA).
Built in a column supporting dome fashion, it was fully restored in the 50's and contains beautiful paintings and a detailed painting on the underside of the dome.
I'm a fan of checking out churches when I can. A lot of time, money, and passion normally went into building ancient churches, so their paintings and artifacts were created from people who were the best of the best. You'll see walls made of gold, or wooden panels with 100s of small figurines carved out – some churches are truly amazing to see. Whether you're religious or not, or whether it's your religion or not – check them out, they could be some of the best places you'll ever see.
4. Treasury of Athens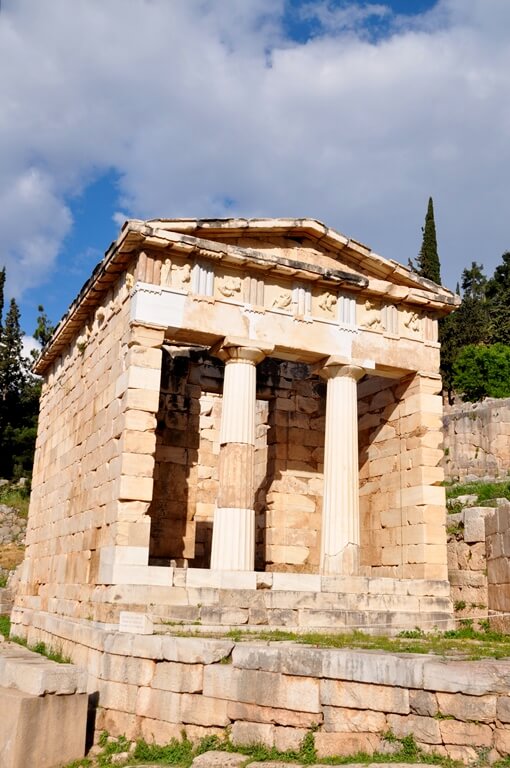 Another site I think is missed or not known about is the Treasury of Athens. Located in the historically significant Delphi. You may have heard of this area since it's home to the Temple at Apollo- that housed the oracle. Most people go there to see that and or only know of that, but Delphi has lots to offer and it's definitely a place you should put on your list!
The restored treasury was erected to commemorate to not only signify the Athenians' victory at the Battle of Marathon in 490 BC, but also to store its spoils. It was basically a building that housed the most awesome of treasures of war – can you imagine what must have been concealed within its walls at one time? Talk about bling!
On the platform of this building there is an inscription dating back to 490 BCE that states:
ΑΘΕΝΑΙΟΙ Τ[Ο]Ι ΑΠΟΛΛΟΝ[Ι ΑΠΟ ΜΕΔ]ΟΝ ΑΚ[ΡΟΘ]ΙΝΙΑ ΤΕΣ ΜΑΡΑΘ[Ο]ΝΙ Μ[ΑΧΕ]Σ
The Athenians [dedicated this] to Apollo as first-fruits from the Persians at the Battle of Marathon.
Another interesting fact: Zeus, in a quest to find the center of Gaia (Earth) sent two eagles flying from the east and west. The area the two eagles crossed? Delphi, and it was then considered the center of earth.
5. The Greek Café
I think this is the most controversial number. I know what you're thinking – Kenton, this isn't a historical site. I know I know, but it's on here for good reason.
You see, to truly experience Greece, you need to eat the food; the real foods of Greece. So many times I see tourist packing into a burger chain or other major fast food/restaurant place because they are familiar with it from back home. NO! Don't do this. I mean, you can if you love it, but traveling is all about getting outside your comfort zone. Don't be afraid to step into a little cafe you see on a side street or in a part of town you're in. It's what Greeks do.
Essentially, experiencing the ancient ruins is only 1/2 of visiting Greece.
Yes, some Greek words in the Cafe's are long. Yes, they may display foods you're unfamiliar with or maybe wouldn't eat – but Greeks do. Going in, you're more than always find an English speaker who can explain the foods to you. You'll find something you like and can enjoy it with a nice glass of ouzo. And after you have some ouzo? You'll be happy 😉 Additionally, you'll be taking in one of the best things Greece has to offer – culture. The locals will talk to you. You will get water served with coffee. You'll be introduce to some amazing foods, and people are more than happy to give you tips, advice, and point you in the right direction of where you want to go.
Also, some cafe's are neatly decorated, so there are always cool things to see inside.
I want to take a second to mention service, especially for people that don't live in Europe. In Greece, eating is an event, not a quick 30min to 1hr meal. It's a time to relax in good company, talk, discuss, argue, and make up. As for the talking, no they're not going to start wrestling on the floor- Greeks are passionate and they talk with their hands.
You could stay there all day sipping coffee and talking and no one would think anything of it. So in a way, it's a great place to relax after a long day of sight seeing. Just keep in mind the customs of the place you're in.
Lastly, you're helping small business owners, most of which have had the cafe for years and years, so that's always a good thing.
So, while you're in Greece – visit one cafe after another. Some are tucked away in town, others are along the water where you can enjoy some of the best sunsets around.
Lastly, considering most Greeks don't eat dinner until 10pm (yes, 10pm), they are lively at night and full of people discussing their day. It's a fantastic experience and one you'll gain no other way.
In the end, that's what Greece and traveling is all about: experiences.
OK, now back to your travel planning.
Source: Wikipedia