A Cod recipe with spinach artichoke spread…yeah, with creamy delicious Greek yogurt and cream cheese. Salivating!
One of the things Jane and I have been actively working on lately is upping our fish cooking game. We often take a step back from the kitchen and try to evaluate what we've been cooking and what we've been doing. We always feel like we could cook more fish – especially because it's a staple in the Greek Mediterranean diet lifestyle.
We love fish. We eat it a lot, but we tend to stick to the recipes we have in our Greek fish recipe section so we want to expand that, and it's starting today with this friendly Mediterranean fish recipe! Yay for Cod With Spinach Artichoke Spread!
Delicious Cod
We love cod. Maybe because when we did our graduate work in the UK, where we had fish and chips regularly which happened to be cod (at least where we lived). Additionally, since it's a white fish, our favorite, it's light on the palette and very easy to eat. It goes with a lot of different sides and toppings as well.
Cod is quite a healthy fish as well. One serving (1 fillet which is about 231 grams) comes in at 189 calories. To this, it only contains 1.5g of fat and 0 carbs.
However, it's packed with potassium (954mg), protein (41 grams), and vitamin D, B-12, B-6, and magnesium.
Yeah, that's a lot in just one serving. Especially the 41 grams of protein, which is a huge amount. When you have an active lifestyle, this is a huge plus. Your body will know exactly how to utilize those proteins to rebuild your muscles.
Spinach Artichoke Spread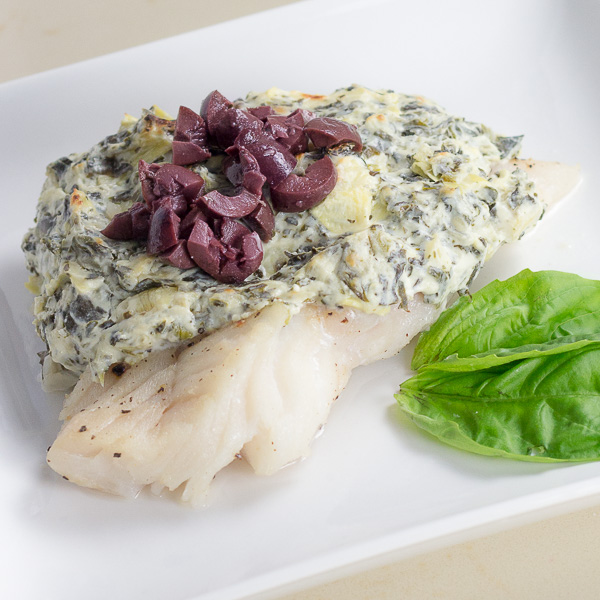 We started off looking for a healthy topping to add over the fish that went beyond lemon juice. We wanted something to enhance the flavors and bring new and exciting elements to this cod fish recipe.
We had a lot of greek yogurt in our fridge, like we always do, and we thought a greek yogurt spread could work. We couldn't stop thinking about a delicious spinach artichoke dip that we saw on a menu the other day because, well, it's amazing. Also, it sounded good over the fish (or anything). We found a fellow food blogger's delicious recipe to use where we could incorporate the Greek yogurt into the dip.
Surprising fact, cheese on fish is actually pretty good. I know you may think it's an unlikely combination, but something about the ingredients just work. Food science maybe? Ha.
We'll actually be posting a similar type spread as a stand alone recipe later because we found it works on so many other things besides fish, which turned out to be a great positive – one recipe for a variety of different things.
The Outcome
Cod cooks wonderfully. It becomes a bit flaky and the mildness of it makes it a great fish for beginners or for people who aren't 100% a fan of fish entrees.
The creaminess of the spinach artichoke spread seriously took the fish to a whole new level. It did exactly what we wanted, it brought new and excited flavors to the cod recipe and also introduced something extra. The little bit of saltiness that was added by putting the Kalamata olives on top was just the icing on the…fish, if you will.
We love this Cod With Spinach Artichoke Spread recipe, and we hope you will, too! Enjoy!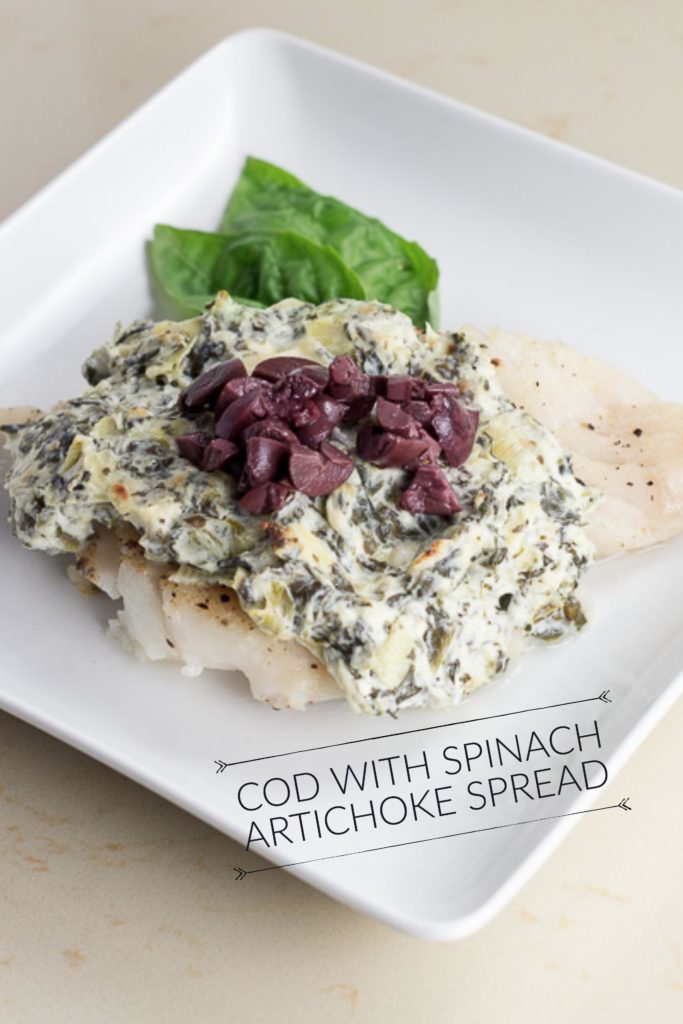 Cod With Spinach Artichoke Spread
A delicious cod recipe topped with a a creamy spinach artichoke spread and kalamata olives
Ingredients
-Spinach Artichoke Dip-
1 fresh jalapeño, seeded and diced
2 cups nonfat Greek yogurt
8 oz reduced fat cream cheese
2 tablespoons butter
1 ½ cups parmesan cheese
15 oz artichoke hearts, drained and lightly chopped
10 oz bag frozen spinach, thawed and drained*
3 garlic cloves, diced
-Fish Fillets-
1 tablespoon olive oil
2 cod fillets, fresh or thawed
7 Kalamata olives, chopped
Instructions
-Artichoke Dip-
Add diced jalapeño to medium saucepan over medium-high heat, stirring occasionally until fragrant and a bit softer in texture.
Add remaining ingredients to the pan. Cook until cheese has melted, stirring often.
Once everything has blended together and has become easier to stir, allow to slightly bubble for a few minutes then remove from heat and set aside.
-Cod-
Heat olive oil large skillet over medium-high heat.
Add cod to pan and cook for 4-5 minutes, then flip and cook for another 4-5 minutes.
When cod is finished, remove and plate.
Now, take a spoonful (or as much as you'd like!) of the spinach artichoke spread and place it over the top of each cod.
Sprinkle kalamata olives over each piece of fish.
Serve with your favorite side.
Notes
*Make sure to squeeze out all the liquid before using. Doing it in sections will enable you to remove as much liquid as possible from the thawed spinach.

-Serving is 2, since we're using 2 pieces of fish. However, you will have extra spinach artichoke spread so you can easily double the amount of fish, or save it in the fridge for something else!
Nutrition Information:
Yield:

2
Serving Size:

1 grams
Amount Per Serving:
Unsaturated Fat:

0g