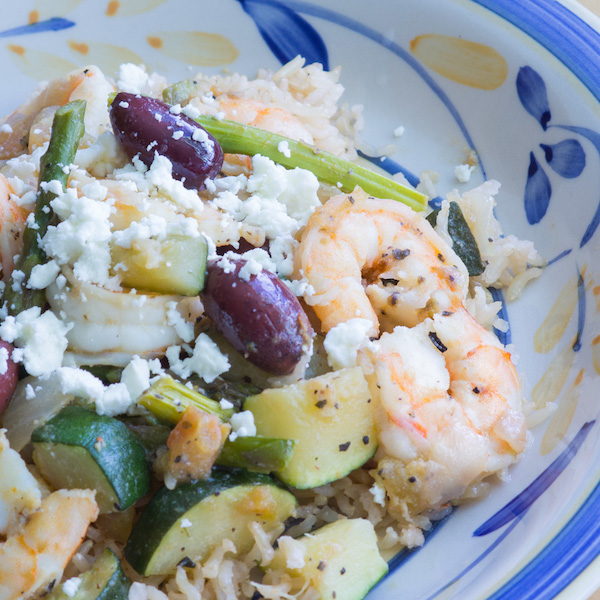 Mediterranean shrimp stir fry – a simple, delicious and healthy way to serve up a Greek inspired dinner.
One of our favorite things to do while we're in the kitchen is utilize our knowledge from exploring Greek cuisine and apply it to other dishes. Overall, eating Greek food is eating Mediterranean food, and with that comes a whole world of healthy recipes that we like to share.
As we've been traveling outside the US, we've been really inspired by seeing elements of Greece found within many foods outside the region. Granted Greece probably didn't' have a direct affect on everything we see, it's just a nice reminder that healthy foods, seasonal eating, and thinking about what you put in your body are intertwined within the food of Greece, so if you're eating Greek, you're doing all three of things without even thinking (no sorry, this doesn't mean you get to eat galaktoboureko all the time!).
Mediterranean Shrimp Stir Fry
Take this shrimp recipe for example. We love to eat shrimp, and tend to have some on hand a few times a month. While we love making shrimp saganaki, there are times where we like to get creative and incorporate that Greek Mediterranean flare. Sometimes, it's good to remember that healthy foods that are also delicious are not necessarily time consuming to make.
We always start with things that remind us of Greece and ingredients found within the cuisine. In this recipe, that's: lemons, feta, olives, and oregano. Arguably, all the ingredients could be included, except for say pepper flakes, because Greek food doesn't tend to utilize spicy things.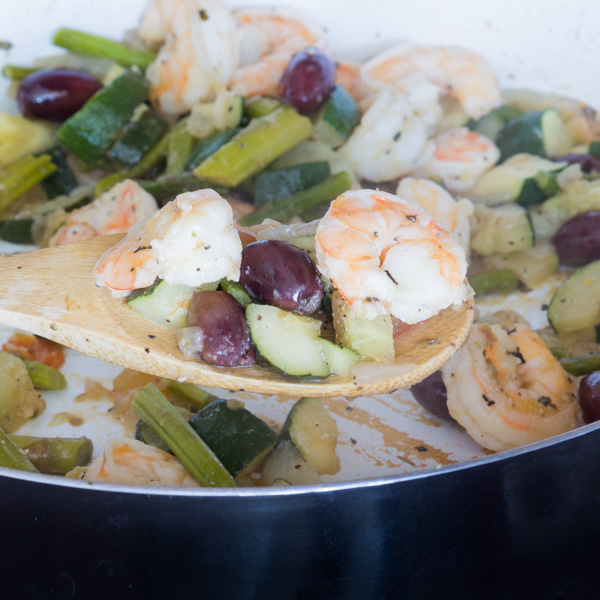 Using a fish just makes things light and low in calories (and healthy), we had shrimp on hand, so that's what we used. Always use what you have first – buy only what you need, unless you're making something in particular.
For us, the flavor combinations of lemon, garlic, feta, olives, tomatoes just seem to go so well with shrimp. Overall, this dish has the right balance of acidity, saltiness, spice, and flavors that make it delicious and healthy all at the same time.
Make It Your Own
One of the great things with stir frys is that it's pretty easy to adjust them to make them your own. Want to skip the marinade or alter is completely? Go for it! Want to add different veggies? Done! Want to add more or less herbs, and spices – check. They are pretty fail safe, so don't be afraid to explore – if you keep the shrimp separate, you can always taste as you go. If you do add shrimp, just make sure it's all cooked before tasting. Go ahead, get creative and let us know what Mediterranean shrimp stir fry you come up with!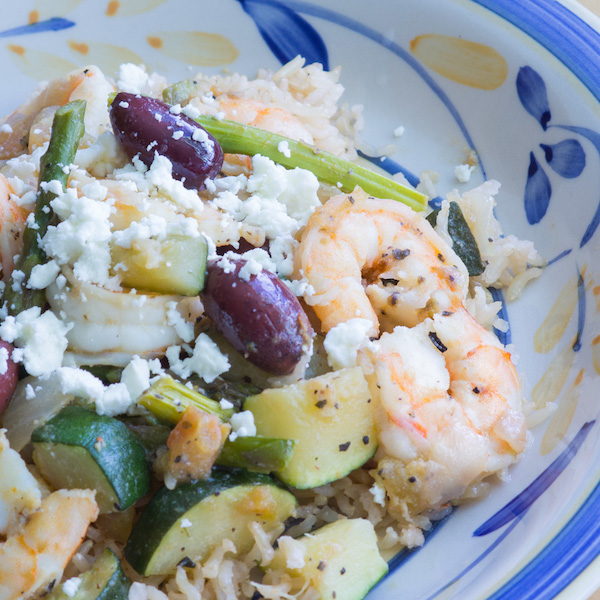 Mediterranean Shrimp Stir Fry
A simple and healthy Greek Mediterranean friendly recipe.
Ingredients
Marinade
¼ cup lemon juice
¼ cup olive oil
½ teaspoon onion powder
½ teaspoon garlic powder
Stir Fry
14 ounces of shrimp, cleaned and deveined
½ onion, chopped
2 zucchinis, quartered, sliced into ½ inch pieces
½ bunch asparagus, chopped
1 to mato, chopped
1 garlic clove, pressed
½ tablespoon basil
½ teaspoon oregano
¼ teaspoon sea salt
¼ teaspoon pepper
Dash red pepper flakes
½ cup Kalamata olives, pitted
Crumbled feta for topping
Instructions
In a bowl, add lemon juice, olive oil, onion and garlic powder. Add shrimp and mix well.
Place in refrigerator for 30 minutes to marinate.
Once done marinating, empty into a pan and cook shrimp for 3-5 minutes, until done (pink), and set shrimp aside.
In same pan, add onion and cook for 3 minutes.
Add in zucchini, asparagus, tomato, garlic, basil, oregano, salt and pepper, and red pepper flakes, cook for 2-3 minutes.
Add shrimp back in along with the Kalamata olives and mix.
Remove Mediterranean shrimp stir fry from heat.
Place some of the Mediterranean shrimp stir fry on a plate, top with crumbled feta, and serve!
Notes
Can be served by itself or over some brown rice for a healthy carb boost.
Nutrition Information:
Yield:

4
Serving Size:

1 grams
Amount Per Serving:
Unsaturated Fat:

0g