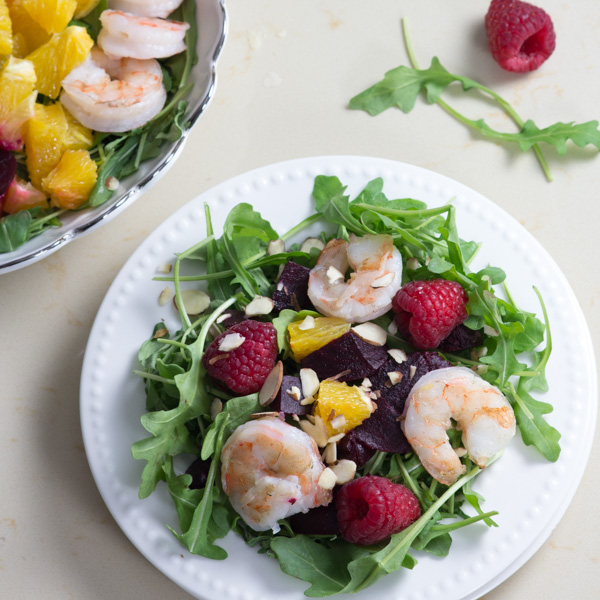 The Valentine's Day Salad was inspired after a dish that I recently ate at a nice restaurant. It had some of the qualities of a Mediterranean salad but I wanted more. I wanted shrimp. I wanted berries. I wanted a homemade raspberry vinaigrette that would tie it all together, so I just created it myself.
Introducing Shrimp and Arugula Salad with Raspberry Vinaigrette. There are punches of citrus, robust beet, crunchy almond, and smooth avocado that will send you on a tailspin. It's incredible. And those aren't even all of the ingredients! There is also a pretty important reason that I am calling it the Valentine's Day Salad, too. The reason I am naming it after the Saint for love. *Fun Fact: The Greek God of Love is named Eros (Ερως), commonly known by the latin equivalent – Cupid*
Let's go back to the restaurant visit before I get carried away. I decided to meet a friend for dinner this evening, someone that I used to work with. She and I wanted to grab dinner and then head to a movie after. Dinner was lovely and we even had a glass of champagne to celebrate our seeing each other again after a while (there doesn't need to be much of an excuse to have champagne to be honest). It was what happened after dinner that struck me as so generous and sweet. My friend offered to pay for my dinner. I refused immediately of course but then she explained why.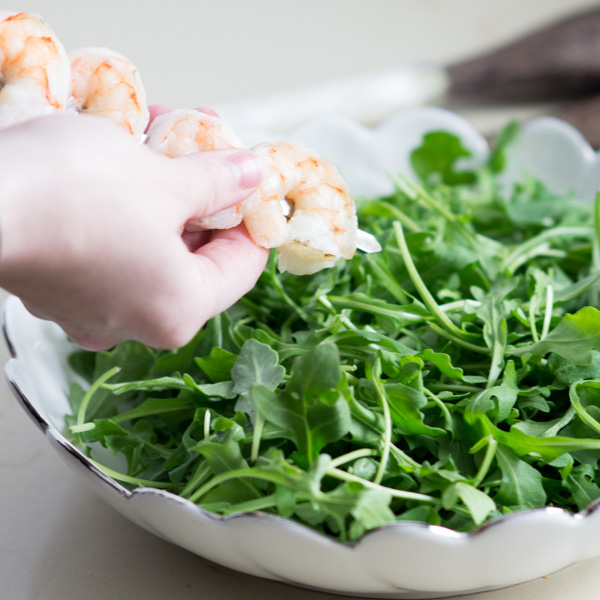 Shrimp and Arugula Salad with Raspberry Vinaigrette
My friend said that at her church service, they recommended everyone use the 5 Love Languages Book as inspiration to do something nice for 5 people of their choice. They could do anything from Giving a Gift (her paying for my dinner) to Touch (like giving a warm hug or handshake). If you have not read the book, The 5 Love Languages are: Words of Affirmation, Acts of Service, Receiving Gifts, Quality Time, and Physical Touch. You can learn more about it by clicking the link above. So my friend gave me a warm and receiving hug when I saw her, spent quality time with me, paid for my dinner, gave me lots of kudos for Lemon and Olives, and I'm sure she did an Act of Service in there as well. All in all, I loved the idea! She would attempt to do these things for each person – one person per month (so you don't try to do too much at once).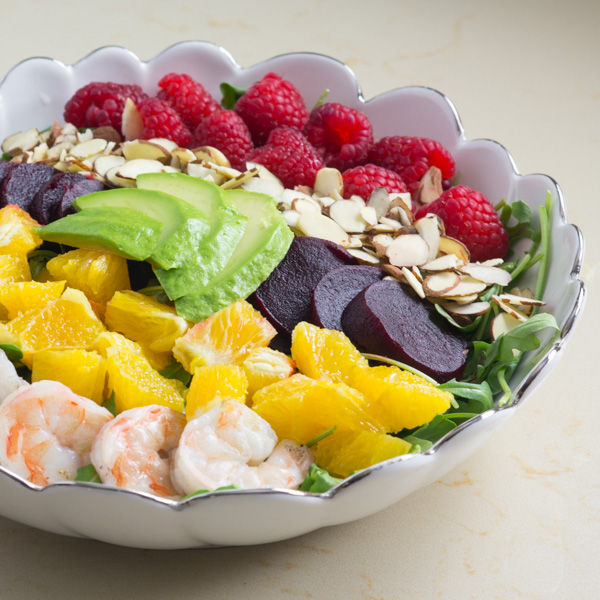 With Valentine's Day right around the corner, I thought it would be a good challenge to pick ONE person that you want to do this with and try to hit all 5 Love Languages. Based on their reaction to any given language, you may even find their love language of choice. I am not a huge Valentine celebrator, mostly because I feel like it involves forced gifts and money to spend that really isn't necessary. But this challenge that my friend took on, or that I am challenging you to take on, seems to have a lot more meaning. There is so much more involved and I think it would bring about a bit of happiness that simple flowers or chocolates may not do.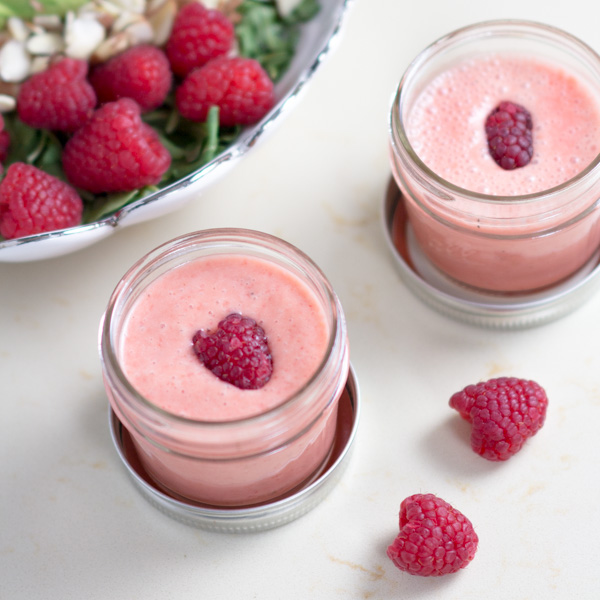 The Valentine's Day Salad that I made now has so much more meaning than just a salad. It's inspiration that came out of a dinner where a beautiful act of kindness, actually, several acts of kindness, were bestowed upon me. Now I am sharing the Valentine's Day Salad with you. The name is super fitting given that it has the most popular Valentine's Day colors in it, like red (beets and raspberries) and pink (raspberry vinaigrette). It's so incredibly mouth watering, beautiful to serve, and overtly healthy. It is my recommendation for a romantic dinner night spent at home. You can even serve it with a filet mignon or Greek Inspired Ribeye to get the whole surf and turf feel. Add a nice glass of wine and you're in for a perfect night! Happy Valentine's Day and enjoy this shrimp and arugula salad with raspberry vinaigrette!
If you want to learn more about St. Valentine, click here. If you want to learn about the Greek Goddess of Love check out our article here.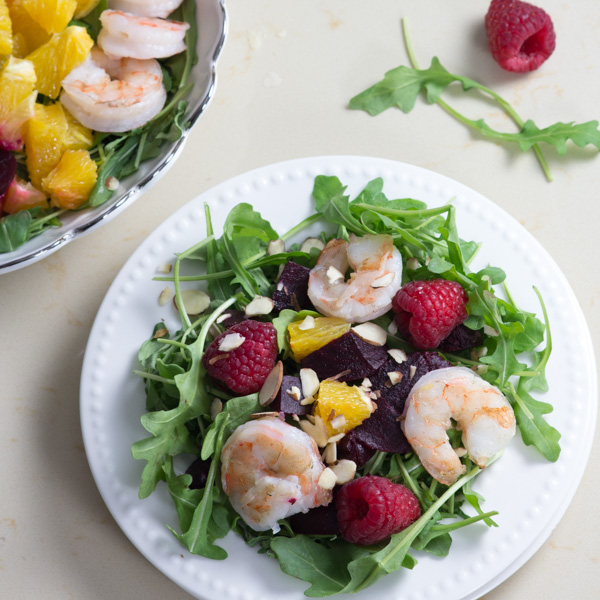 Valentine's Day Salad
The Valentine's Day Salad is an easily customizable, pretty to serve, delicious salad! It can be served up with a homemade vinaigrette (see below) or any dressing of your choice.
Ingredients
*The Valentine's Day Salad*
2 cups arugula
6 oz pre-made beets, preserved in a vinegar base (canned or from the produce department)
1 naval orange
3 oz raspberries
1 avocado
½ cup sliced almonds
½ cup feta cheese
½ lb shrimp, shells removed and deveined, grilled with garlic salt (3-5 mins per side)
Dash of chia seeds for topping, optional
*Raspberry Vinaigrette*
½ cup fresh raspberries
¼ cup red wine vinegar
¼ cup greek honey
½-¾ cup greek olive oil
2 tbsp water
Salt and pepper
Instructions
Add arugula to a medium sized serving bowl, top with rest of ingredients, except for the avocado and chia seeds. Line the ingredients up in rows for a pretty awesome presentation.
Top with avocado and chia seeds.
For vinaigrette, blend all of the ingredients together in a food processor or Nutribullet and taste to adjust seasonings as preferred.
Drizzle The Valentine's Day Salad with the homemade Raspberry Vinaigrette and serve. From our hearts to yours, Happy Valentine's Day!
Nutrition Information:
Yield:

4
Serving Size:

1 grams
Amount Per Serving:
Unsaturated Fat:

0g