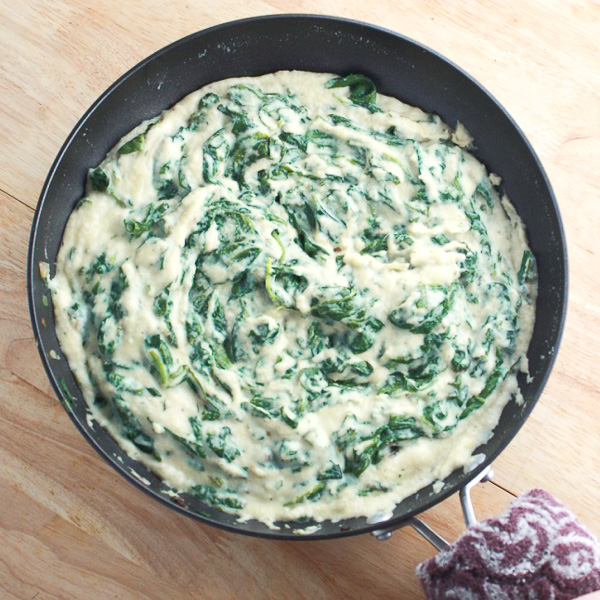 It's Tuesday night and it's dinner time. Jane and I have finished our workout, headed to the store for dinner ingredients, cooked said ingredients, and have sat down to watch one of our favorite shows – Hell's Kitchen.
Jane and I are big fans of anything chef Ramsay does. From everything from his BBC shows like the F-Word, to his non-cooking Hotel Hell type shows, we just like the guy. We admire his crazy work ethic, and his love and passion for food. I mean he does currently hold 14 Michelin stars.
If you've never seen Hell's Kitchen before, it's basically a cooking competition where the winner gets a $250,000/yr salary as head chef at one of chef Ramsay's restaurants. However, along the way, there's challenges, and the overwhelming fact that you have chef Ramsay screaming at you saying all kinds of things. It's an entertaining show to say the least. You don't really learn how to cook, that would be another one of his shows like, "Home Cooking."
Anyhow, sometimes they have themes for the show where the chefs have to create recipes based on a specific country, and can you guess which country was last weeks?
Yep, Greece! Ελλάδα!
Watch below as chef Ramsay announces it, and see all the Greek dances come out
During the show, they had to run up and smash plates on the ground which would reveal what ingredients they had to cook with in their challenge. Additionally, they always have a guest judge come on that's noted in the field of whatever cuisine they are cooking to help score the dishes.
Since it was Greece, they naturally had a chef who was a Greek cooking authority, and I don't think they could have picked a better person.
The guest chef was Michelin star Michael Psilakis (About, Twitter, Buy his cookbook)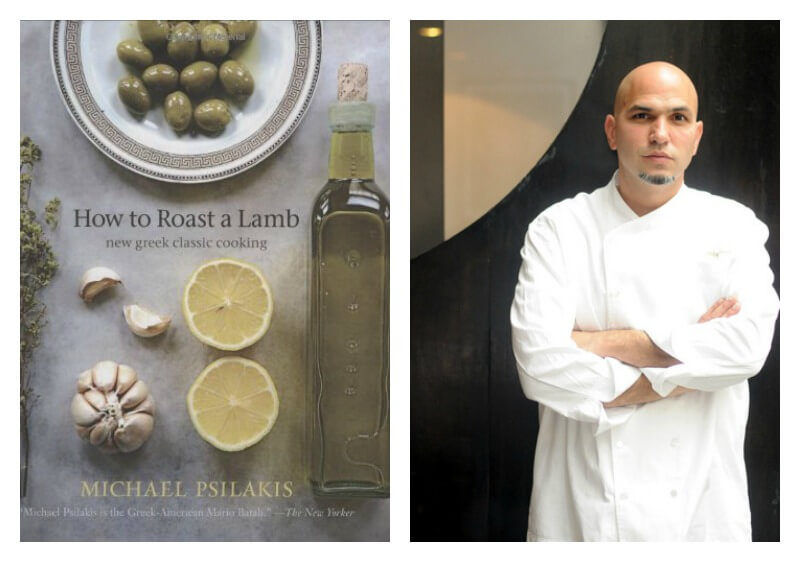 He's doing some really cool things with helping spread Greek flavors around the USA. I wanted to showcase his cookbook, so I thought I'd make a recipe for it and share it with all of you.
Granted, I do make my béchamel a little different, so while there is some variation/adaptation to it, it's still very much chef Psilakis's dish.
The recipe I'd like to share with you is called: Greek Creamed Spinach
And the creamed aspect of this dish? Yes it's béchamel! The same delicious topping you'd find on something like pastitsio.
I don't know why I never thought of it before, but this combination is wonderful.
Honestly, since Jane and I are such big fans of béchamel, I don't think I'll make creamed spinach the same again.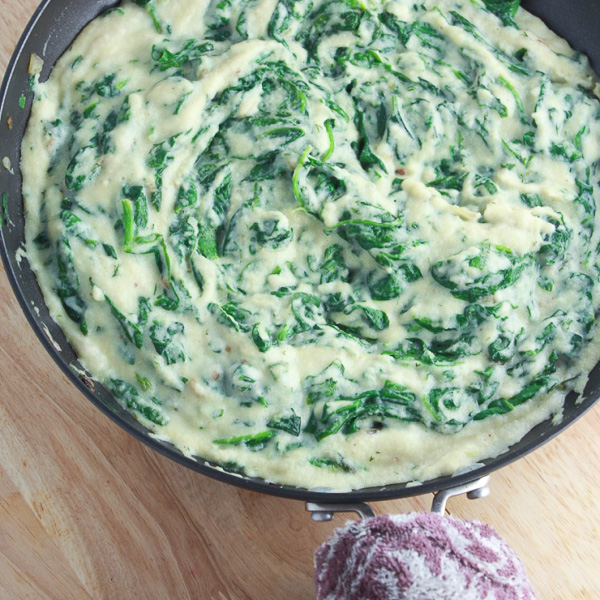 This do thicken up a bit (at least ours did) compared to traditional creamed spinach, which I think is a bit more lose, but that didn't bother us one bit. The flavors of the shallots, green onions, and dill more than made this dish amazing.
I like this recipe because I think it shows what chef Psilakis is all about: taking traditional Greek recipes and giving them a modern twist.
Whether you like béchamel, or you're looking for a unique way to spruce up some spinach, you need to try this!
As always, we hope you'll enjoy this as much as we did!
Kali Orexi
Kenton & Jane

Greek Creamed Spinach
A different way to enjoy creamed spinach
Ingredients
1 tablespoon olive oil
2 tablespoons shallots
2 green onions, chopped diagonally
10 oz spinach
1 tablespoon chopped dill
salt
pepper
For Béchamel
3 cups milk
3 tablespoons butter
1/2 cup semolina flour
1/4 teaspoon cinnamon, optional
Instructions
Add olive oil to deep pan and heat over medium.
Add in diced shallots and onions, cook for 2-3 minutes.*
Add spinach and toss to coat.
Cook for a few minutes, until wilted
Once wilted, add in dill, some salt and pepper, and the béchamel, mix well.
Serve hot!
-Making the Béchamel-
Add milk to pan, and heat over medium-high
Add butter and let it melt.
Once melted, slowly add in the semolina - stirring constantly.
Once all is added and it starts to get a little thick, remove from heat and pour into spinach pot and mix.
Notes
*During this stage, begin the béchamel. You basically want to cook both at the same time.
Nutrition Information:
Yield:

4
Serving Size:

1 grams
Amount Per Serving:
Unsaturated Fat:

0g
Adapted from:
How to Roast a Lamb: New Greek Classic Cooking