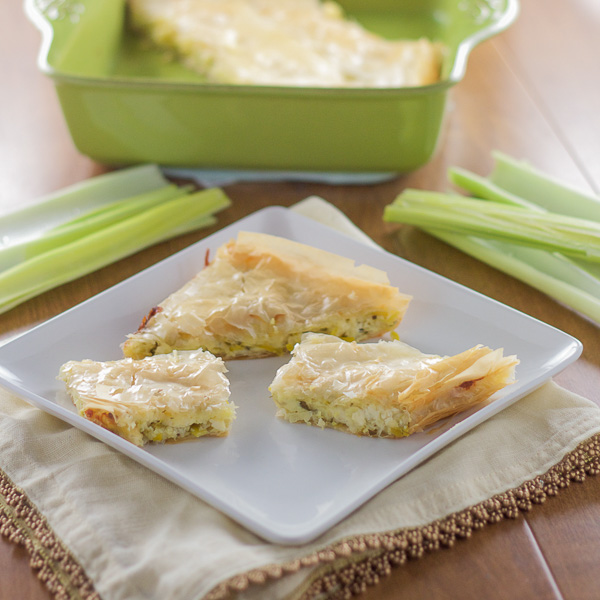 Sometimes I wish I were a kid again – you know, so I'd get summers off to do nothing but sit around playing games.
I say this because Jane and I have been crazy busy working on our first eCookBook and planning out a few other special projects we have. Whoever said being creative, building content, and blogging was easy…so so wrong they are.
Anyhow, I digress. Let's talk about leveling up in the kitchen with a new vegetable.
I've said this many times, but having a Greek Mediterranean food blog has really upped our kitchen game. I mean, we've got to work with everything from octopus to an entire leg of lamb. The latter was kind of intimidating, working with that much meat at once. It's funny now because cooking it turned out to be extremely easy.
For this recipe we had the opportunity to work with something we've never used before – leeks.
I mean, we didn't even really know what it was, let alone taste like. Sure, we've seen it in the store, looking like a giant green onion and all, but never have we bought one knowing exactly what to do with it let alone how to clean it (which there is a trick we'll discuss momentarily).
Jane and I have knew about Greek leek pie aka Prasopita (Πρασοπιτα) for some time, but never thought of cooking it.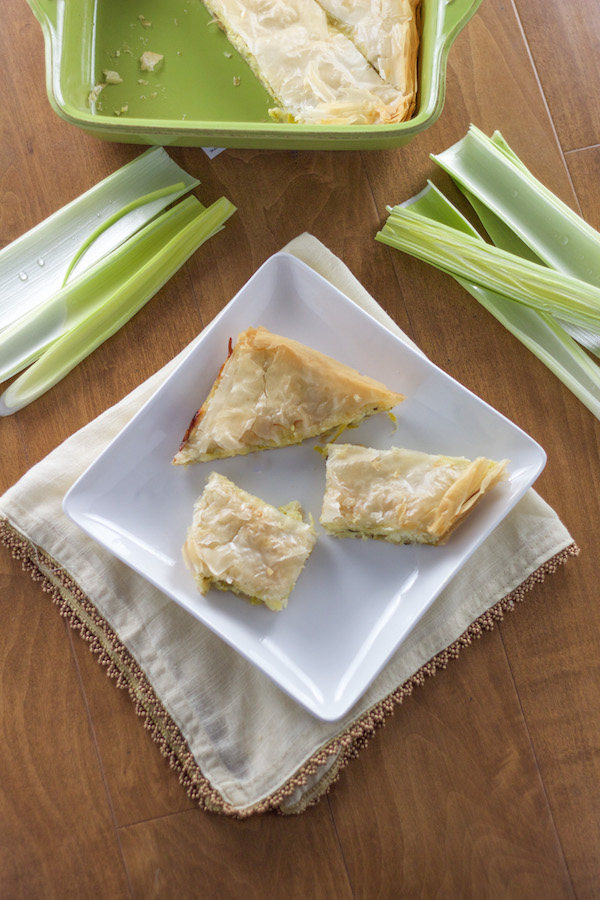 I me, do we even like leeks? ← the question I asked her as we were heading to the market to buy them for this recipe.
We get to the store, I grabbed the leeks, obviously holding them triumphantly as if no one ever dare buy them, Jane rolling her eyes at me for my outlandish excitement as I toss them into the cart.
We get home to prepare the meal, one mind you we're unsure will turn out worthy of being posted, and now we're standing in our kitchen staring at them.
"Do we use the whole thing?" Jane asked.
"Uhh, maybe?" I replied.
We googled it, and wouldn't you know it, Martha Stewart has a video for how to split a leek and clean it, of course she does.
Below is the 30 second video which will teach you how to cut and clean a leek like you know what you're doing.
We've learned that the dark green part isn't used in cooking (we didn't use it in this recipe). However, some people said you could use it, it's just a stronger onion flavor.
Yes, leeks are in the onion/garlic family.
The reason for cutting down the middle and rinsing the insides is because they grow in the ground, so dirt gets inside of them. One thing that stuck out to me was, as you're rinsing them, they kind of feel like little rubber blades. Not sharp of course, but that's what they felt like to me.
What Do Leeks Taste Like?
Well you've got to cook them first. I guess you could eat it raw, but I don't think you're supposed to. Anyhow, after cooking they taste like an extremely tame onion. Like a way way tamed down. So tame using 3 cups chopped leeks, which this recipe calls for, will only give you a hint of onion flavor.
We used a version of this recipe found in Vefa's Cookbook, but we altered it significantly. If you have it, you'll notice she uses milk, breadcrumbs, mint, etc., and no shallot, garlic, or parmesan.
We decided to just roll with it and add in things we thought would taste good. Garlic always taste good, so of course we added that. I'm on a shallot kick lately, so I lobbied for it. Jane recommended adding another cheese besides feta. That turned out to be really helpful as I admit, I tend to lean towards feta and neglect the other wonderful Greek cheeses (something I'm in the middle of changing).
The end result?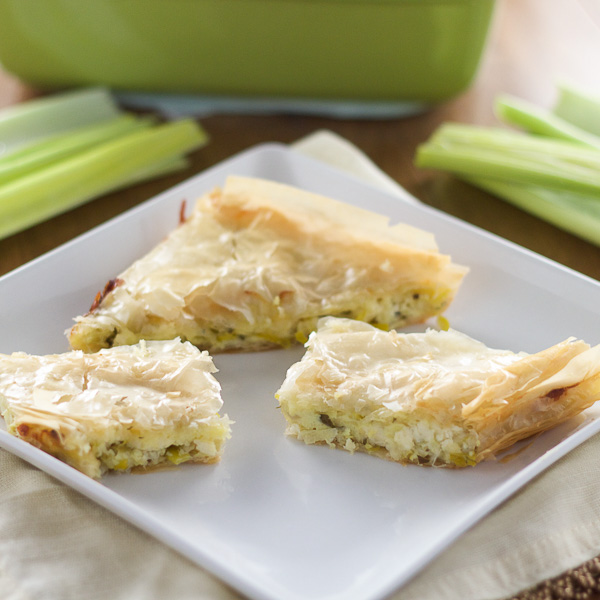 It. Was. Amazing. I'm 100% sure this might be my favorite Greek phyllo pie ever – sorry spanakopita. I was so surprised by how much I loved this dish that I was sad I never attempted it sooner because I didn't' know what a leek was. Jane loved it too. She said it was definitely in her top 2, but she's partial to tiropita (which is amazing, too).
Honestly, warm buttery delicious phyllo wrapped in a cheesy mixture is going to almost guarantee success, but we were so happy with this. We both were pleasantly surprised by how good leeks are.
If you've never tried leeks before, take this recipe and give it a go. If you're a leek connoisseur, add this to your list.
Now if you excuse me, there are leftovers of this Greek leek recipe sitting in my kitchen that keep calling my name.
Kali Orexi
Kenton & Jane

Greek Leek Pie | Prasopita
A delicious Greek leek pie recipe.
Ingredients
⅓ cup olive oil
2-3 medium leeks, cleaned (see video above) and chopped - you'll need 3 cups chopped*
1 shallot, diced
2 garlic cloves, pressed
salt
pepper
½ teaspoon chopped dill
1 tablespoon chopped parsley
1 cup crumbled feta
½ cup shredded parmesan
2 eggs
1 lb box phyllo**
⅓ cup butter, melted
Instructions
Add oil to a large skillet and heat over medium-high
Once hot, add in leeks, shallot, garlic, salt and pepper, mix well.
Cook for about 10 minutes then remove and empty into bowl and set aside to cool for another 10 minutes.
Preheat oven to 350F
After the leek mixture has cooled a bit, add in dill, parsley, feta, parmesan, and eggs - mix everything together.
Brush a 9 x 9 baking dish with some melted butter
Cut phyllo to fit pan, and then add one sheet to baking dish and brush top with melted butter.
Add another sheet and brush with more butter - repeat this 6 more times, so you have 8 sheets total.
After the 8th phyllo sheet, empty the leek mixture into the pan, spreading it out evenly.
Repeat the phyllo, butter, phyllo process like before until you have 8 sheets covering the leek mixture.
Score top and place in oven for 30 - 40 minutes, until golden brown.
Once golden brown, remove and let cool slightly.
Cut and serve!
Notes
*Since they range in size, you may need 2 medium or 3 if they're smaller.
**You'll only use one of the two rolls
Nutrition Information:
Yield:

4
Serving Size:

1 grams
Amount Per Serving:
Unsaturated Fat:

0g