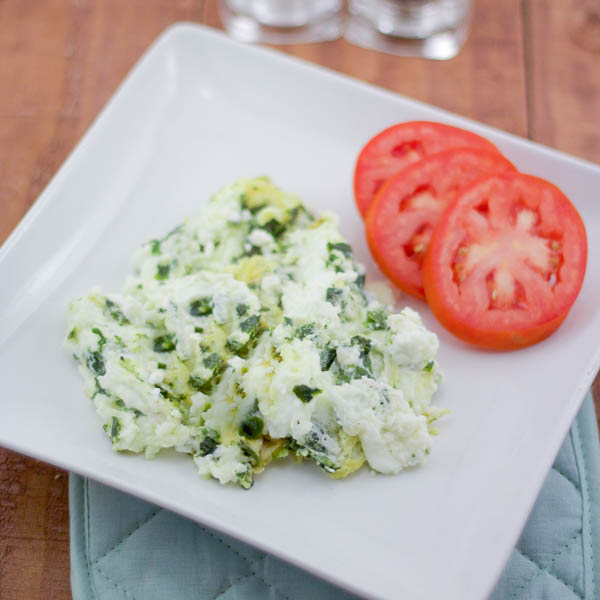 You wake up on a beautiful Saturday morning, sun shining through the windows, coffee brewing, you feel the freedom of not having to work (substitute for your normal day off), and it hits you, only a spectacular breakfast will make this the perfect start to a day. No, cereal won't do. Poptart? No, we need something tastier and healthier to make it all worth while. Well, in comes the Greek scramble.
It's not always easy to want to get up and make something healthy for breakfast for fear that it might not provide you with all of the flavor (and ease) that you are looking for (e.g. pancakes, waffles, crepes). That is what we always enjoy about making this meal however; it's healthy, taste amazing, and doesn't have those heavy sugars that make you crash and force you to rely on coffee to get you through the day.
The spinach provides you with vitamins A, C, and K to name a few while the egg whites give you protein without all of the cholesterol. Sure, we top it with feta when it's just hot off of the skillet and onto the plate…how could you not?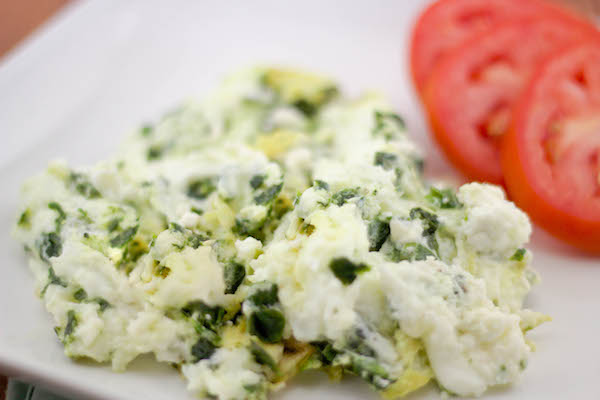 You don't really need to add any salt when you do this and you are already skimming off so many calories by only having the whites of the eggs :) Mmmm, I love feta. There's really no excuse not to use it, just reasons upon reason why using it is a great idea. This entire recipe comes together with so little effort and time that you are quick to be sitting at the table enjoying life. Eating. Making sounds of satisfaction.
Kenton and I enjoy eating Greek food so much for the simplicity yet sophistication that the meals provide not only to our diet but also our palate. On mornings like this, I feel the happiness of being home and basking in my luxuries of being a food blogger (hello, I love food). Of being home and being able to photograph and witness through a lens the wonderful meal that I am about to enjoy. Of being able to share what I hope people will love. Is this a bit dramatic? Maybe. But it is what we do and what we enjoy and meals like this are always a reminder of that.
What is your favorite healthy breakfast? We love hearing your thoughts and feedback, and as always, Kali Orexi!
Love,
Jane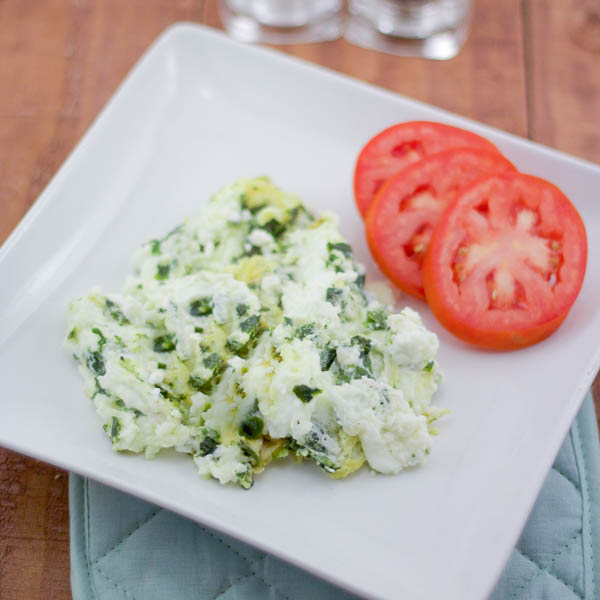 The Greek Scramble
A simple Greek style egg scramble. Healthy and delicious.
Ingredients
8 large eggs, whites only
1/4 cup spinach, frozen
1/4 cup feta, extra is always a good thing
1 to mato, sliced.
Olive oil, to coat pan
salt and pepper, to taste
Instructions
Add frozen spinach to hot pan (coated with oil) and cook until wilted.*
Whisk egg whites until thoroughly mixed.
Add egg whites to pan and mix gently with spinach.
Add the feta and mix again.
Once cooked, remove from heat.
Serve on plate with sliced tomato and topped with feta!
Notes
*You can use fresh spinach here as well, cook until wilted.
Nutrition Information:
Yield:

2
Serving Size:

1 grams
Amount Per Serving:
Unsaturated Fat:

0g