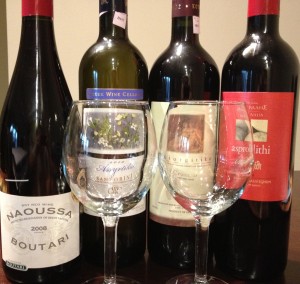 Greece and wine had a long history together. More than 6,500 to be exact. This makes them one of the oldest wine making countries in the world. The ancient Greeks got their wine-making skills from the god of wine, Dionysus. Large festivals and parties were held in his honor.
The oldest Greek wine (2,000 years old) served today is the famous white wine, Retsina. The very same wine that the ancient Greeks drank can be tasted today. To be honest, it kind of taste like a pine tree. The reason for the pine taste was do to the ancients and their method of sealing wine barrels with pine resin to keep air out. It is good but an acquired taste. Best served cold with sharp cheeses.
Today the main regions in Greece cultivating wine are:
The Aegean islands:
Crete
Central Greece
Epirus
Ionian Islands
Macedonia
Peloponnese
Red Wine
Agiorghitiko (Aghiorghitiko)- is a grape mail grown Nemea a region in Peloponnese. One of the more commercially exported grapes/wines, it produces a fruity soft blend.
Xinomavro ("sour black") is the main grape grown in Naousa, northern Greece. This variety ages well and carries a rich tannic trait. Compared to Burgundy
Mandilaria is mostly grown on the Greek isles (particularly Rhodes and Crete). This grape produces a deep colored high tannic wine that is light body.
Mavrodaphne ("black laurel"), black grape that is both a bold and sweet dessert wine. Grown mainly in Peloponnese and the Ionian Islands, it is exposed for long periods of time to the sun during fermentation.
Kotsifali is a grape grown in the Heraklion region of Crete. It is normally mixed with Mandilaria for a high alcoholic wine.
White Wine
Assyrtiko is a white wine grape native to the island of Santorini, planted in the rich volcanic ash soil. Most commonly, found in Sauvignon Blanc and similar wines.
Athiri is one or the more ancient grapes in Greece. Today is harvested on the island of Rhodes and used in Retsina. It carries a hint of lemon
Debina is a white grape from the Zitsa region of Epirus. It is used in the production of sparkling wine.
Lagorthi is a small harvet grape. Grown in the high slopes of the Peloponnese. The grape produces wine that is sweet.
Malagousia is a grape growing in Macedonia; it produces full body wines and was resurrected in the 20th century.
Moschofilero is a pinkish grape producing a dry bold wine. Used for sparkling and dessert wines. From the Mantineia, in Arcadia in the Peloponnese.
Robola is most grown in the Ionian Island of Cephalonia. High acidity and a lemon note.
Roditis is a pink grape grown in Peloponnese. It is found in Retsina and other Greek white wines. Can contribute a citric taste.
Savatiano is a white grape that is Greece's mostly widely planted. Its low acidity caters nicely to the blending for Retsina.
While Greece is not necessarily known for their wine (it's their ouzo that is), the wine that Greece is producing is getting more and more recognition each year. They are made to go well with Greek food and Greek cheeses, so I would recommend geting a bottle of wine from Greece to have alongside your next meal. You will not be disappointed!
Resources: https://www.wine.gr and https://en.wikipedia.org/wiki/Greek_wine