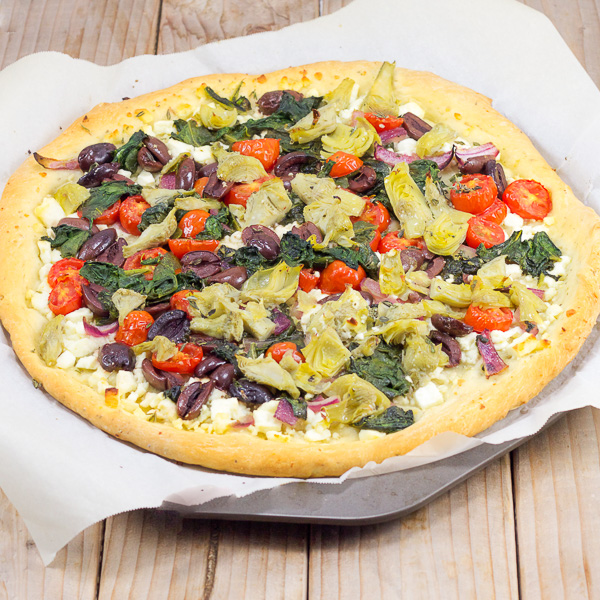 This past fourth, Jane and I decided to take it easy vs previous years. We had friends coming for the weekend, so we thought resting up on Friday would be a good idea.
We wanted to spend some time working on a recipe that was fun and somewhat easy to do. There had been one thing we've been wanting to make for a while now since we had our mixer and that was: greek pizza dough.
For starters, pizza is amazing and well, who doesn't like making pizza? It's easy and fun. We normally opt to head to our local Trader Joe's and pick up their pizza dough. However, we thought we'd commit to this and make it for the blog. Thus, our homemade greek pizza was born.
If you've never made a pizza at home it is a fun experience. You basically combine all your favorite things on a bed of dough and bake. It's simple and somehow taste so much better than ordering it. This is especially true for those of you who prefer thin crust, like Jane and I do.
For the toppings, we wrote down every "Greek" ingredient we could think of. Since there really isn't a traditional greek pizza, anything that inspired greek flavors would do.
We came up with:
Feta, Kalamata olives, red onions, bell peppers, spinach, garlic, thyme, marjoram, artichoke hearts, basil, olive oil, and oregano.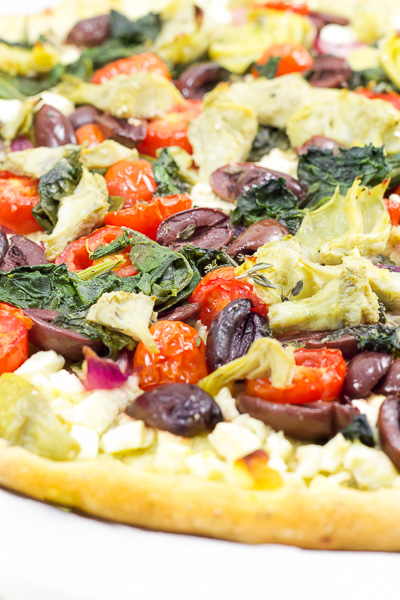 The above are either popular ingredients in greek cuisine, or ones that remind us of greek flavors.
You'll see in the recipe below what we actually used and how much. Keep in mind that it's just a base, so feel free to add/change/alter anything to fix to your liking.
As for the homemade greek pizza dough, we took a basic dough recipe and added olive oil and oregano to the mix, since those are two staples in greek cuisine. The adding of the herb came to us from Trader Joe's herb dough, which has a few different herbs in it.
We fell in love with the end result. The pizza was so delicious and we felt all the ingredients balanced each other nicely. Just the perfect amount of flavors. Of course, if you decide to make this, and we hope you do, we encourage you to alter anything to your liking.
Let us know if you make it!
Kali Orexi
-Kenton & Jane
PS. In Greek pizza is called: λαδένια (lathenia)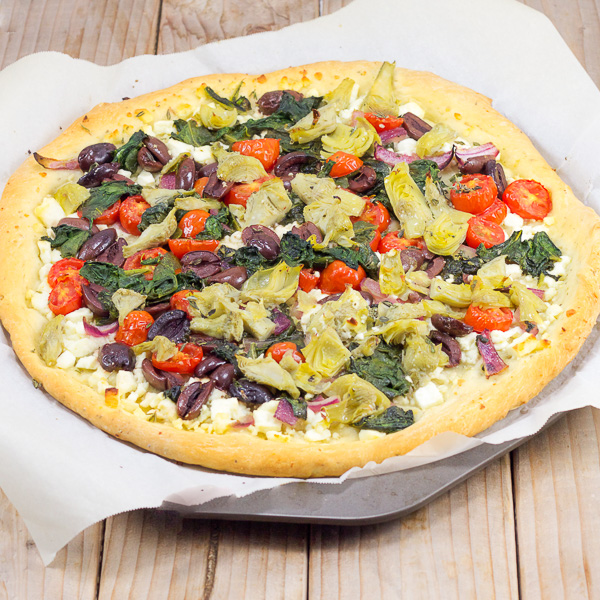 Homemade Greek Pizza | Greek Pizza Dough
Total Time:
1 hour
20 minutes
A delicious homemade Greek pizza. This recipe contains greek pizza dough as well as greek toppings.
Ingredients
Greek Pizza Dough:
3 cups bread flour
1 package dry yeast, 3/4 oz or 21g
2 tablespoons olive oil
1 teaspoon salt
1 tablespoon sugar
1 tablespoon oregano
1 cup warm water, may need more
Greek Pizza Toppings:
1 cup feta cheese, crumbled (more the better)
1/2 cup chopped Kalamata olives
1/2 cup artichoke hearts
1/4 cup diced red onions
1/2 cup diced cherry tomatoes
1 cup spinach
2 garlic cloves, pressed
2 springs fresh thyme
Instructions
Greek Pizza Dough:
In a large bowl combine flour, yeast, olive oil, salt, sugar, and oregano - mix well.
While mixing, add warm water, dough should form*
Mix dough in mixer or knead for 5 minutes.
Cover and let rise for 40 minutes.
On a lightly floured surface, roll dough out to fit pizza pan or desired size.**
Brush with olive oil and it's ready for toppings.
Greek Pizza Toppings:
Cover with feta.
Sprinkle remaining ingredients over cheese, one at a time to desired look and preference.
Place in preheated oven at 375F for 25-35 minutes, or until pizza dough is cooked. This will very with thickness of crust.
Notes
*If too dry add more water, too wet add more flour.
** We like thin crust pizza, so we rolled ours out pretty thin, maybe 1/4 to 1/2 inch. We used the leftover dough to make breadsticks.
Nutrition Information:
Yield:

4
Serving Size:

1 grams
Amount Per Serving:
Unsaturated Fat:

0g