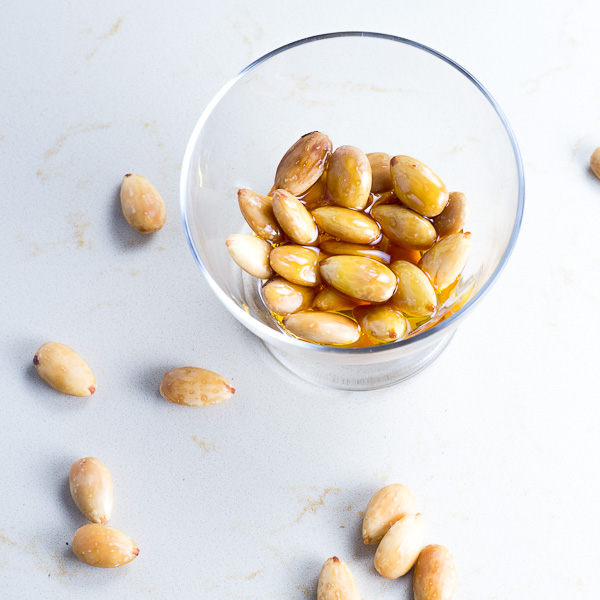 Coming from the blue domed island in the Aegean Sea, almonds with honey is a unique and delicious way to enjoy almonds all while satisfying your sweet tooth.
As I write this, California is getting hit with a long overdue storm. It's kind of nice to hear the rain outside making sounds in different patterns. Living here, rain is almost foreign to us, so it's like an event when it happens. However, the rain won't stop us from continuing our exploration into Greek cuisine – so do your worst Zeus!
You may also have noticed the we've completely redone our website. It was a labor of love, and we spent a ton of time with it. Luckily we started with a theme, but being able to write code ended up with us wanting to make modifications. That turned into more and more, and while we've relaunched, there are still some things we're tweaking behind the scenes, as well as updating content. Be on the lookout for more fine tuning.
Another positive with all of this rain is that we've stayed in and cooked a ton of Greek recipes that will make their debut on the site soon. We've had some failures, too, which we will also highlight in a post I'm sure.
Okay, now let's look at today's Greek dessert recipe…
Almonds With Honey
I know what you're thinking, this isn't cake or ice cream, but it's truly a dessert, I swear. It's a simple sweet Greek candy recipe. As a matter of fact, it's commonly called, Γλυκό Kουφέτο (gliko koufeto) which means, sweet candy. It's literal name would be, almonds with honey – αμύγδαλα με μέλι (amýgdala me méli).
Greek desserts tend to be a little different than the overly sweet stuff here in the US. For example, Greek yogurt and honey is served as a dessert (see what I mean).
We must admit that this recipe was first introduced to us in Vefa's cookbook (an amazing Greek cookbook). In it she also informed us that this is popular on the island of Santorini (and others) and is traditionally served at weddings, engagement parties, and baptisms.
Benefits Of Eating Almonds With Honey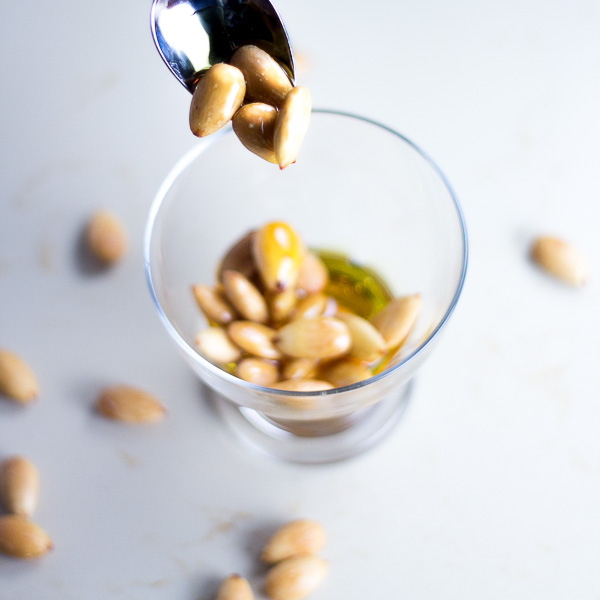 Okay, well there is some good news with eating this as a dessert. First and foremost, one serving of almonds (¼ cup) has only about 207 calories. Moreover, it's packed with 12 grams of monounsaturated fat, which we learned in our Butter vs Olive Oil comparison, is a healthy fat and may help lower your cholesterol levels AND lower your risk of heart disease and stroke – so that's good (one tablespoon of olive oil has 10 grams if you're curious). Almonds also have 4 grams of polyunsaturated fat, which is another healthy fat and can help lower cholesterol and the risk of heart disease and stroke.
Just based off of this, you can see why they are a staple in the Greek Mediterranean lifestyle diet.
We're so glad eating a dessert can be so very healthy. Not only do you get to satisfy your sweet tooth, but you're also combating unhealthy fats and protecting your heart!
But what about the honey?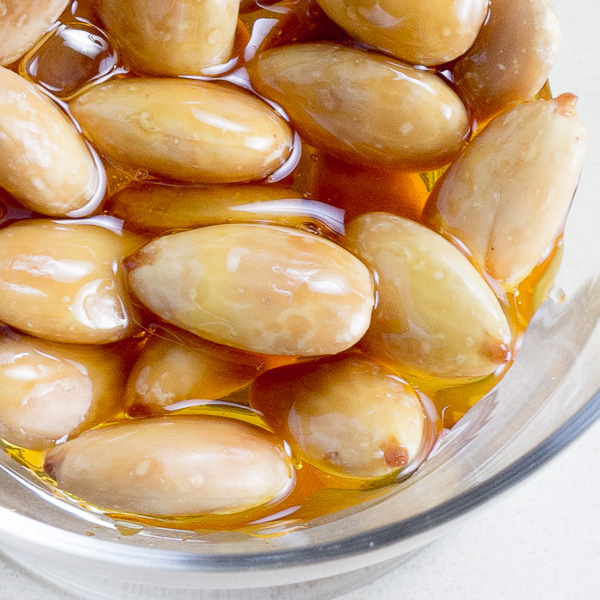 Great question. You see, the only thing honey really has that's bad is the sugar. Honestly, it's mostly sugar. One tablespoon (21 grams) gives you 64 calories, 17 grams of carbs, all of which come from the 17 grams of sugar.
In our humble opinion, since honey is natural, it seems like your body can break it down and deal with it much better vs refined sugars. Don't get us wrong, at the end of the day sugar is sugar, so if you're sensitive to it, or need to cut it out of your diet per doctor's orders, we don't think you can safely add it in. However, if you're watching your sugar, or eat healthy, then having a tablespoon with your almonds won't be a deal breaker.
I will add that there seems to be a lot of health benefits to consuming honey, but we couldn't find anything backed by science (it may exist so let us know), so we're not going to link to it, but google will give you some interesting reading material should you care to explore.
All in all, this dessert comes out much healthier than what you'd typically find in the states, or elsewhere for that matter. Surprisingly, it does in fact give you that sweetness you may be looking for after a meal. We also really enjoy almonds with the skin removed now (see recipe for instructions on how to do this in a pinch!).
We hope you'll enjoy this almonds with honey recipe and decide to give them a try. You never know, almonds with honey may be your new favorite dessert!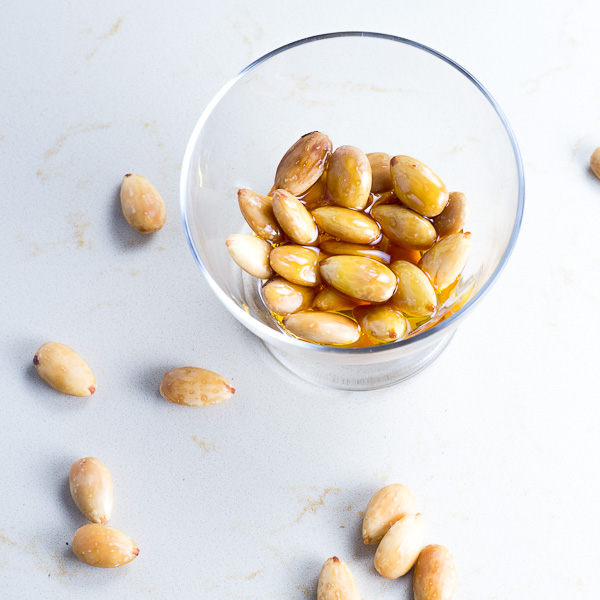 Almonds and Honey
A simple and delicious dessert: Almonds with honey
Ingredients
1 pot of water, enough to cover almonds plus one inch
1/4 cup almonds
3-4 tablespoons honey, plus more if desired
Instructions
*First, we need to blanch the almonds so we can easily remove their skin.*
Bring a pot of water to a boil on high heat.
Add almonds and let boil for 60 seconds.
Pour over strainer to catch almonds and rinse them under cold water to cool and stop cooking.
Remove the skin from the almonds. You'll find you can more or less pinch them and they should slide right out.
Dry with paper towel, should be as dry as possible.
Add almonds and 2 tablespoons honey to a saucepan over medium-low heat.
Cook until almonds get a little golden, and remove.
Pour half of almonds with honey into 2 small bowls, top with extra honey if desired.
Let almonds and honey cool, about 10-15 minutes, and enjoy!
Nutrition Information:
Yield:

2
Serving Size:

1 grams
Amount Per Serving:
Unsaturated Fat:

0g