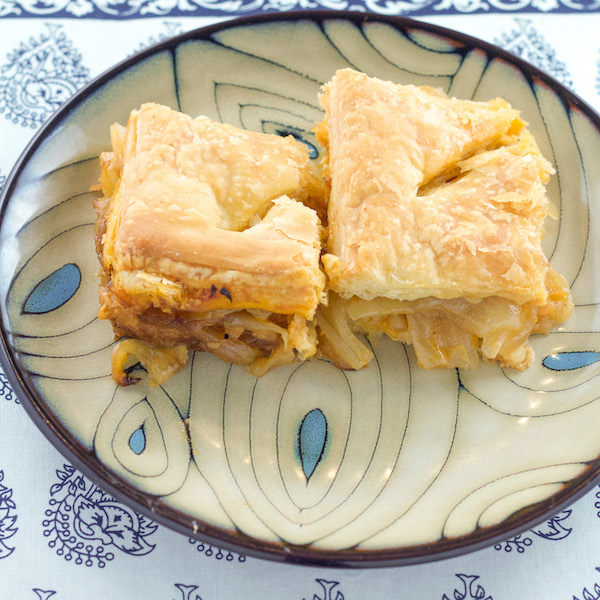 Ahem, is it really 2 weeks into 2016? I feel like last weekend was X-mas. This new year has gone by pretty fast already.
A highlight, well, technically it happened in 2015, but we welcomed a new baby into our family. Actually, let me quickly rephrase that because that reads like it's ours. No, not yet. It was a sibling who had a healthy baby boy, so we have a new nephew (ανιψιός – anipsiós). One cool thing is that he was born on a Saint's day matching his middle name. I still cannot get over how tiny babies are. We all started out that way. The miracle of life I guess.
Okay, now that kids are on everybody's mind, let's turn our attention to pies. Greek pies that is. It's name? Kremidopita |Κρεμμυδόπιτα 
Greece has a cluster of islands called the Cyclades. Within that area is a beautiful island we all know and love, called Mykonos (Μύκονος). One of the most famous island in the south Aegean. It's a beautiful island that thousands visit each year. It is paradise.
It is this jewel of an island that this Greek recipe comes from. What we really appreciate about this recipe is that it is a great example of Greek mediterranean simplicity. Not a whole lot of ingredients needed to create a delicious meal.
One thing we decided to do with this recipe, which can be made using phyllo, is use puff pastry. Normally, when I think of puff pastry, I think of dessert, but no – it can do so much more!
We bought a box that had 2 sheets and used them both (bottom, top) and added the cooked onions in the center. Simple. Amazing.
We did caramelize the onions a bit, so cook them for a while to give them a nice color. Obviously, if you do not like caramelized onions (and these aren't fully), then adjust the cooking time.
We had this with some Greek Mountain tea since it's cold around here and we want to stay healthy, but you could pair this with a Greek salad and have a tasty lunch or dinner. Either way, make sure to close your eyes and imagine the cool breeze from the aegean blowing by.
Sometimes we all would love to get away to Mykonos, this option is a little cheaper 🙂
We hope you enjoy this Mykonos onion pie!
Kali Orexi,
Kenton and Jane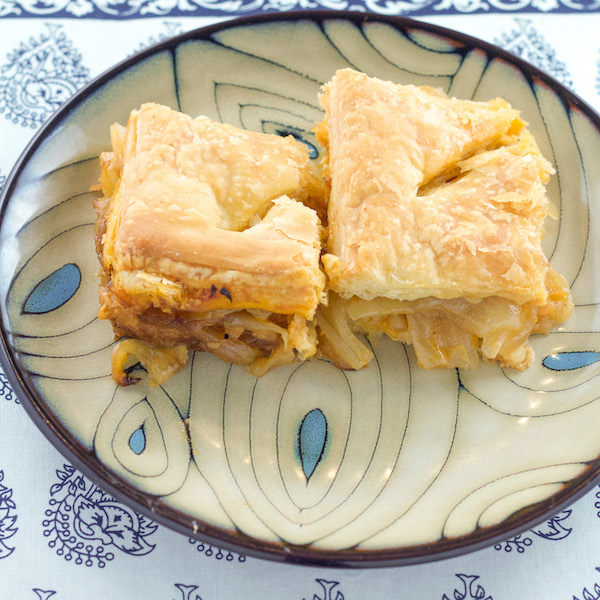 Mykonos Onion Pie | Kremidopita
Total Time:
1 hour
5 minutes
A delicious Greek onion pie from the island of Mykonos
Ingredients
2 lbs onions, about 5-6 large, peeled and sliced in half
3 tablespoons olive oil
1 tablespoon tomato paste
salt
pepper
1 teaspoon paprika
1 box puff pastry, containing 2 sheets thawed.*
Instructions
Take each onion half and slice vertically about 4-5 times.
Heat olive oil in a large pan over medium-high heat.
Once pan is hot, add in onions, and cook for 7-10 minutes. You want them to be soft and have a nice color.
Next, add in tomato paste, salt, pepper, and paprika, mix well.
Cook for 5-10 minutes.
Preheat oven to 400F.
Line a 9 x 9 baking dish with some olive oil.
Add one puff pastry sheet to bottom of pan, you may need to trim to line pan.
When onions are done, pour onion mixture over pastry sheet.
Add remaining pastry sheet over top of onions, again trimming to fit top.
Score with a knife diagonally 3-4 times.
Place in oven for 35-45 minutes, or until golden brown.
Remove, let cool a few minutes, slice and serve!
Notes
*You can sub out the puff pastry and use phyllo (what we normally use when making Greek pies). For this recipe however, we wanted to try something different.
**Also, adding in some feta is never a bad idea!
Nutrition Information:
Yield:

6
Serving Size:

1 grams
Amount Per Serving:
Unsaturated Fat:

0g
Thanks to fellow Greek blogger,
Alexandra
, for the original recipe we altered slightly.