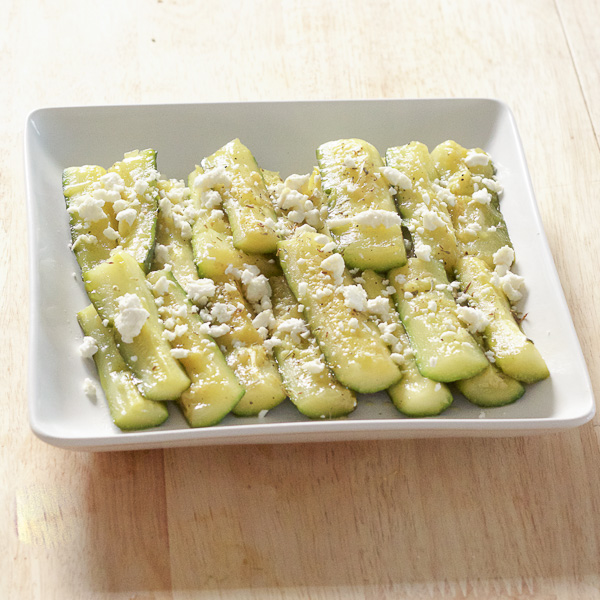 The month of December has been a busy one for us. We're in the middle of Christmas shopping, which can cause a little dip in the business account, as we walk down aisles like this (Instagram photo) and of course there is something we need. Yep, #foodbloggerproblems
I swear there must be people that sit around a table all day coming up with such unique kitchen accessories and when I see them, I wonder how I've been able to cook without it. The good news is, almost 90% of the time, we end up putting half of what we wanted to buy back. I mean, my yia yia didn't have any of that stuff!
I feel like it's an inevitability really, that when you go out to buy gifts, you get yourself a little something, too. It doesn't need to be much, but something is better than nothing, right? :)
With all the shopping going on, the long lines, and crowds, you need to say full and fueled. Personally, if Jane and I are out and I get hungry, having to deal with the holiday crowds can get me kind of annoyed and in a quest for food! There really is a subtle irritability one experiences when hungry, and if it's not fixed, can only get more noticeable.
Since Jane and I know this, we always try to eat before we go out, because what happens if you don't? You end up snacking on those bags of chips found by the register, or order that unhealthy meal at a nearby restaurant, both things can leave you not feeling 100% or mad that you broke down from a healthy habit you're trying to keep (aren't we all!).
Well, here is a solution to the problem that Jane I came up with. A easy, healthy snack, that taste so good you'll wonder why you've never had it before. It's: Zucchini With Garlic & Olive Oil (κολοκύθια Με Σκόρδο και Ελαιόλαδο)
Granted we might not be the first people in the world to combine these two, but we did add some twists to kick it up a notch.
Being such zucchini lovers whether it's grilled, fried or baked, we had some in our refrigerator that we needed to use. Of course, olive oil and feta are always on hand here. What about the oregano? Well, in case you're new to Greek cooking, know that oregano is that standard herb to use. It's used in a plethora of meat based dishes. Another tidbit: it's always preferred to be used dry and not fresh.
Watch on YouTube
Oregano is something Jane and I are experimenting with more and more. Using it beyond meat and poultry dishes and exploring its use in vegetable dishes. Another herb that we've been using recently is thyme, having learned that a little goes a long way.
I suppose that is why these two herbs made it into this dish, they were fresh on our mind and we've been using them to come up with other recipes recently.
The topping of feta, well, that's just me being me, as I love that cheese more than any other and would top everything I eat with it if I could. We did sample it with and without the feta, and we both agreed the saltiness of the feta made this dish complete – we hope you'll agree as well.
So, if you're in the mood for a quick and healthy vegetarian friendly Greek recipe to snack on or or use as a side – give this one a try!
Kali Orexi
Kenton & Jane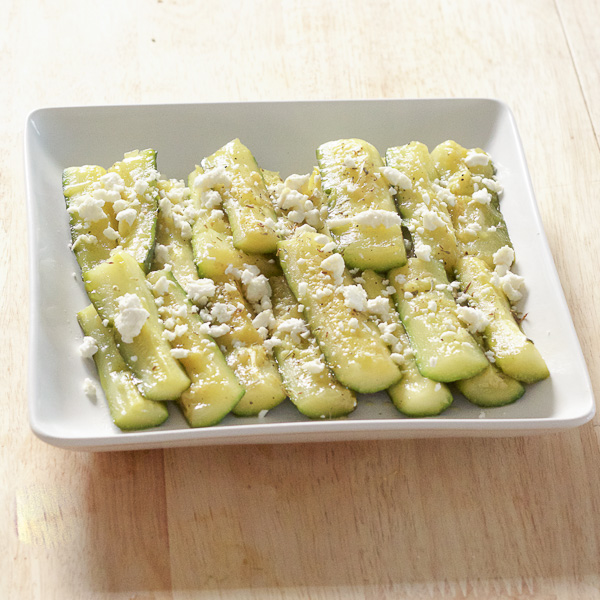 Zucchini With Garlic & Olive Oil
A delicious Greek appetizer with zucchini, feta, oregano, and thyme.
Ingredients
1 lb zucchini, washed
3 - 4 garlic cloves, pressed
¾ cup vegetable broth
1 teaspoon oregano
½ teaspoon thyme
1/4 cup crumbled feta
salt and pepper to taste
Olive oil
Instructions
Take each zucchini cut ends off, cut in half, cut lengthwise, and cut in half lengthwise again to create strips (see video above for demonstration).
Sprinkle zucchini strips with salt.
Add oil to a pan, heat over medium heat.
Add garlic and cook for 1 minute.
Add zucchini strips, and mix to coat.
Cook for 4 - 5 minutes.
Add vegetable broth, bring to simmer, reduce heat and simmer for 15 minutes or until tender.
Mix one to two times during simmering.
Once done, remove and set on plate.
Sprinkle oregano and thyme over zucchini.
Top with feta and serve hot!
Nutrition Information:
Yield:

3
Serving Size:

1 grams
Amount Per Serving:
Unsaturated Fat:

0g