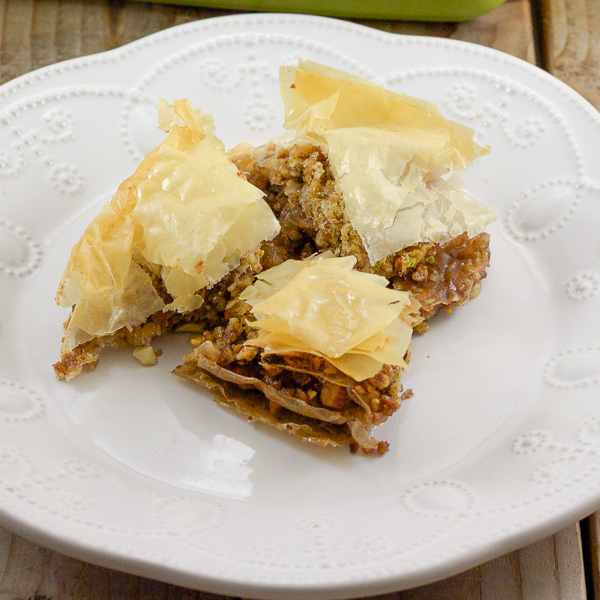 I seriously do not know what the heck took Jane and I so long to post this recipe. Baklava is the epitome of Greek desserts; however, I think Galaktoboureko ranks up there as well.
I can say with confidence that this is the go to dessert for a lot of people when they think of Greek cuisine. Rightfully so as the combination of nuts, sugar, and honey wrapped in a light flakey phyllo make this truly divine. It's been proven that Zeus and the rest of the gods ate this after dinner each night…not really proven, more like believed, by us mostly :)
One of the first things Jane and I learned first when we started cooking Greek desserts it the interesting flavors Greek honey brings to dishes.
Honey has been an important aspect of Greek culture. The ancients use to talk about it for its healing properties and the Greeks have been consuming it for quite some time
I personally think Greek honey is some of the best in the world. Obviously, I may be a bit bias, but it has some unique properties that you just don't find.
What I think makes it amazing is the fact that Greece has thousands of flowers native to her growing all over. Bees take a little from one flower and some from another and mix in some thyme and boom, greatness.
When we decided to make baklava for this site, we knew we needed some fantastic Greek honey, preferably with a thyme blossom base as we find that to be amazing
To our luck, our friend Alice from FlavorTeaze, a Greek gourmet food e-shop, had something that fit the bill perfectly. Their Greek Thyme Blossom Honey was exactly what we needed to make this dish complete. It's such a great honey that we continue using it for everything from teas to smothered on toast. Definitely worth checking out. Alice is great and FlavorTeaze is a good place to get products imported from the motherland.
As for the Baklava, both Jane and I thought it turned out amazing. We actually made it three times before posting this recipe just to perfect it.
Here are some things we learned.
We found that contrary to what most suggest, pouring cold syrup over hot baklava worked best. While many suggest hot syrup over hot baklava, both times we tried it this way the baklava became very soggy. We also learned that we will eat soggy baklava ;)
Nuts to phyllo ratio. Some people will want more of the nut mixture, others prefer less. We found that we liked having more of the mixture. Therefore, adjust accordingly. I will make a suggestion in the notes section below.
Don't overdue the butter. Copious amounts of butter in between each phyllo sheet isn't necessary. Just a light layer will do. Too much and this could lead to soggy baklava as well.
Phyllo problems. If you're not making your own (which we tend to do soon), you'll be working with store bought phyllo sheets. We used 3 different boxes from the same company. Some worked better than others. Before you unwrap, plan out how you're going to prepare. This will enable you to move quickly and prevent the sheets from sticking together and or drying out. You will have extra, so if one rips, forget it and move on.
Pistachios aka green gems. We love them. Adding them in, something I've never done nor had, turned it up a notch and we loved it. I don't think we will make baklava without them again. In the notes section I'll note how you can make this without them if you're not a fan.
Alas, here is our recipe!
We hope you enjoy it!!
καλή όρεξη (kali orexi – enjoy your meal)
Kenton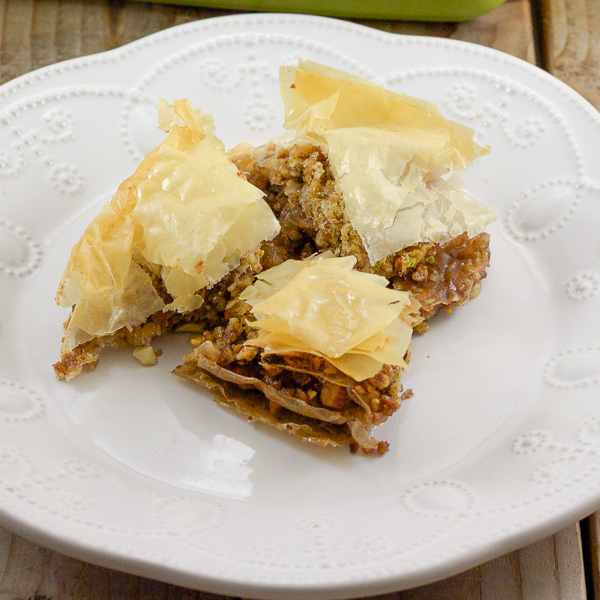 Baklava Recipe | Nuts and Phyllo Greek Dessert
Flaky phyllo with nuts and honey
Ingredients
2/3 cup chopped walnuts
2/3 cup chopped almonds
2/3 cup chopped pistachios
1/4 cup sugar + 1 tablespoon
1/2 pound box phyllo sheets
1 teaspoon cinnamon
1 stick butter, melted for brushing
For Syrup
1 cup water
1/4 cup sugar + 1 teaspoon
1/4 cup Greek honey
1/4 teaspoon vanilla extract
1 lemon rind, about 2 inches
1 tablespoon lemon juice
Instructions
In pot combine all ingredients listed under syrup section. Bring to boil, reduce and simmer for 10 minutes.
Turn off and remove from heat to let cool.
Combine all nuts in bowl with cinnamon and sugar, mix well.
Remove phyllo and cut to fit pan (we used 8x8).
Lightly grease pan before putting first phyllo sheet down.
Add phyllo and lightly brush butter over sheet, repeat 5 times.
After 5th sheet, sprinkle half the nut mixture evenly over phyllo.
Add two more sheets of phyllo, buttering in between.
Add remaining nut mixture evenly.
Top with 3 phyllo sheets, buttering in between.
Score in shape of diamonds.
Place in preheated oven at 350F for 30 minutes, or until golden brown.
Remove and pour cool syrup evenly over hot baklava.
Let cool and serve!
Notes
*nut mixture - you need 2 cups of nuts, so add more or less of the nuts you like accordingly.
**made about 12 pieces in our 8 inch by 8 inch pan.
Nutrition Information:
Yield:

12
Serving Size:

1 grams
Amount Per Serving:
Unsaturated Fat:

0g