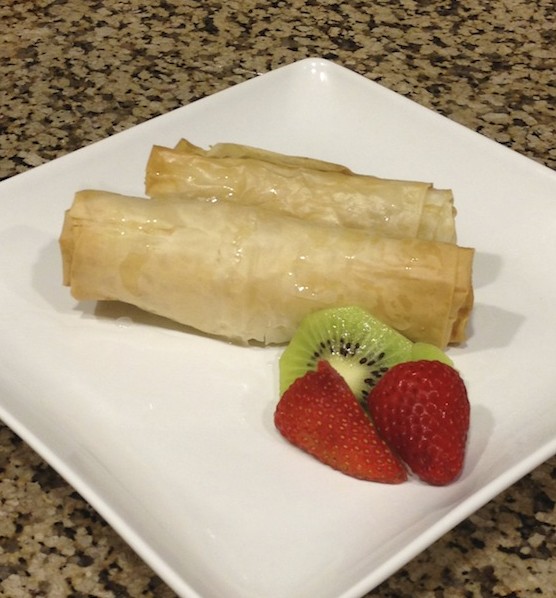 Mmm…Galaktoboureko Rolls….This delightful summer dessert will have everyone raving. The sweet syrup drizzled over the perfectly stuffed phyllo will be too hard to resist. Having just one is not an option! We had to make these treats because galaktoboureko is one of our favorite Greek desserts! Having it in a roll form just made it that much easier to eat! Yum!
Galaktoboureko Rolls
Where some people might find phyllo hard to work with, we don't. It is a very relaxing ingredient to work with. It takes patience and practice, but with this comes an amazing meal on the table every time. This particular sweet roll has a light and flaky crunch on the outside and a slightly firm custard on the inside. I like to serve it with fruit to give it that extra fresh and sweet bite. Not to mention, it looks nice too.
καλή όρεξη! Enjoy!
Spelled in Greek: Γαλακτομπούρεκο σε ρολό

Galaktoboureko Rolls | Greek Custard Dessert
Total Time:
1 hour
10 minutes
This is my favorite Greek dessert. It's custard based and it absolutely amazing. Everyone at the dinner table with love this.
Ingredients
1 lb box of phyllo at room temperature
1 cup melted butter
Custard:
3 cups milk
1/2 cup semolina
3 eggs
1/2 cup sugar
1/2 tablespoon grated lemon peel
1 teaspoon vanilla extract
Syrup:
1 cup sugar
1 cup water
1 slice lemon peel
1 slice orange peel
1 teaspoon lemon juice
Instructions
-Syrup-
Combine sugar, water, and lemon juice in sauce pan. Bring to boil over medium heat.
Add lemon and orange peel - simmer for 10 min (see photo).Turn off and remove from heat.
-Custard-
Add milk to large pot and bring to slight boil and reduce heat to medium.
While milk is heating, beat eggs and add sugar and vanilla and mix thoroughly.
When milk is almost boiling, take a cups worth and slowly add it to egg/sugar mixture--stirring entire time.
Now, slowly add semolina to the milk and mix. Next add egg/sugar and stir until it begins to thicken.
Once thick (see photo) remove from heat.
--Making Rolls--
Unwrap phyllo and unroll. Take one sheet and lay it flat and cover rest with damp towel.
Brush phyllo with melted butter.
Place 1 tablespoon of custard at right edge of phyllo sheet.
Fold it over once (see photo) Fold bottom up and top down. (see photo)
Now, roll all the way to opposite end and place on baking tray.
Repeat until finished. (see photo)
Preheat oven to 350F and bake the Galaktoboureko Rolls for 30-40 min or until golden brown.
Once cooled, drizzle syrup over the Galaktoboureko Rolls and serve!!
Nutrition Information:
Yield:

20
Serving Size:

1 grams
Amount Per Serving:
Unsaturated Fat:

0g