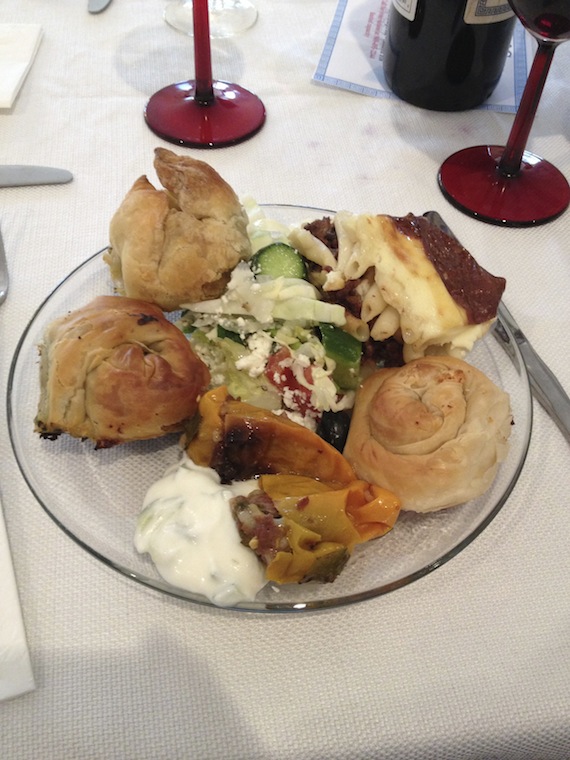 Recently, Jane and I went to a pre-easter Greek Buffet at a fellow Greek's house. We were really excited about this as the individuals hosting also owned one of the best Greek restaurants in town.
As soon as we arrived, we were greeted warmly and introduced to all the Greek wine, beer, and of course Ouzo we desired.
Luckily for Jane and I, our Greek language class was present so we were able to spot people we knew right away.
After some mingling and chatting with fellow guests, most of which were Greek, we took our seats and witnessed some piping hot amazing appetizers come rushing out of the kitchen.
They presented to us some freshly baked phyllo delights: Spanakopitas and Tiropitakias.
I absolutely love each of these Greek Mezes, so much so that I have one or the other at least once a week.
Additionally, they also served some amazing stuffed Greek peppers and tomato and green beans (fasolakia yahni) alongside small servings of pastitsio.
Lastly, they paired everything with some delicious tzatziki, spicy feta, and a salad!
And that was just the start of this wonderful night!
After thoroughly enjoying all of the Greek appetizers and sipping on some fantastic Greek wine–we were ready for the main course!
It was such a nice sight to see the dishes coming out of the kitchen one by one.
Jane and I quickly got in line and patiently waited for our turn for the Greek dinner options.
Once it was my turn, I went a little crazy. I picked up another tiropitakia and some more stuffed peppers. I then added some delicious pork that was marinated in Greek olive oil infused with oregano.
Next to hit my plate was a staple in Greek cooking- Lamb. This lamb was delicious and paired with potatoes cooked in the same oregano and olive oil mixture.
I then added some Kalamata olives and a Greek salad to my plate, picked up one of my favorite Greek beers, Aris, and experienced bliss as I ate my dinner!
Jane and I absolutely loved it. She having a lot less than me, of course ☺
As we ate, we talked with friends and fully enjoyed the combinations of flavors. We all agreed how good the food was and that it being freshly cooked made all the difference.
Next, came everyone's favorite—dessert! (γλύκα – glýka)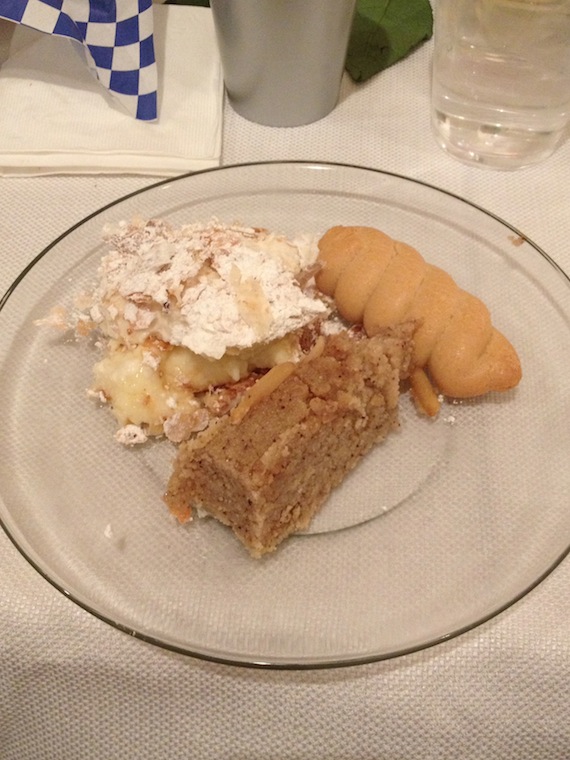 We were served three, yes, three, different Greek desserts along side some Greek coffee.
Koulourakias (Greek Easter cookies), Halva cake (semolina cake), and mille-feuille (Μιλφέιγ) which has its influence based in France, and literally means: 1000 leaves cake.
Each of these desserts were amazing! I am a big fan of dipping the Koulourakias in coffee so that was a nice treat. And having the Μιλφέιγ was great because it has the same custard as my favorite Greek dessert- galaktoboureko.
So this was our pre-Easter (and to some extent late Greek Independence Day) party.
It was a great night with great friends and amazing Greek food. καλή όρεξη!