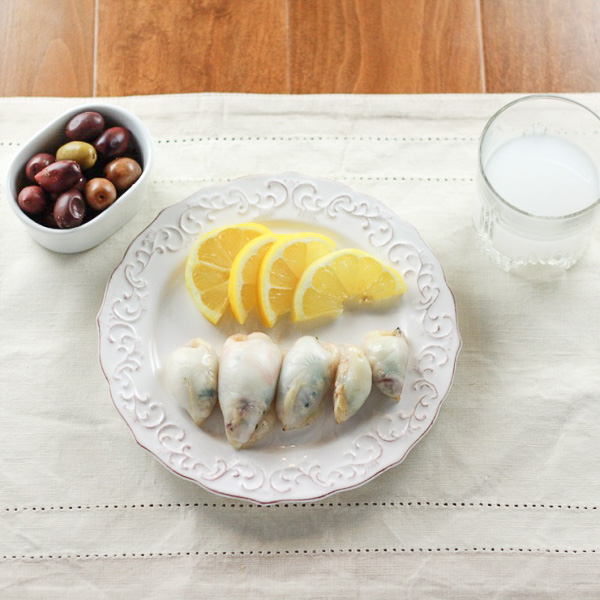 Recently, Kenton said that he wanted to try to do something outside of our comfort zone. He told me that he wanted to work more with squid and octopus (we've done that now: Octopus With Ouzo). Although we have both eaten many dishes that include these sea creatures, we have rarely worked with them ourselves. Well that all changes now that we have lemonandolives.com.
This ended up being the least intimidating dish to make. My expectations far outweighed what the actual process entailed. It was actually kind of fun and exciting to be working with a fish that I had not yet explored in my days of preparing food. I must admit, we did go to our local grocery store and ask for pre-cleaned and cut squid. For one, it was easier to work with and two, it made the process go a lot quicker. For us this was great because we wanted to eat them as an appetizer. Quick and simple! Love it.
The lemon and cilantro really brought this to an elevated and refreshing level. As lemon usually does with fish, it made each bite so light and pleasant. Also, by using ricotta cheese, you'll find the filling to be a lot creamier than if you used another kind of cheese (like feta). The taste is also milder which works well with the squid. This really is such a nice summer appetizer. I can't wait for all of you to try it out. καλή όρεξη!
Notes:
1. After preparing the mixture, make sure you don't fill the squid all of the way to the top. When baking, a lot of juices run out and the filling will too if the measurements aren't followed correctly.
2. Make sure not to overcook the squid. It can easily become rubbery and the texture may ruin the dish. The color of the squid may not change drastically from raw to cooked, so make sure to follow the recipe guidelines. Enjoy!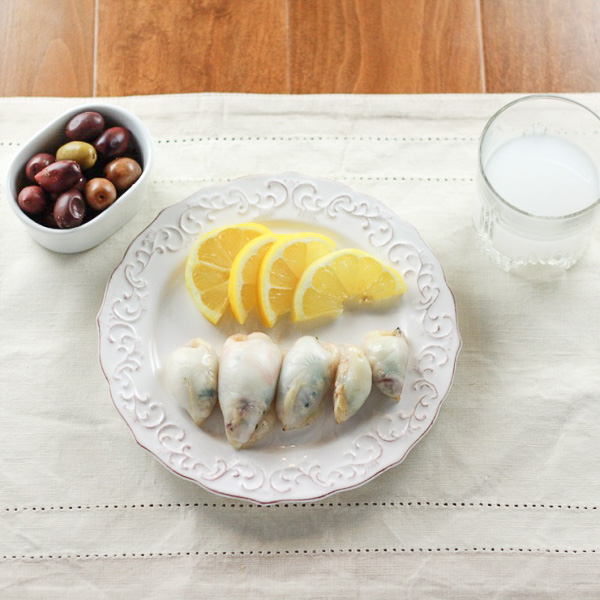 Stuffed Squid | Kalamarakia Yemista
Total Time:
1 hour
20 minutes
Stuffed squid (calamari) is an excellent summer appetizer that your friends and family will be impressed by.
Ingredients
4 large squid, tentacles and sacs, separated
1/2 cup olive oil, plus extra
1/2 onion, blended or cut finely
1 shallot bulb, finely chopped
2 garlic cloves, diced
1/4 cup cilantro
4 oz ricotta cheese
1/4 cup lemon juice
salt and pepper
Instructions
Preheat oven to 350 F and line an oven safe dish with parchment paper.
Heat about 4-5 tablespoons of oil in a pan over medium-high heat.
Chop tentacles and add to pan. Cook for 4-5 minutes or until golden.
Remove from heat and reserve for later use.
Heat remaining oil in skillet on medium heat and cook onion, shallot, and garlic for approx. 4-5 mins.
Mix in cilantro, ricotta cheese, lemon juice, chopped tentacles, and season with salt and pepper.
Stir for 1-2 minutes and remove from heat.
Allow to cool long enough so you can touch the mixture with your hands.
Fill squid sacs with mixture being careful not to overstuff. Three quarters of the way is perfect.
Secure openings with toothpicks or skew them all on one skewer.
Line up squid on baking sheet and drizzle olive oil on top and add salt and pepper.
Cook for about 16-20 mins (depending on size of squid)
Serve with a side of sliced lemon.
Nutrition Information:
Yield:

4
Serving Size:

1 grams
Amount Per Serving:
Unsaturated Fat:

0g