As we develop this blog, we realize that we have more dinner and appetizer dishes than we do dessert. Is it to be expected? Probably. Well c'mon now, not everyone is a baker! Nonetheless, the main dishes and mezes have just come to us a lot easier. Or maybe we are just a little timid when it comes to venturing outside of that realm. In either case, I am proud to say that we are taking steps in the right direction. We know we love having dessert (who doesn't?), so we have to get crazy enough to make it.
This was not our first attempt at dessert. However, this is one of the few that we've created and we are so happy to report that it was ah-mazing! We came across this recipe and knew instantly that it would be a treat. And hey, how could we mess it up that bad? It was phyllo and nuts…easy peezy. In our version of this recipe, we added some hazelnuts to the mix because we had a small bag of them in the pantry. I am a huge fan of using what you've got. It has been the number one reason that I have grown as a cook. I'm not a chef by any means but I do recognize that I have gotten better since my mac n' cheese on the stove days.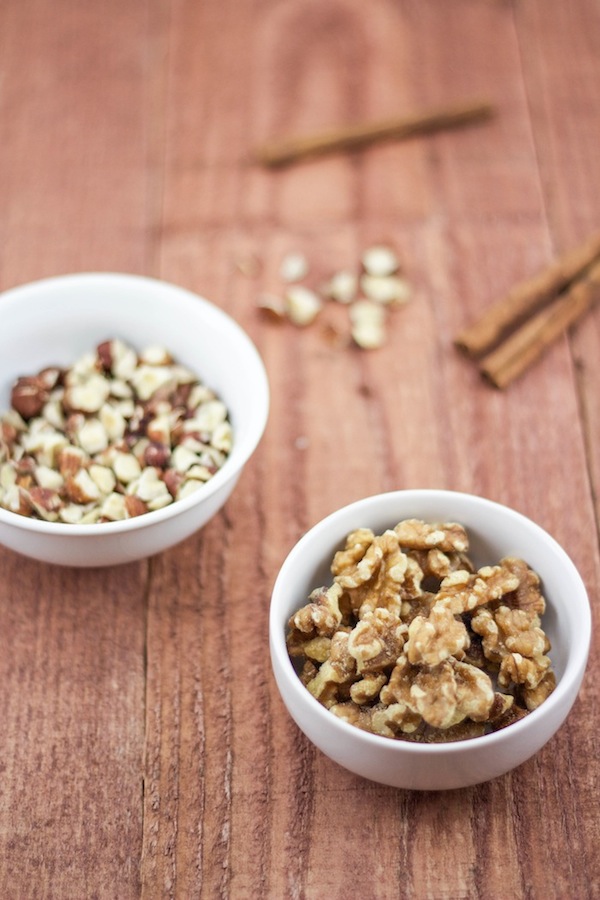 I've said it before, I adore working with phyllo. Odd? Maybe. But it is so therapeutic to just layer and repeat. It's a change from running around the kitchen like a chicken with its head cut off. The process of using phyllo is something that is slow and easy. Once you get that melted butter on each sheet and roll up the dessert into a barrel shape, it's all really downhill. I sliced along every few inches to make the pinwheel (do yourself a favor and don't get caught up on the way it looks or making it perfect. I really worried about which way I should roll it and cut it, and I realized in the end that it's all really up to my preferences. It tastes great no matter how it comes out of the oven. Just a FYI). Some of the pinwheels came out a little droopy and others completely normal. I partly think this is because some of our phyllo got too dry before we were done using it. Note to self, make sure to keep the sheets moist while using them by putting a wet paper towel over the entire roll.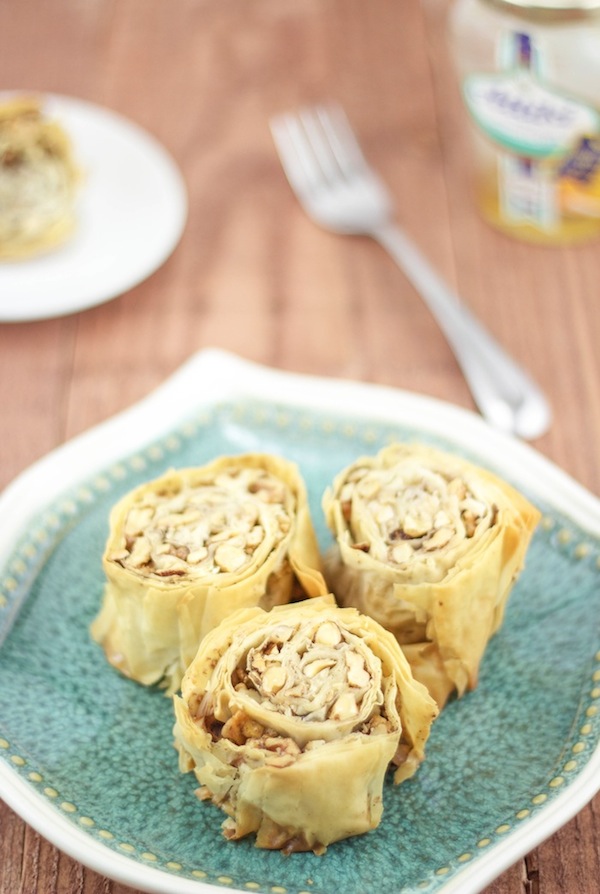 Did they turn out exactly how we planned? No. Will we have better success next time? Most likely. The point, my friends, is not whether or not it was your best creation, rather, it is whether or not it was a. good and b. a great learning experience. It was both. Before I come to a close here, I want to let you in on one last philosophy that I have — honey drizzled on anything is fantastic. So don't be scared of a heavy pour….and enjoy. Kali Orexi.
Love,
Jane

Saragli | Nutty Baklava | Nuts In Phyllo
Nuts wrapped in phyllo- a great Greek dessert.
Ingredients
1 cup walnuts
1/4 cup hazelnuts
1 teaspoon cinnamon
1 package phyllo - cut in half
1/2 cup butter, melted
Syrup
1/2 cup sugar
1/2 cup water
1 slice orange peel
1 slice lemon peel
1 teaspoon lemon juice
Instructions
Add nuts to food processor, and pulse a few times to chop - not too much.
Add chopped nuts to bowl and add cinnamon - mix.
Take one sheet of phyllo and lay it flat, coat with butter.
Repeat 4 times
Sprinkle some nut mixture.
Add two more sheets of phyllo, coating with butter
Sprinkle some nut mixture
Repeat until mixture is gone.
Start at bottom end, and tightly roll up, forming a log.
Cut into 1 to 1.2 inch pieces.
Place on buttered baking sheet.
Top with a small amount of melted butter
Bake at 350F for 40min, until golden brown
While baking, make syrup
Syrup:
Add water and sugar to saucepan and heat over medium heat
Once boiling, add lemon juice, lemon peel, and orange peel.
Boil for 5 min, then remove from heat and set aside.
Once saragli is done, remove from oven.
Drizzle syrup over each piece.
Serve!
Notes
Serving: depending on how you cut- one piece is one serving
Nutrition Information:
Yield:

10
Serving Size:

1 grams
Amount Per Serving:
Unsaturated Fat:

0g