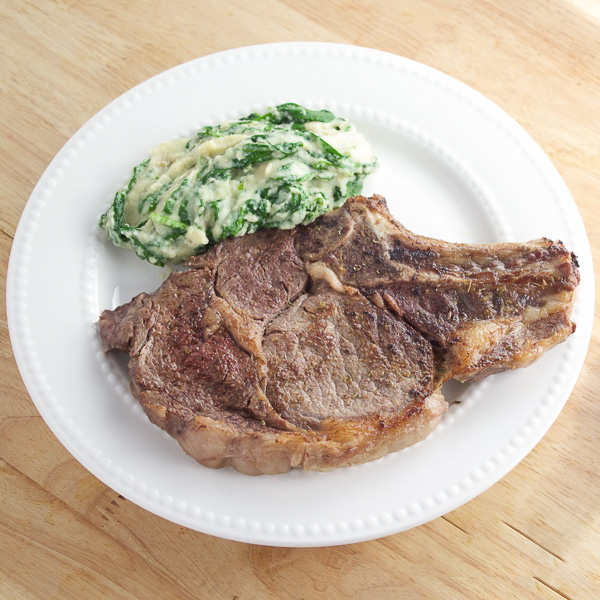 First and foremost, Jane and I wanted to let you know that we're now officially on Yummly! You can see our personal page here: Lemon & Olives Yummly.
For those of you that don't know what Yummly is, let me explain it to you. At it's heart, it's a recipe curator where you can create a profile and store recipes from all over the web, as well as be introduced to new ones. It's used by millions of people all over the world (they get like 15 million hits a month).
When you see a recipe you like you can "Yum" it to your page and it will be there forever for you to come back to.
On our site, you'll see the button off to the left or at the bottom if you're on a mobile phone. It looks like this: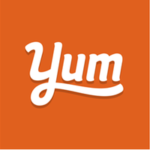 Additionally, say a site doesn't have a yum button, you can install their bookmarking tool which they have for all browsers and iPhones/iPads.
So go crazy and yum your way to having ideas on call for lunches, dinners, and of course desserts.
Jane and I are loving it thus far and we can see why it's used by millions of people already.
To get you started on your yum adventures, here's a recipe for you 😉
Today's dish is a good old fashioned bone-in rib-eye. Yes, it's for all the steak (in greek: μπριζόλες μοσχαρίσιες – bree-ZO-les mos-hah-REE-seeyes) lovers out there.
Not to mention, this pairs fantastic with that Greek creamed spinach we published earlier in the week. Additionally, it goes great with the asparagus with feta recipe as well.
I think the bone-in rib-eye is one of the best pieces of meat around. While it's no fillet mignon, the bone and fat it has really gives it a wonderful flavor. You don't have to eat the fat that comes on meat, but remember fat = flavor.
The idea for presenting the steak was actually borrowed from the Michael Psilakis's cookbook we mentioned in the Greek creamed spinach post, as he served it with a steak as well. No doubt because it's a great combination. However, his steak recipe is different than the one here.
You'll notice that there really isn't much to this recipe, that is because this steak already comes with great flavor. As a matter of fact, some may say salt and pepper is all that's needed and if you're one of them – then stick to what you love, but if you're feeling rebellious, give this a go.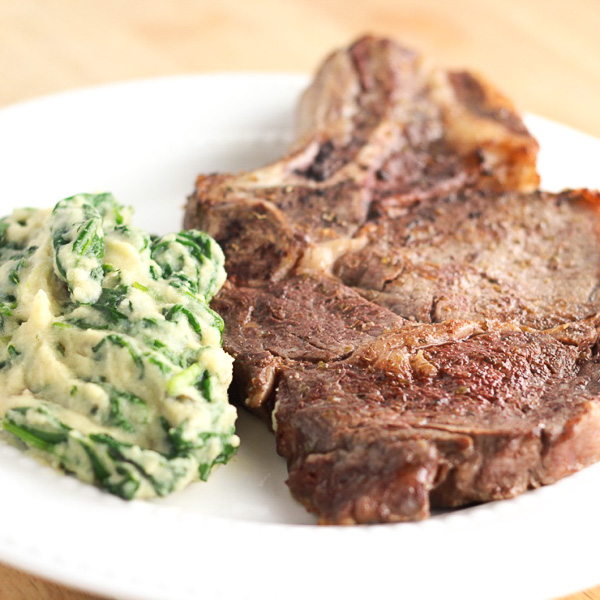 The trick here is searing both sides on a hot pan to really lock in all the wonderful juices and flavors and then sticking it right in the oven to finish off.
You'll need to play with the time to get your perfect temperature, so have a meat thermometer on hand, we use this one: Weber Instant-Read Thermometer
Some can use the touch method: If it's like your cheek – it's rare, like your chin – medium, and like your forehead – well done.
However, I'm not that good at doing it this way, so I use the meat thermometer to gauge.
Cooking Tips:
Here's a few tips we learned when cooking red meats:
Let it rest! When meat cooks it reacts by tightening up. This pushes all the juices to the perimeter of the steak. You want it to relax and pull all the juices back to the center so it's evenly distributed throughout.Thus, let your meat rest for about 10 minutes before cutting into it or all those wonderful juices will spill onto the plate.
You want to remove it from the oven/pan/BBQ/however you're cooking it, when the temperature is roughly 7 to 10 degrees BELOW what you're after in terms of rare, medium, and well done. This is because the temperature will rise during resting time.
Meat temperatures: 145 °F (medium rare), 160 °F (medium), or 170 °F (well done) – adjust time accordingly.
Okay, with those tips in mind, let's give this bone in ribeye recipe a try!
Kali Orexi
Kenton & Jane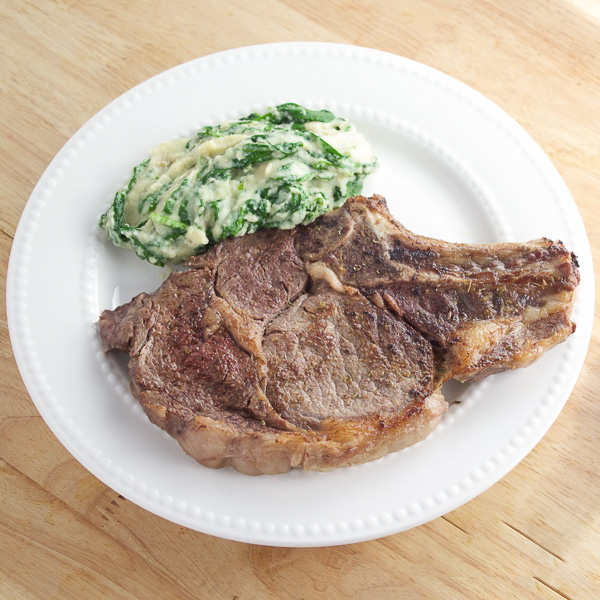 Bone-In Rib-Eye Steak
A simple and delicious bone-in rib-eye recipe
Ingredients
2 bone-in rib-eyes
1/2 teaspoon oregano
1/2 teaspoon garlic powder
salt
pepper
olive oil
Instructions
Salt both sides of rib-eyes and let sit at room temperature for 30 minutes.
Preheat oven to 375F while letting steaks rest on counter.
Heat some olive oil in a pan over medium-high heat.
Sprinkle both sides with oregano, garlic powder, and some pepper.
Add steaks to pan and sear on each side, about 4-5 minutes.*
After searing, place pan in oven and bake for 5 to 10 minutes depending on how you like your meat**
Once desired temperature is reached, remove, let rest for 10 minutes, and serve.
Notes
*If your pan is not oven safe, place on baking sheet.
**See cooking tips above for cooking temperature and remember to take it out before it hits desired preference.
Nutrition Information:
Yield:

2
Serving Size:

1 grams
Amount Per Serving:
Unsaturated Fat:

0g