You can think of kreatopetes as small personalized kreatopitas wrapped in delicious buttery flakey phyllo (filo). Yes, we think they're yummy and we're excited to share our recipe with you!
We have something to share with you that might blow your mind…It's almost May! I know, right? I have no idea how that happened or who's idea it was to put 2018 in superdrive. Either way, whoever is responsible – take note, we're onto you!
One of the great things I love about summer steadily approaching is all the exciting emails we get from people heading off to Greece for either the first time or their 100th. We love how truly happy people are about traveling there. Of course, we love providing any tips we can to help make the trip a success.
Since we've spent the past year bouncing around, I don't think we'll be going anywhere, so feel free to tag us on Instagram so we can live through our readers 🙂
Anyhow, let's get to what really matters here, our new Greek recipe for kreatopetes!!
Kreatopetes | Greek Meat Triangles
One of the greatest things about this recipe is the fact that kreatopetes are extremely versatile. What I mean by that is you don't even need to go out of your way to prepare the meat, you could just use whatever leftover ground meat you have in the fridge, add some cheese/spices to it, and you're good to go. The best part? Well, since it's all cooked, you can taste as you go and when you're happy, wrap it in yummy phyllo and boom – you've got kreatopetes AKA a delicious Greek meze (appetizer) to serve up to family and friends.
One thing we personally love about these little Greek meat pies is the fact that they are perfect for get-togethers, parties, football games, etc., There these little addictive triangles that are just asking to be devoured. Not to mention, the combination of meat and cheese contained in that buttery goodness.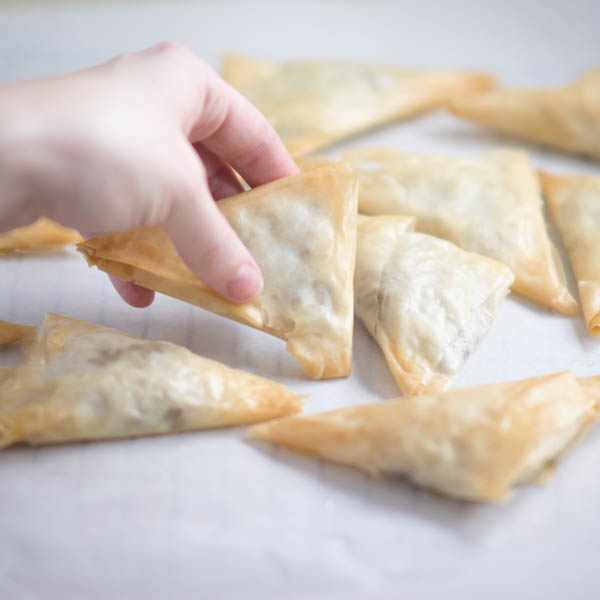 Making Kreatopetes | Working With Phyllo Sheets
Okay, sometimes people get a little nervous when they have to work with phyllo. We get it, I can attest personally that there were a lot of ripped, torn, and broken phyllo sheets that came out of the Lemon & Olives kitchen in the beginning. Thus, don't worry, there is nothing like just diving in and doing it. Here are some tips to help you when it comes to working with phyllo.
Don't work with it frozen – make sure your phyllo roll is thawed before you attempt to roll it out. If it's not, or it doesn't roll out easily, you're in for a wild ride fighting with it. For us, we never won.
Have everything ready to go before unwrapping – Have your working space set up, have the butter melted, the brush at the ready, and all ingredients done and waiting. Even pretend to do one and know your workflow. Being prepared and knowing exactly what to do helps alleviates a lot of stress.
Work with one sheet at a time – You don't need to have multiple sheets exposed, just use one. Keep a damp paper towel covering the ones you're not using.
Tell everyone to leave you alone – this is a joke, but really, when you're getting ready to work with phyllo, you need to focus and once you start don't stop until you're done. Those sheets seem to dry up on purpose sometimes.
Thaw the whole box – most recipes call for 1 roll of a 2 roll 1lb box. If it's your first time, maybe thawing both rolls will help. This way, if some break or become unusable from the first roll, you'll have a backup. You won't be able to refreeze it, so this could potentially be wasteful thus it's your call; however, it's something to think about if you're new to phyllo sheets.
Do you have any tips to help your fellow greek food loving chefs out?
We hope these help, and we'd love to hear any extra tips you have for working with phyllo sheets so please comment below ↓. Your fellow cooks and Greek food lovers would appreciate the tips as well!
We hope you enjoy this delicious kreatopetes recipe. These are the perfect Greek appetizers to serve at your next gathering.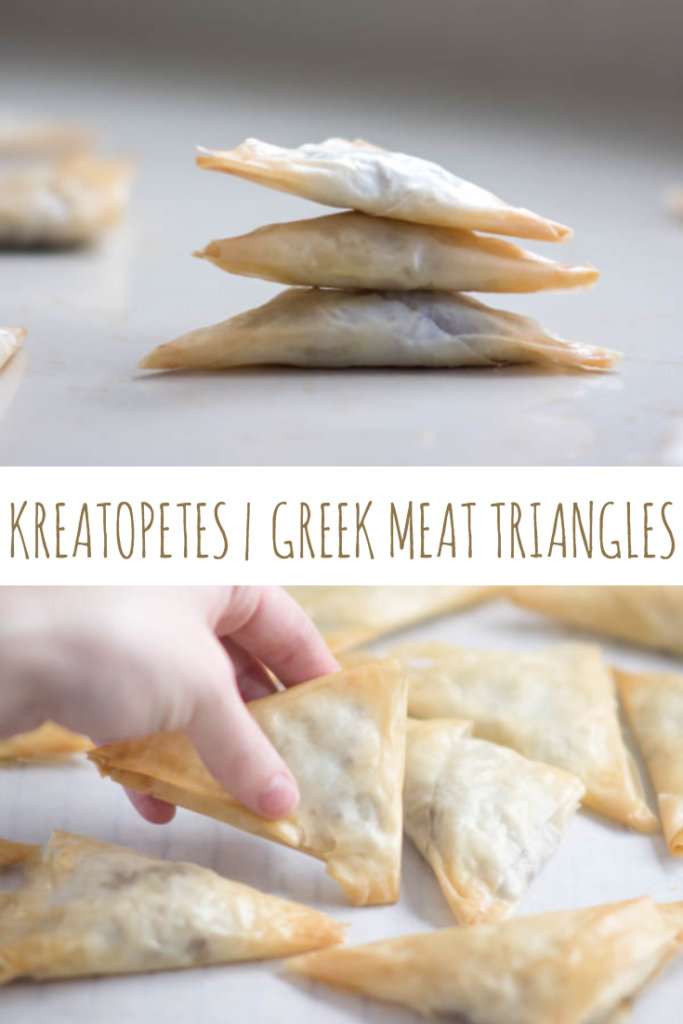 Kreatopetes | Greek Meat Triangles
Kreatopetes are delicious Greek meat triangles. Cheesy meat wrapped in buttery flaky phyllo.
Ingredients
1 tablespoon olive oil
1 shallot, diced
2-3 garlic cloves, diced
3/4 lb ground beef
¼ teaspoon ground cinnamon
3 tablespoons parmesan cheese*
1 tablespoon chopped fresh parsley, optional
½ pound phyllo sheet, thawed
¼ cup butter, 4 tablespoons
Instructions
Preheat oven to 375F.
Add olive oil and heat a pan over medium-high heat.
Add shallot cook for 3-5 minutes.
Add garlic and cook until fragrant.
Add ground beef and brown
Once brown add cinnamon and mix well.
Cook until ground beef is fully cooked, 10-12 minutes.
Once cooked turn off heat and remove from stove.
Add in cheese and herbs (if using).
Allow the kreatopetes mixture time to cool some why you prepare the phyllo.
Melt butter in microwave safe dish and set aside.
Take 1 phyllo sheet and cut it lengthwise into 3-inch strips.
Brush each phyllo strip with some of the melted butter.
Take a spoonful of the kreatopetes meat mixture and place it on the corner of one end of the phyllo strip.
Now, fold the phyllo over to form a triangle. Continue folding over using the entire strip.
Place the kreatopete on a baking sheet lined with parchment paper.
Continue until all the meat mixture is used, cutting new phyllo sheets into strips as needed.
Once all kreatopetes are done, brush tops with melted butter and bake for 15-20min, or until golden brown.
Enjoy your delicious Greek appetizers...OPA!
Notes
*We've also had success using a 4 cheese mixture: parmesan, asiago, fontina, and provolone - thus feel free to use your favorite cheese(s).
Nutrition Information:
Serving Size:

1 grams
Amount Per Serving:
Unsaturated Fat:

0g