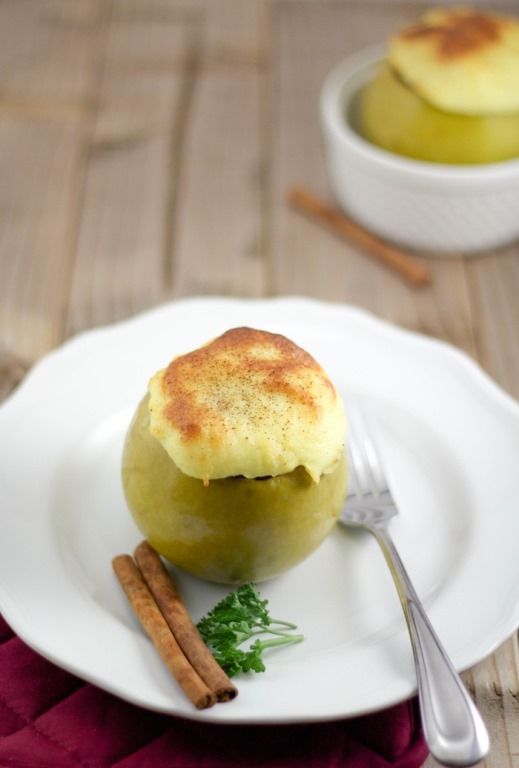 In Greek: Meat Stuffed Apples – Mila Gemista Me Kima – Μήλα γεμιστά με κιμά
The smell of baked apples makes this appetizer almost seem like a dessert. The filling itself has a wonderfully sweet aroma even though it is 90% beef. I'll tell you why, when cinnamon meets beef, something wonderful happens. The flavors marry so well that sometimes your brain doesn't know how to register what you're eating. Sweet or savory? What is it? Who cares, it's great and I want more! You can find this interesting mixture in pastitsio, moussaka, and even many middle eastern dishes. A great combination that has been used in many countries for hundreds of years.
I learned something interesting from cooking this dish that I did not expect. After coring the apples to create room for the meat mixture, I was not sure what to do with the flesh. So, I discarded it. Oh, what a shame that turned out to be! After the apples baked, the small bit of flesh that was still inside the apple was so sweet yet gritty – it was soft and reminded me of something wholesome. Wait a minute…it was apple sauce! I could have made a whole bunch of it with the insides that I discarded. So, don't make the same mistake I did and let that part of your cooking experience go to waste. It truly would be a shame. If I've saved the inside of just one apple with this story, it would have all been worth it. :)
I must admit that the most tantalizing part of this recipe is the bechamel sauce that sits atop each apple. As you may be able to tell from some other recipes on this site, I go crazy for that sauce. It's butter, milk and flour….I mean, c'mon! I am not afraid to admit it that's for sure. I feel less guilty eating it with this recipe though because there is far less of it than there is in other dishes. Phew! In any case, the sweet yet savory meat mixture, the apple sauce oozing from the middle, and the bechamel topping makes this one for the books. καλή όρεξη!

Meat Stuffed Apples - Mila Gemista Me Kima
Total Time:
1 hour
25 minutes
Apples Stuffed with a spiced Meat
Ingredients
6 large firm Granny Smith apples
1 lb ground beef, lean
Sugar
1/4 cup olive oil
1 onion, chopped
dash of ground cinnamon
2 tablespoons chopped, fresh parsley
handful of pine nuts
handful of raisins
1 cup beef stock
Bechamel sauce for topping
2 cups milk
1/8 cup butter
1/2 cup semolina
Instructions
Slice tops off of each apple and discard.
Remove center flesh from apple and set aside to bake for apple sauce! (photo)
Blanch apples in boiling water for 3 minutes (be careful as they can easily overcook; shorter the better). (photo)
Drain the apples and sprinkle the inside of them with some sugar.
Heat oil in a pan, add onions and meat, cook over medium heat until lightly browned.
Add parsley, cinnamon, and half of the stock. Season with salt and pepper and let simmer for 15-20 mins. (photo)
Preheat oven to 400 degrees F.
Remove pan from heat mixture and stir in pine nuts and raisins.
Fill each apple with meat mixture and place them inside an oven proof dish.
Top each apple with bechamel sauce.
Sauce:
Melt butter in a deep pan on medium-high heat.
Add milk to pan and stir; add salt to taste.
Right before milk starts to boil, slowly add in semolina flour; stir frequently.
When sauce becomes thick, turn off heat and add over apples.
Lightly sprinkle top of each with cinnamon.
Use remaining stocks to cook any left over bits from your meat filling and then pour mixture at the base of the apples. (photo)
Bake for 30-45 mins, until apples are soft.
Serve immediately.
Nutrition Information:
Yield:

4
Serving Size:

1 grams
Amount Per Serving:
Unsaturated Fat:

0g