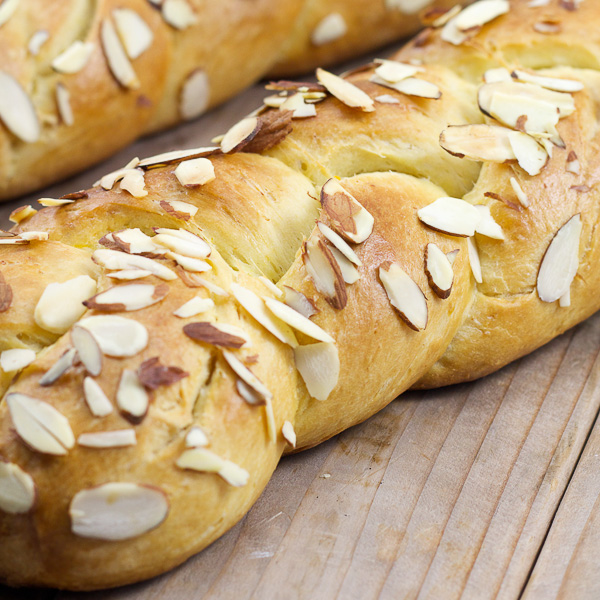 The traditional Easter bread made and eaten on Greek Easter is called Tsoureki. It's a beautifully intricate looking bread that is actually quite simple to make and create. When you think of this bread, and how it is made by Greeks all around the world, it really is a moving experience to create – you feel like you're part of the tradition! You may have seen this braided bread with a bright red dyed hard-boiled egg sitting on top. A lot of people who aren't Greek ask, "you put a hard boiled egg where, and why?" It's true, it's tradition, and it's fabulous! Come along as we tell you more about it.
This sweet yeast bread is made with eggs, milk, butter, and flour, plus a few extra surprises for that burst of delicious flavor. The traditional Greek Easter bread also calls for Mahlab or Mahlepi, although we do not use it when we make our Easter bread. It is made from the seed kernel found within a cherry and is ground up into a powder. It is often used to spice up mediterranean/middle eastern dishes — which is why you will likely be able to find it at your local mediterranean market. A popular substitute for it, and one the we have incorporated into this recipe, is vanilla extract.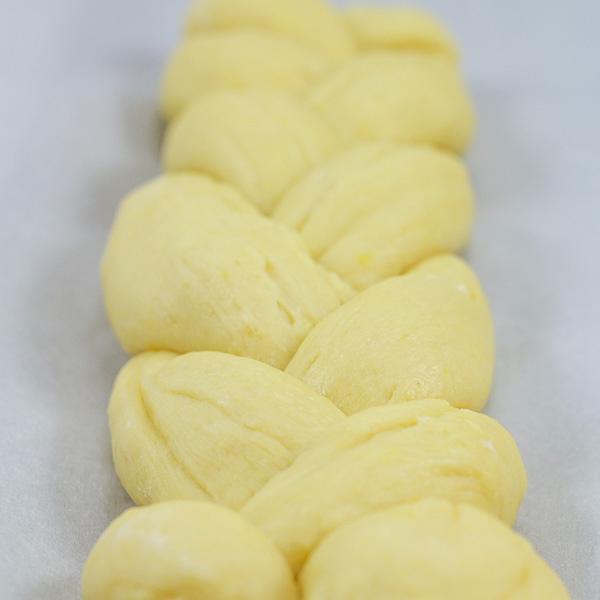 As for the traditional aspect to the bread, the three strand braid represents the holy trinity while the red dyed egg mentioned earlier represents the blood of Christ. Altogether, you get one religious and heart felt bread!
It is a sweet bread but not so sweet that it can't be eaten throughout the day (and believe me, you will). This recipe makes two loaves and therefore you will have enough to share with all of your family, friends, and even co-workers. I hope you enjoy making and eating this as much as we do – καλή όρεξη!
Kenton
PS. Don't forget to make the delicious cookies made for Greek easter as well: Koulourakia | Greek Easter Cookies and the egg tapping game: Tsougrisma | Egg Tapping Game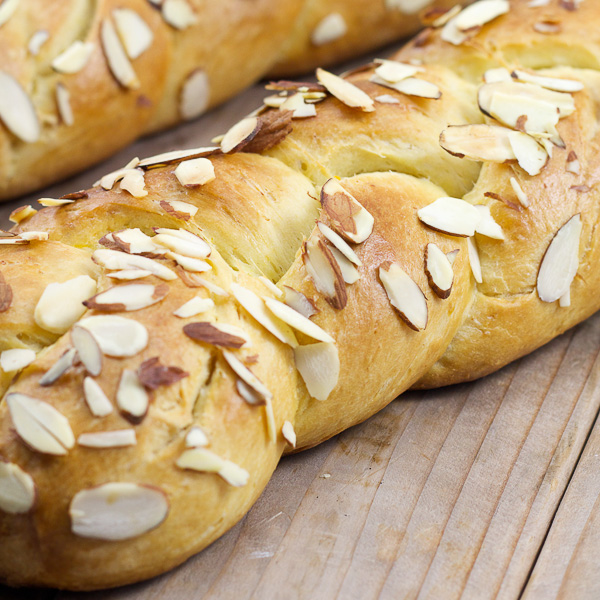 Tsoureki | Greek Easter Bread
Prep Time:
3 hours
35 minutes
Total Time:
4 hours
10 minutes
Tsoureki is a sweet Greek Easter bread. Easy and delicious. Something the whole family will enjoy.
Ingredients
4 cups all purpose flour
1 packet of yeast, 1/4oz or 7g
1/4 tsp. salt
3/4 cups warm milk
1 stick, 1/2 cup of butter, soften
3/4 cups sugar
zest of 1/2 lemon
zest of 1/2 orange
Cap full of vanilla extract
2 eggs
For the top:
1 egg, beaten with a splash of water
1/4 cup sliced almonds, add more or less to preference
1 red hardboiled egg, optional
Instructions
Mix the yeast, 2 tablespoons sugar, salt, 2 tablespoons flour, and milk together and let sit for 10 mins. This is to activate yeast.
Mix butter, eggs, remaining sugar, orange/lemon zest, and vanilla in with the yeast mixture, blend well.
Add remaining flour and mix until it becomes a dough (add more flour if you notice the dough is too sticky).
Knead dough for 5 to 7 minutes.
Sprinkle a little flour in a bowl and place dough in bowl, cover and let rise until it becomes double the size (roughly 2 hours) (photo)
Divide dough into 6 parts (3 strands per loaf of bread), roll out length wise, pinch 3 strands together, and braid. (photo)
Place each braided dough loaf onto a baking sheet lined with parchment paper and let rise (roughly 1 hour) (photo)
Brush top with egg wash and sprinkle with almond slices (or topping of your choice)
Press one hardboiled egg into mixture or you can also place egg onto dough before you begin braiding (optional)
Bake in preheated oven at 350F degrees for 30-40 minutes or until center is cooked through.
Remove and let cool and rack.
Serve!
Nutrition Information:
Yield:

2
Serving Size:

1 grams
Amount Per Serving:
Unsaturated Fat:

0g