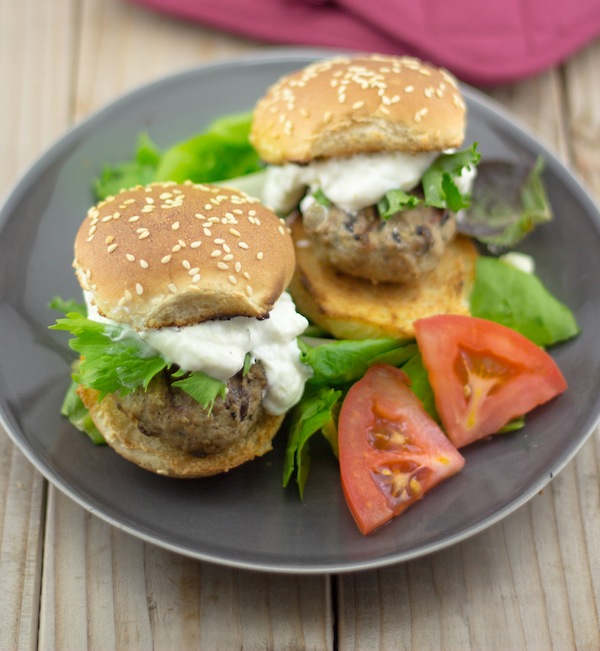 Since starting this food blog, Jane and I find ourselves at the store almost daily–seriously, the workers literally know us. And every time we go, we're always looking for manager specials on meats or whatever else can be frozen and kept for another day.
It's something I recommend to people. Even if the expiration date is that day, buy it and freeze it–then whenever you're ready, thaw it out and you're good to go.
Case in point: lamb.
If you've cooked with lamb before, you know that it can be a bit on the expensive side. It's not uncommon for 1 pound of ground lamb to go for $9-10. So whenever it's on sale, and you like it – buy it!
Sometimes you get lucky and find these specials. Jane and I were at the store for some shrimp when we discovered one pound packages of ground lamb for $5 each.
We bought three 🙂
We knew right away what we were going to make–lamb burgers. We had lamb burgers a few months back and thought there were definitely some ways to bring more to the table and create more flavors. So this was our chance to test our theory.
Olives go good with lamb….feta goes good with everything….and oregano is must…and there you have it, our marriage of ingredients. Luckily, we already had these items in our fridge/pantry.
After mixing all the ingredients together, we thought making sliders would be a nice twist as well.
They hit the grill with a sizzle, and within a few minuets started to smell amazing!
Also worth noting, lamb does have a good amount of fat, and it will drip off while you are BBQing, so seeing a lot of smoke is okay.
When they were done, we added some lettuce and tried one. Truth be told, we felt they were missing something…thankfully we had leftover tzatziki on hand from a previous dish we made earlier in the week. Well, that brought the burgers to a whole new level!
The olives and feta mixed so lovely that whenever we make lamb burgers in the future–they will be made this exact way.
Give them a try and let us know what you think!
I know football season just stared, so these lamb sliders would make an excellent addition to your game day snacks! Kali Orexi!
Kenton & Jane
PS. Feel free to kick this recipe up a notch with some delicious Greek style caramelized onions!

Lamb Sliders
These delicious lamb sliders are mixed with feta and Kalamata olives. Warning, they are highly addictive! Makes about 11 sliders
Ingredients
1 pound ground lamb
2 garlic cloves, pressed
1 teaspoon Greek oregano
1/2 cup whole Kalamata olives
4 ounces crumbled feta
1 egg
Salt & pepper
pinch of parsley
Instructions
Dice Kalamata olives.
In a large mixing bowl, combine all ingredients.
Get your hands messy and mix all ingredients well.
Take small parts of the meat, roll into a ball and flatten a bit to create small patties.*
Repeat until done
Turn on grill to med/high and cook for about 4min on each side (or until cooked through).
Last 4min, add buns to top shelf of BBQ to get warm and slightly crispy.
Remove from heat and place on bun.
Add whatever toppings you like: tomatoes, lettuces, onions, etc,.
Bonus: For a delicious spread, add a teaspoon of tzatziki
Serve!
Notes
*If you're not interested in making sliders, then break up meat and roll into larger patties - adjust cooking time as needed.
Nutrition Information:
Yield:

5
Serving Size:

1 grams
Amount Per Serving:
Unsaturated Fat:

0g