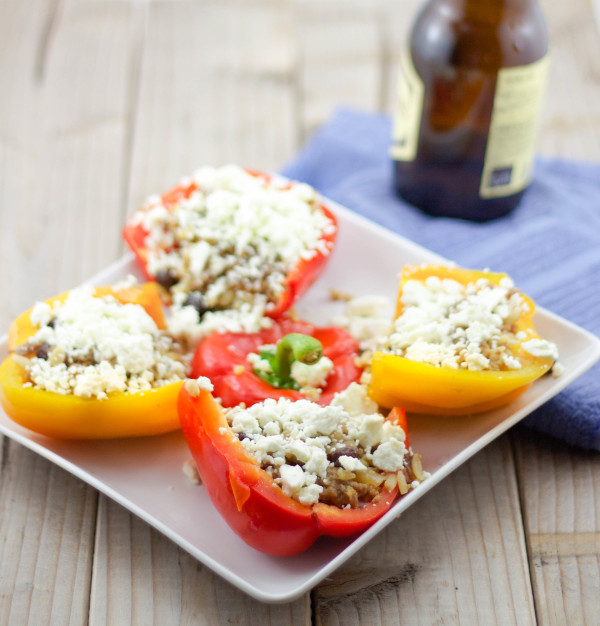 Lately, you might notice that we have been posting around once a week. Not too often in food blog world. However, we are growing like crazy and are working really hard to cook A LOT! We're focusing on putting out the best recipes we can, which requires much trial and error, and write great quality posts. Not too long after we relaunched, I explained to Kenton that I wanted our posts to reflect who we are, say things that sound like us and make you, as readers, feel like this website was more than just about posting recipes. It's a lifestyle and we are just a simple couple who enjoy cooking and want to share how we are growing in our documentation of our fondest hobby. He completely agreed and wanted to start cooking a ton more than normal so that we could keep pushing forward.
So….we have a lot of exciting things in the works and so much to show you by the end of the year.
Now that we have kept you well informed, let's turn our attention to these amazing stuffed bell peppers that are filled with ground meat, feta, pine nuts, and a few more delightful ingredients. Back when we first started making these, we would make the meat mixture separate, stuff the bell peppers, and cook the whole thing for about 45 minutes plus. It drove me nuts because everything inside of the bell pepper was already cooked and I still had to wait 45 minutes. Sheesh! The second I start to smell the wonderful aromas of the food, I want to eat! There had to be a better way, a faster way. Down the line, we started to separate the cooking process.
While the meat mixture is on the stove, we drizzle the bell peppers with olive oil and sprinkle with salt and pepper. We then put them in the toaster oven for about 12-15 minutes. I prefer the bell peppers stay a bit firm so 12-15 minutes works well for me. This toaster oven method was the solution to our problem and once the meat mixture was done, we were ready to eat. Top with feta cheese or cheese of your choice and there you go, meal complete.
One last thing, this meat mixture is so freaking fabulous, I can't even put it into words. You just have to try it. You will make it again, and again, and make it for more than just this recipe. Something about the sweet mixed with the savory just gets me every time. Kenton is a HUGE fan and says that he loves it so much every single time we eat it. Try it out and let us know!
Kali Orexi 🙂
Love,
Jane

Stuffed Bell Peppers
These stuffed bell peppers are delicious and the meat mixture will have everyone asking for seconds.
Ingredients
5-6 bell peppers, depending on size - tops cut and seeds removed and cleaned
1 pound ground beef, can sub for turkey
1 yellow onion, chopped
1 cup chicken broth
1/3 cup orzo
1/2 teaspoon oregano
1/2 teaspoon thyme
1 cup feta, crumbled (more if you love it)
Handful of pine nuts
Handful of raisins
Olive oil
Salt
Pepper
Instructions
Pre-heat oven to 350F.
Heat an oiled pan.
Add ground beef and brown.
Add onion, orzo, oregano, thyme, broth, pine nuts, raisins, and salt and pepper to preference.
Cover and simmer for 20 minutes, or until broth is absorbed, orzo is soft, and meat is cooked.
While simmering, coat inside of each pepper with olive oil and sprinkle of salt and pepper.
Place in oven, tops facing up, and bake for 15mins, or until desired texture is reached (softer peppers will require more time).
Remove from oven.
Stuff each pepper with meat mixture.
Top with feta and serve!
Notes
* We love yellow, red, and orange over green peppers. Also, the serving is 1 pepper per person.

* Sometimes, we add 1/2 cup of frozen spinach to the mixture if we have it on hand.
Nutrition Information:
Yield:

6
Serving Size:

1 grams
Amount Per Serving:
Unsaturated Fat:

0g