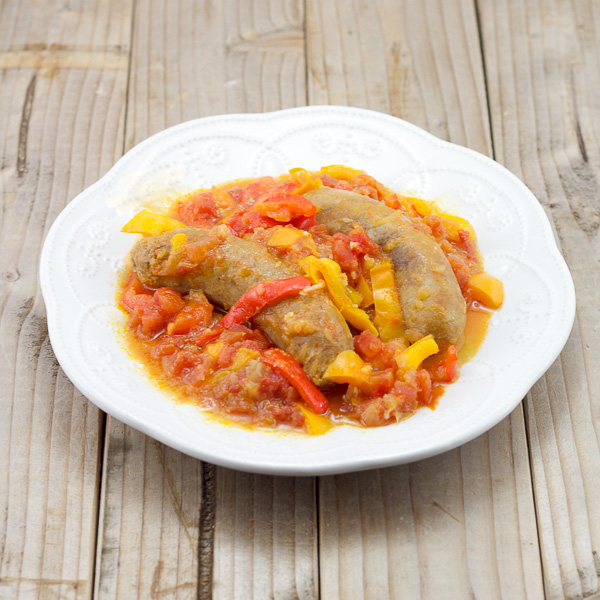 A brand new recipe for me and Kenton and what a treat it turned out to be. We came across this recipe in a wonderful cookbook of ours that is filled with so many unique and flavorful Greek recipes. We made a few changes and voila, we transformed it to our own lovely version. It was important that we chose the ingredients that worked well with not only what we could find at our local store, but also with our diet.
We recently decided to undertake P90X3…yes, the third one. Kenton and I have done the first version many times and sort of skipped over P90X2 because it was more focused on athletes. This led us to what we have now, the third and most exciting version of P90X thus far. Something we decided as part of our New Year's resolution was to lose weight. Original, I know. But it's important to us this year especially because we have a lot of big things happening (correction: we want to make big things happen). We sort of feel that getting our health in check is one of the first important parts of meeting our annual goals. I know it's only been a few days but I already feel so great that we are back on an active workout schedule. We started yesterday, on Saturday the 4th, and have been loving it so far. We decided that with our Greek blog, we would have to make sure that we alter recipes at home to match what our diets should look like over these 90 days. What we realized though, is that with Greek cooking, not many alterations need to take place. Greek food often consists of healthy and fresh ingredients which makes a mediterranean lifestyle, rather than a diet, much more easy to follow.
For example, tonight we made Spetsofai. This recipes should ideally be made with yummy pork sausages from towns in Greece (know as Loukaniko). Oh how I wish I had this at my fingertips. Alas, I do not. So we made a nice swap that was equally as delicious. We actually used spicy turkey sausages that are only 160 calories per link. Now with it's pork counterpart, this might be 240 calories per link. Still not terrible, and I'll tell you why. It's about portion control. With anything you eat, it's all about moderation. I guess my overall point is that I'm always glad to be cooking Greek food as I know I will have a great base for my diet and then if I need to tweak here and there, I always can without compromising flavor. If there is no way to tweak, then portion control is your next rule of thumb in Mediterranean cooking. I hope you enjoy this delicious meal and don't hesitate to switch a few things up to truly make it your own.
Love,
Jane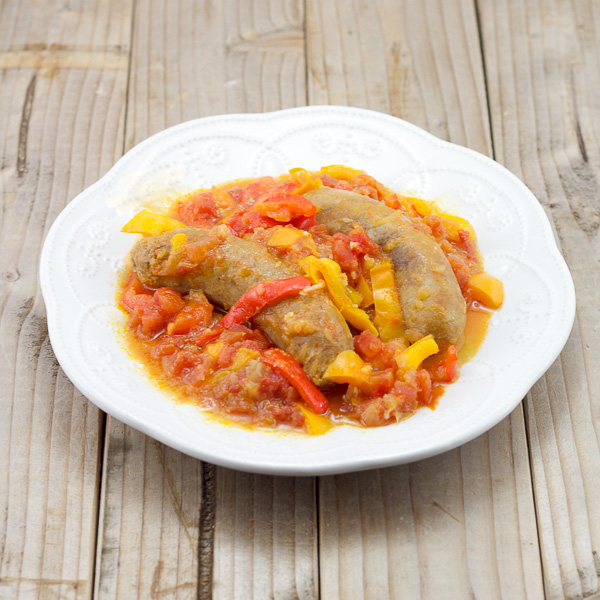 Spetsofai | Sausages With Bell Peppers
Sausage and bell pepper entree
Ingredients
1/4 cup olive oil
2 bell peppers, we like red, yellow or orange, sliced into long strips
14 oz can of diced tomatoes
5 of your favorite sausages, at least 1 pound
1 medium onion, chopped
2 garlic cloves
Salt and pepper
Instructions
Heat oil in pan.
Add sausages and bell peppers and cook until sausages turn light brown.
Add onion, garlic, diced tomatoes, salt and pepper.
Cook uncovered for 15-20min or until sausages are cooked and sauce is a little thick.*
Plate peppers, sausages, and some peppers on top.
Serve!
Notes
*If you find the sauce too watery, just use a slotted spoon to control liquid from pan to plate.
Nutrition Information:
Yield:

4
Serving Size:

1 grams
Amount Per Serving:
Unsaturated Fat:

0g