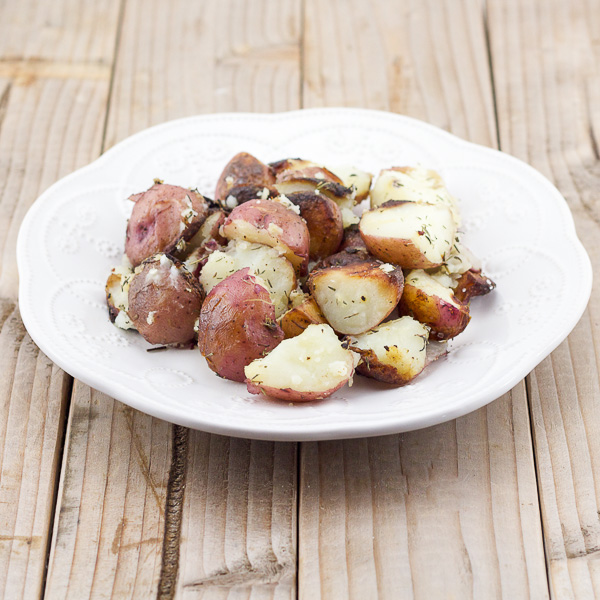 I am not unique in that I love potatoes…fried, grilled, boiled, baked…tots, spuds, fries…oh my! Tonight I am going to meet my friends for our weekly gathering and for dinner we are having a potato bar. Really! There will be a choice between a sweet potato and a regular potato and then a row of toppings to choose from. I'm sorry, but did the hostess tap into my brain and find out my weakness in life?! I am so very excited to say the least. This also makes it very clear as to why I am so thrilled to share this completely simple and delicious recipe with you. No frills, nothing crazy to buy at the store. It is simply baby red potatoes, olive oil, and thyme. The sheer ease of it is why I made it for three nights in a row. Okay, I know we are supposed to be watching what we eat right now (especially since we are doing p90x3) but hey, everything in moderation is the key to not just eating Greek, but eating in general. I truly believe you can taste and eat and enjoy whatever you would like, it's just that you can't do it all at once or in big heaping servings.
So what is it about this particular dish that is so satisfying. Well hello, they are potatoes. But also, I simply have to cut them into fours, pour a little olive oil in a pan, and fry them for less than 20 minutes. They are soft, crisp, and delicious. Once they are done, you sprinkle with thyme (or another satisfying herb) and add a touch of salt. That is all that is needed and these Greek spuds act as a beautiful addition to any dinner plate. They are really filling and give you those carbohydrates you need to give you energy (or at least that's how I justify it).
The same night that we made the Greek sausages, we decided to make these as well. You can serve the sausages and red sauce that accompanies them over the potatoes or along side them. I loved how the acidity of the tomatoes worked with the slightly starchy spuds on my plate. It's okay to crave a dish like this, just remember the serving size and enjoy! Kali Orexi!
Love,
Jane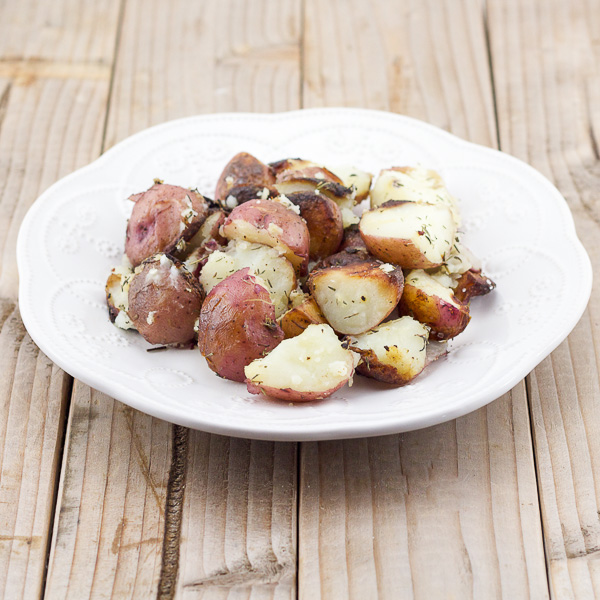 Fried Potatoes With Thyme
Greek Potatoes With Thyme
Ingredients
1/4-1/2 cup olive oil
1 lb baby red potatoes, washed and cut into fours
1-2 tsp of thyme
1/2 tsp salt
Instructions
Pour oil into pan and turn on heat to medium.
After a few minutes, add potatoes to pan, turning them so they are well covered with oil.
Put lid on pan and move around every 4-5 minutes.
Cook for roughly 15 minutes or until potatoes are soft when pierced with a fork.
When done, turn off heat and sprinkle with thyme and salt.
Serve!
Notes
Be careful. Oil can splatter and burn skin.
Nutrition Information:
Yield:

4
Serving Size:

1 grams
Amount Per Serving:
Unsaturated Fat:

0g