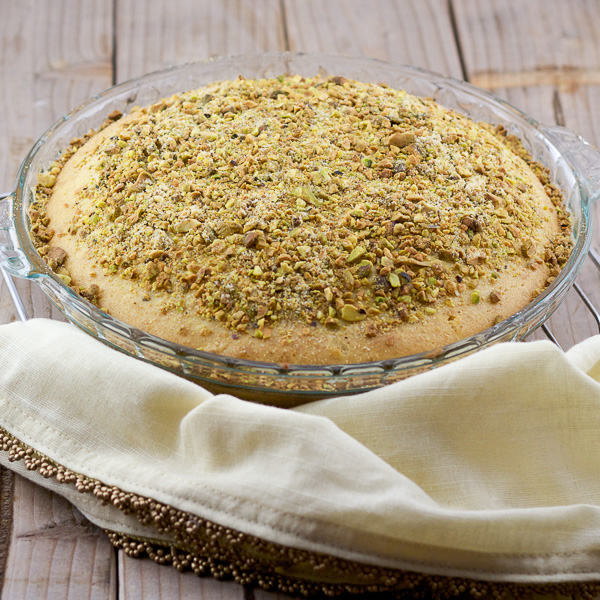 Seriously, I cannot believe 2013 is almost over. What an amazing year it has been. Besides looking back on all the fun times with family and friends, our biggest memory has been staring this blog. It's been incredible. We've grown as cooks, invested our time into learning culinary tips and tricks, how to actually use spices, and even started writing our own recipes!
This site has really become a big part of our lives and we're so glad we decided to attempt a Greek food blog. We love interacting with people from all around the world. We love getting emails from people, family stories surrounding recipes, and comments across the web – we love it all. So thank you so much to each and every person that reads our blog. You are a driving force for us 🙂
We have a lot of excited things in store for this site in 2014, but more on that in the new year.
Alright, let's get to our recipe of the day: Vasilopita (Βασιλόπιτα) also known as, Greek New Year's Bread. As the name suggest, this bread is made around new year's.
Just like, Christopsomo (Greek Christmas bread), Vasilopita is symbolic and has a deeper meaning.
Meaning Of Vasilopita
Typically, this bread is made on New Year's eve to be consumed at midnight. In addition to all the normal ingredients, there is a surprise – a coin! Yep, a coin is placed into the bread mix just before baking and you'll soon see why.
At midnight, the bread is placed on the table where the family huddles around. The head of the house normally says a prayer, and may even make a cross on top of the bread with a knife. The bread is then cut into however many pieces there are family members. Each person will get a piece – normally from oldest to youngest. Then once everyone has a piece, they begin to eat it in search of finding the coin – whomever finds the coin is said to have luck for the new year!
It's a tradition that's been around for an extremely long time.
The bread is made in honor of St. Basil as it's said that while helping give food to the poor, he used to hid gold coins in the breads.
About this bread: we find it kind of has the same texture as corn bread and that's what we tell people who have never had any. While there are a lot of variations to this recipe, we created the one below because we felt it captures a good amount of Greek flavors while maintaining a traditional base. We threw in the brandy since we had it on hand from making, Melomakarona and Kourambiethes recently for the holidays. You can leave it out if you're not a fan or don't have any on hand.
As always, we hope you enjoy this!
Have a safe and happy New Year! Both Jane and I hope 2014 2015 2016 2017 is your best year yet!!!!
– Kenton & Jane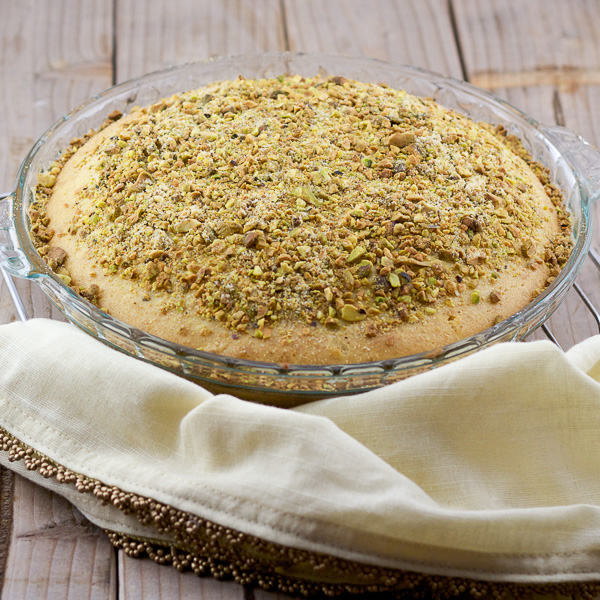 Vasilopita | Greek New Year's Bread
Vasilopita - Greek New Year's Bread!
Ingredients
3 cups flour
1/2 teaspoon baking soda
1 cup 2 sticks butter, melted
1 cup milk
3/4 cup sugar
1/2 teaspoon brandy
1/2 teaspoon vanilla
1 teaspoon fresh lemon juice
3 eggs
1 coin, wrapped in aluminium
Topping
1/2 cup chopped pistachios
1 teaspoon sugar
Instructions
In large bowl, mix flour and baking soda.
Add melted butter and milk- mix.
Next, add sugar, brandy, vanilla, and lemon juice - mix well.
Add eggs, one at a time - mixing well.
Pour into greased 10 inch round pan.
Take coin and hide somewhere in bread mix
Place in preheated oven at 350F for 25 min.
While baking, prepare topping
Combined in bowl chopped pistachios and sugar, mix well.
After 25 min, remove bread from oven and sprinkle with pistachio and sugar mixture.
Place back in oven for additional 20 min or until golden brown and cooked.
Remove and let cool.
Serve!
Nutrition Information:
Yield:

7
Serving Size:

1 grams
Amount Per Serving:
Unsaturated Fat:

0g