Jane and I were at a little bakery by our house the other day. We visit the place often, grab a coffee, a healthy lunch, and plan our lives. Sometimes is simple things like errands to run, other times it's fun stuff like wedding planning, vacation trips, and of course Lemon and Olives.
The most recent trip was to discuss the latter. I know I've said this before, but we are still so surprised by what this site has become. In just 16 months we've met so many nice people, had great email conversations with our readers, heard family memories, and got to hear about the love for Greek cuisine that others have.
There is something special about Greek food (and I am sure all others too) that brings people together, ignites passion and a love of heritage, brings back memories, and creates new ones.
It pushes us forward, continuing our quest of exploring Greek food all while creating new dishes and Greek inspired entrees.
It is safe to say that we both eat (literally), breath, and sleep Greek food. We have a lot planned for 2015 with the site. As a matter of fact, we've already booked the first 6 months full of stuff. We are very excited to get it to you, our wonderful readers, so stay tuned…
Alright, so remember when I said we were at a bakery planning stuff? Well this bakery has a bunch of sweets that we always have to talk ourselves out of not getting, but you know what, it's Christmas season, so we deserve it! Thus, we decided to head home and make something to indulge in. We wanted to make something that the whole family could enjoy.
Yep, we went ahead and made a cinnamon twist bread (ψωμακι στριφτα με κανελα – Psomaki strifta me kanela). I say bread and not just a cinnamon twist, because it does resemble more of a bread texture rather than a harder twist recipe (I guess twists could be soft, too).
The whole process is pretty easy. Having never made it before we immediately consulted Vefa's Kitchen cookbook for a base to work with. We then ran with it, and transformed it into something a little different in terms of what we decided to use.
One of the noted changes is brandy, as we just bought some since it is Christmas season and we make our Greek Christmas cookies with it (melomakarona and kourambiethes). We just like the spice it gives, as brandy is made by distilling wine its popular to use in cooking. You by no means have to include this, so feel free to skip it.
Additionally, we added in a few other things like vanilla and orange extract. Vanilla obviously because it just makes everything sweet taste good, and orange extract – because it is a secret weapon that we feel is underused (it goes great with chocolate, too)
We hope you like our version of these delicious cinnamon twist bread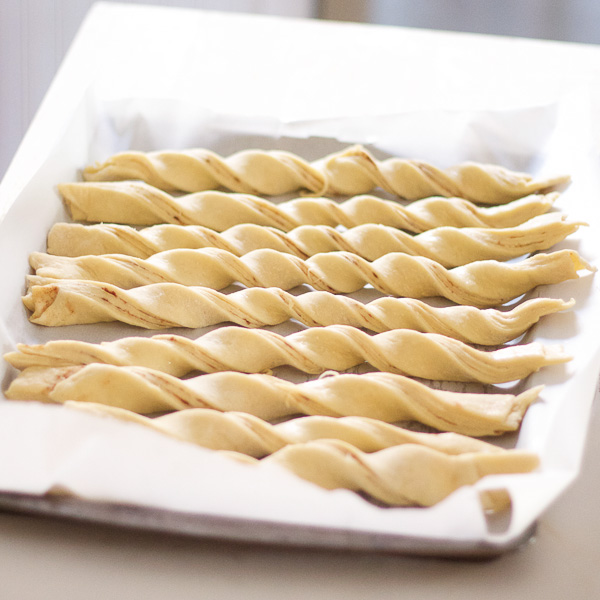 Kali Orexi
Kenton & Jane
PS. These can be pretty addicting, so make sure you have people to share them with or run the risk of eating them all, which may or may not be a bad thing :)

Cinnamon Twist Bread
Prep Time:
2 hours
10 minutes
Total Time:
2 hours
25 minutes
Ingredients
5 tablespoons evaporated milk
6 tablespoons of room temperature butter, plus 2 tablespoons melted butter
4 tablespoons sugar, plus extra for filling
2-3 tablespoons ground cinnamon
4 cups flour, plus extra for kneading surface
1/4 oz packet of dried yeast
2 eggs
1/2 teaspoon salt
1/4 teaspoon vanilla extract
1/4 teaspoon orange extract
1 tablespoon brandy
1 tablespoon water, more may be needed to form dough
Instructions
In a sauce pan, add evaporated milk, 4 tablespoons butter, and sugar.
Heat and stir until sugar is dissolved and butter has melted. Once done, remove from heat and set aside.
If needed, activate yeast according to packet.
In mixing bowl, combine: 2 cups flour, yeast, eggs, salt, vanilla, orange extract, brandy, and water.
Mix together.
Add in butter sugar mixture from step one, mix well.
Slowly add in remaining 2 cups flour, knead until well mixed and dough is formed, about 10 minutes.*
Form into a ball and place in bowl, cover, and let rise until double in size, about 90 minutes.
Once done, place dough ball on floured surface and divide into 3 parts.
Take each part and roll out in the shape of a rectangle, so you will be left with three rectangle sheets that are all the same size, about 8 x 12.
Take some room temp butter and spread it out over the top of one of the rectangle dough sheets.
Take some sugar and cover entire sheet, then sprinkle cinnamon over.
Place the 2nd dough sheet on top of it.
Add butter to the 2nd sheet, top with sugar and cinnamon (just like the 1st sheet), and place the final dough sheet on top of that, so you are left with 3 layers.
Top the final layer with some melted butter only.
Now, take a sharp knife, and cut strips length wise, about 1 inch or so wide.
Take a strip, pinch the ends, and twist 2 or 3 times to create the classic "twist" look.
Place on baking sheet lined with parchment paper.
Repeat until all strips are used.
Brush each strip with melted butter.
Place in oven at 400F for 15 minutes, or until golden brown.
Notes
*If dough is too dry, add 1 tablespoon of water at a time to achieve consistency. If too wet, add some flour.
**Serving is per twist, this depends on how many you make
Nutrition Information:
Yield:

8
Serving Size:

1 grams
Amount Per Serving:
Unsaturated Fat:

0g
Recipe adapted from:
Vefa's Kitchen cookbook