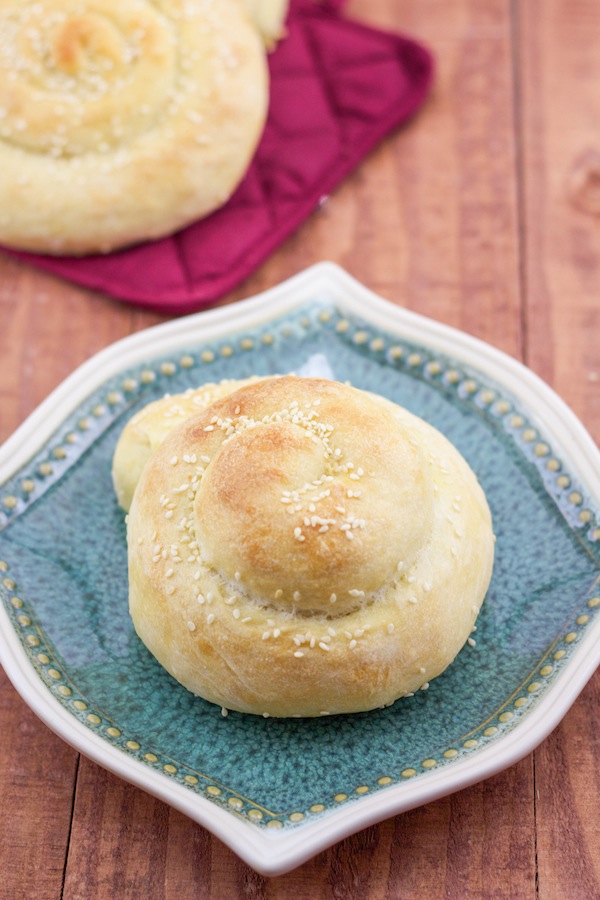 Anyone who knows me knows that I am a huge bread lover. Seriously, if I could bottle the fresh bread smell of a bakery first thing in the morning, I would wear it every day – the wonderful aroma that baking bread creates is lovely.
That being said, I try as best as possible to monitor how much bread I consume – making sure carbs don't get the better of me (and they usually do).
However, over the weekend our Facebook page, Lemon & Olives, reached over 2,000 followers! We decided to celebrate and make a fresh loaf. There was an idea I had about recreating a specific bread I once had at a Greek festival and stuffing it with cheese, because, you know, that's amazing.
I took out a few recipes we had collected and began hacking away until we were satisfied with what we felt would make an excellent cheese bread.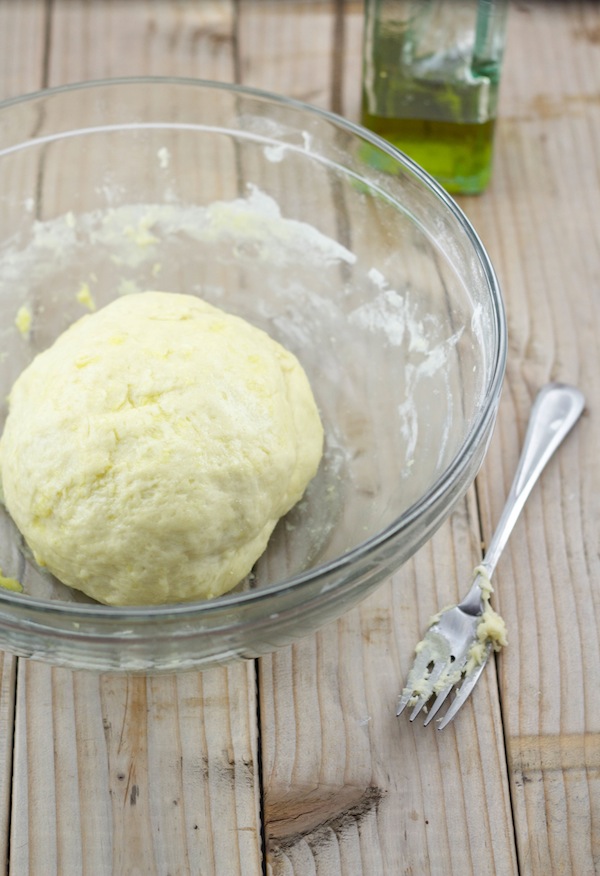 The main thing to remember about bread making is the time it takes to rise. The actual preparing, mixing, kneading, and baking isn't bad, it's the 2 hours needed to rise that slow you down and keep a lot of people from making it. However, if you work it in to your day, it's not bad. For example, while the bread was rising, we went out and ran some errands.
Crazy or not, I love the process of bread making. I find it to be kind of therapeutic working with dough. So, when life's busy or you've got a lot on your mind–make bread 🙂 There could be worse things to do.
Disclaimer: we don't have a mixer – we don't mind doing it the "old-fashioned" way, working on a counter space sprinkled with flour and kneading by hand. Also, we don't own a roller so we use wine bottles.
For this particular bread, we found it fun to cut the dough into strips, stuff with feta, and roll up like a pinwheel (or cinnamon roll).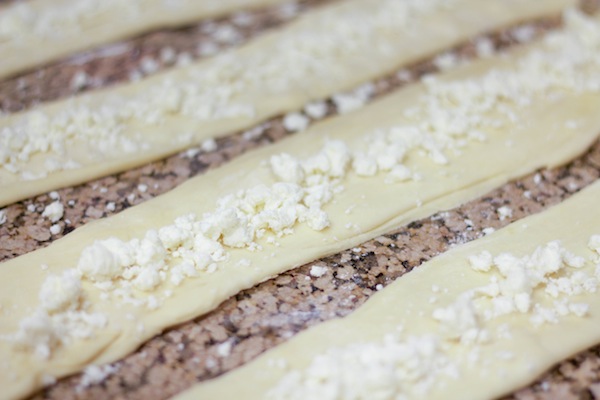 Moreover, the aromas that came from the kitchen while this Greek cheese bread was baking was fantastic. Of course, in the end, it's all about taste, and let me tell you —amazing. I'm not saying that just because we made it, I'm saying it's also a wonderful combination: cheese + bread. The taste of fresh bread mixed with the saltiness of the feta was perfect on the taste buds.
Keeping in the spirit of Greece, we not only had this along side our dinner, we also had it with coffee the following morning (as it is very popular to have something of a similar fashion like a Tiropitakia or Tiropita as the first meal of the day).
So, give this delicious Greek cheese bread (known as Tiropsomo) recipe a try and let us know what you think!
Best,
Kenton
PS. This recipe may look intimidating, but it really isn't 😉

Cheese Stuffed Bread - Tiropsomo
Prep Time:
2 hours
30 minutes
Total Time:
3 hours
5 minutes
A delicious cheese stuffed bread
Ingredients
1 1/4 cup flour
1 1/4 cup bread flour
3.5 grams of dried yeast, 1/2 of 7g packet found in stores*
1 1/2 cups crumbled feta
2 tablespoons honey
1/4 cup water
5 tablespoons olive oil
1/2 cup milk
1 egg white
1 egg, for egg wash
1/2 cup of butter, melted
1 teaspoon salt
Sesame seeds for topping
Instructions
In a large bowl, mix together regular and bread flour, salt, and yeast.*
Add, honey, oil, milk, egg white, and water.
Mix until a dough ball in formed (add more water if too dry).
Sprinkle flour on countertop, and knead dough for about 10 minutes.
Brush large bowl with olive oil, and place kneaded dough in and brush top with more oil.
Cover and let rise for at least 1 hour (should almost double in size).
Remove dough and separate into 4 equal parts.
Roll out on floured countertop. Each piece should be about 2-2 1/2 inches wide, and about .5 inch thick.
Sprinkle cheese in the center of each strip, moving lengthwise.
Pinch the two ends together, enclosing the cheese in the dough.**
With the seam facing right, roll from bottom to top, creating a pinwheel.
Place on greased baking sheet.
Repeat for remaining strips.
Brush tops of each pinwheel with melted butter, and cover and let rise for 1 hour (double in size).
Make an egg wash (egg yoke and splash of water) and brush each bread piece.
Sprinkle with sesame seeds.
Place in 400F oven for 30-40min, until golden brown.
Serve warm and enjoy!
Notes
--Prep time includes rising of dough--
* add a few tablespoons of warm water to activate yeast if needed. Once the yeast is active, about 5 min, add to flour during second step.
**Have a little water nearby as this part works best with the help of some water to keep the ends sealed.
SERVING: makes 4 pinwheel stuffed bread loafs.
Nutrition Information:
Yield:

4
Serving Size:

1 grams
Amount Per Serving:
Unsaturated Fat:

0g