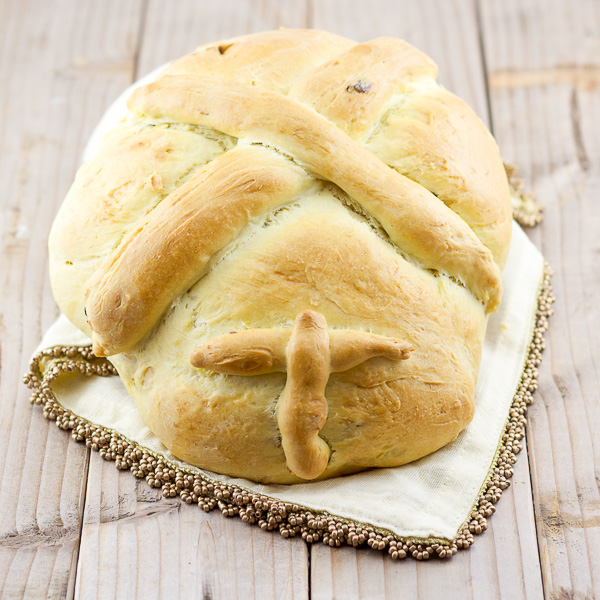 It's that time of the year again to indulge in Greek Christmas bread, Christopsomo, which in means Christ's Bread. This is a tradition that dates back thousands of years. Off the top of my head, I can't really think of a more overall symbolic bread. I mean, yes, the Greeks do have other holiday breads, such as Tsoureki, but every aspect of this bread has a religious significance.
The Meaning Behind Christopsomo
Since this literally means, "Christ's Bread," it's viewed that you are making it as an offering to Christ – in hopes that you will be blessed for the new year. Moreover, the offering has to be as pure as possible. In order to achieve this, only the finest and most expensive ingredients are used. This is coupled with the fact that the entire bread making process is made with the utmost love and care, some will even bless the bread before eating it (or breaking bread).
There are even more interesting facts about Christopsomo. For example, the rising process the bread undergoes during the preparation is a reflection of the rising of Jesus Christ. The decorations you see on top of the bread? They mean something, too. (yeah, I know mine aren't beautiful – I tried!).
First, you'll notice what looks like a large "X." This X is actually is reference to the first letter of Christ as it is spelled in Greek: Χριστός (khrestós). This is used symbolically to show who the bread is for and the person who's meant to be receive the offering.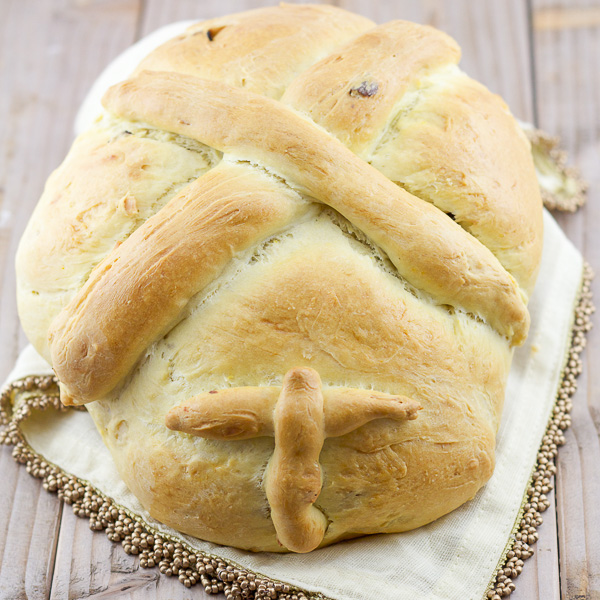 Secondly, you'll notice a small cross – this is to highlight the cross and it's relation to Jesus Christ. His everlasting icon and the fact that he died on the cross for our sins.
Christopsomo Alternatives
All throughout Greece, people make many different versions of this bread with all kinds of designs. Some even put fruit and or other ingredients in, so feel free to play around with the recipe to suit your needs.
Overall, the bread is lightly sweet, buttery, and soft. The almonds and raisins give it a nice flavor. If you're looking for something sweeter, you may want to add 1/2 cup of sugar.
Both Jane and I had never personally made this bread before, so we both were excited to try it out. Traditionally the recipe calls for, "mastic," which is only grown and cultivated in Greece on the island of Chios. So, if you plan on using that- you'll have to find it online. We didn't have any on hand so we used a substitute as you'll see in the recipe below. Does mastic taste like vanilla? No, it actually taste more like anise, so some people use another item only made in Greece that has a similar flavor: Ouzo
However, Jane is not a fan of anything tasting remotely like black licorice, so we used vanilla as a lot of people do. What you use as a substitute will be determined by your taste preference.
If you decide to make this bread for the holidays, let us know how it turns out! Also, be sure to check out the other traditional Greek Christmas desserts: Kourambiethes and Melomakarona.
Καλά Χριστούγεννα! (Merry Christmas!) and happy holidays!
Best,
Kenton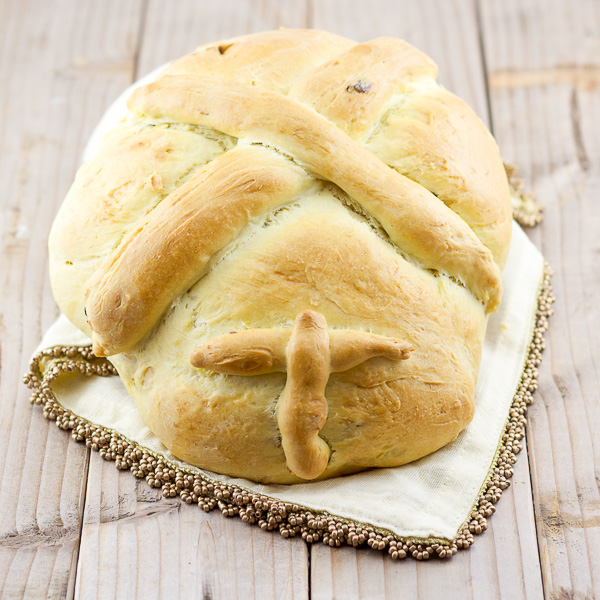 Christopsomo | Greek Christmas Bread
Total Time:
2 hours
40 minutes
Ingredients
1 packet of yeast, ¼ oz or 7 grams, activated if needed
1/4 cup warm water
1/2 teaspoon sugar
1/4 teaspoon Sea salt
1/4 cup olive oil
1 tablespoon brandy
3/4 cup warm milk
1/2 teaspoon vanilla, substitution for mastic
3 eggs, 1 used for egg wash
1/2 cup 1 stick butter, melted
1/2 teaspoon lemon zest
1/2 teaspoon orange zest
5 cups + 1/4 cup flour, plus more for surface
1/2 cup almonds, slivered
1/4 cup raisins
Instructions
In a large bowl add: yeast, water, sugar, Sea salt, oil, brandy, milk, vanilla, 2 eggs, butter, lemon zest, and orange zest - mix well.
Next add 1 cup flour and mix well.
Continue to add flour one cup at a time, mixing well.
After all flour is added, mix in almonds and raisins.
Knead dough for about 10 minutes on well-floured surface. Dough should be elastic and not sticky - add more flour as needed. If too dry add some water.
Place dough in oiled bowl and cover. Allow to rise double in size, about 1 hour.
Remove dough from bowl and knead for 30 seconds on floured surface.
Break into 2 equal parts and place on baking sheet lined with parchment paper.
Shape each dough piece into a circle.
Break off a small piece of dough from each piece to create your design(s) if desired.
Sit and let rise for another 30 minutes.
Preheat oven to 350F.
Use remaining egg and create egg wash (break egg in bowl, add splash of water, and mix well).
Brush egg wash over bread.
Place in oven and bake for 35-40 minutes or until golden brown.
Remove and let cool.
Serve!
Nutrition Information:
Yield:

7
Serving Size:

1 grams
Amount Per Serving:
Unsaturated Fat:

0g