It's taken me almost 2 years of thoroughly cooking 4-5 times a week for this blog to actually start to view myself as an amateur chef. This site has helped me question herbs and spices, forced me to write things down, and become methodical when I cook. It's made me read cookbooks, cooking magazines, and fellow food bloggers. It's motivated me to take risk while cooking. It's made being in the kitchen a thirst I can never quench. I always want to be preparing something.
But to be in the mindset and act the part, you have to look the part, right? So a few months back I bought a chef's jacket and a nice set of knives. It really helps and is extremely motivating. When I put that jacket on I enter a mindset that means business and I cook with passion. With this new view, it has also opened me up to listening to other chefs, because I feel like I finally deserve to, if that makes sense. Since I'm 100% self-taught, I kind of felt at times like an imposter, not worthy of a jacket or a chef's time, but that was just me being silly.
Case in point, I was recently reading an interview with Chef Gordon Ramsay and I came across a question that was something along the lines of, "what one piece of advice would you give young chefs?"
Normally, I would have skimped it and moved on because I didn't think it pertained to me, not someone who lacked formal training. However, this time, I soaked up every word, because my mindset has changed, and what a difference it's made.
Chef Ramsay's answer was so simple yet mind blowing: "Learn another [cooking] language.
His reasoning is that it would make you think differently about food, and maybe combine elements and create new and exciting dishes (I concluded that last point).
I know about Greek food (though still learning new things every day as Jane and I continue to explore all that Ellas has to offer), but what about that second language?
In our most recent trip to Europe, Jane and I spent a week in Paris. We stayed in the lovely Saint-Germain-des-Prés. While there we both fell in love with the city and the foods. We loved the croque-monsieur from the world renown Les Deux Magots, the macarons from Ladurée, and the escargot (yeah, snails) from Bouillon Racine. Paris was an architecture and food trip.
So a long story short, Jane and I are learning a new cooking language – French!
We've cooked a few dishes already, and went ahead and purchased the "French cooking bible" aka the two volume set, "Mastering the Art of French Cooking" by Julia Child, which by the way has something like 900 recipes.
Thus, don't be surprised if you see a Greek-French fusion dish pop up on here every now and then.
Alright, let's get to today's recipe: Almond Panko Crusted Lamb Meatballs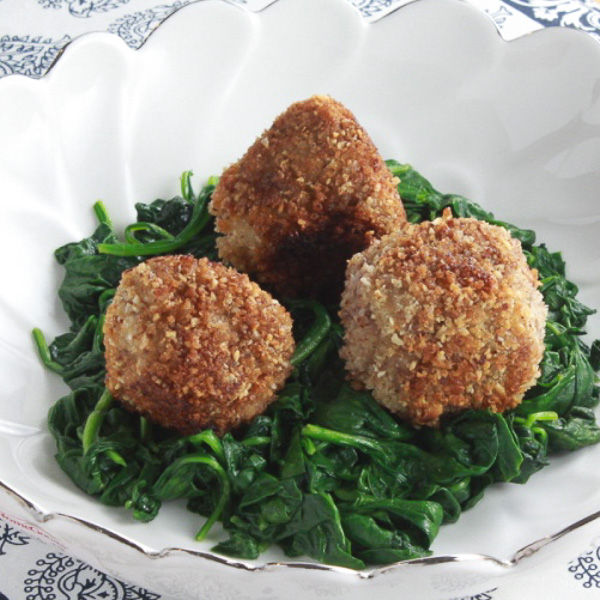 It's like keftedes, but with a twist.
The idea came about because we were in the middle of creating another recipe for the site and thought, what would it be like to give lamb keftedes a crunch?
We combined the panko with almond because it's a great combination that a lot of people use as well. The flavors compliment each other nicely.
What we really loved about these is the crunchy exterior of the panko seals in the juicy interior of the meatball. The hint of oregano, which goes splendidly with lamb, and the garlic really solidify these meatballs with great flavors.
In an effort to be 100% transparent, I would like to note that this is for lamb lovers. I enjoyed them a lot, and while Jane did as well, she did feel it a was "a lot of lamb" and recommended maybe using a lamb/beef mixture or going all beef next time. So adjust to fit your needs.
We did end up having this as a dinner over spinach, as the pictures show, but you could also serve this as an meze (appetizer).
We hope you'll joy this Greek lamb meatball recipe!
Kali Orexi,
Kenton & Jane

Almond Panko Crusted Lamb Meatballs
For lamb lovers, a crunch and juicy Greek lamb meatball.
Ingredients
1 lb ground lamb
2 garlic cloves, pressed
1 teaspoon oregano
salt
pepper
2 eggs
1 cup panko bread crumbs
½ cup ground almonds
olive oil
Instructions
In a bowl, combine lamb, garlic, oregano, salt, and pepper - mix well.
Break two eggs in a separate bowl, and mix
In a third bowl, combine the panko and ground almonds - mix.
Add some olive oil to a pan, and heat over medium-high.
Take a scoop of the ground lamb mixture and form into a ball.
Roll lamb ball in the egg and then roll in the panko/almond mixture to coat.
Add to pan.
Repeat until all lamb is used.
Cook for about 5 minutes on each side, or until meat thermometer reads 160F.
When done, place on plate lined with a paper towel to absorb excess oil.
Serve
Notes
*Serving is number of meatballs. This will vary based on size.
Nutrition Information:
Yield:

8
Serving Size:

1 grams
Amount Per Serving:
Unsaturated Fat:

0g