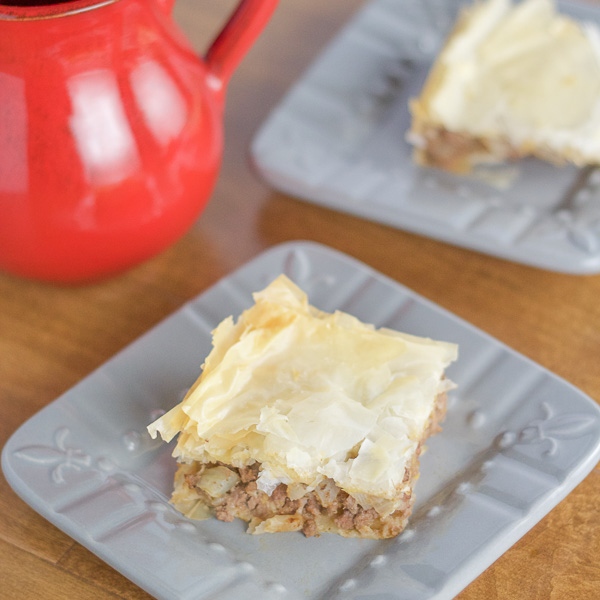 My birthday was a few weeks ago (the 14th) and Jane got me a new e-reader – the Kindle Voyage. See, I love books. I own a lot of them. We have some on display in our home, boxes in the garage, and more at my parent's house
A good amount of those books date back to my undergrad and graduate days, being an English Literature major means you read – a lot. However, Jane's not a fan of all these books lying around. Personally, I don't blame her, but I have a problem – I can't let them go!
Everything from obscure Irish novels and philosophical works to the standard Shakespeare collection; I treasure each and every one of them. And let's not talk about the new ones I recently discovered (10 novels set in Greece).
Now with my Voyage however, I can collect in a much more simpler and cleaner way. No more clutter. I don't think it will totally replace that feeling I desire of holding a paperback in my hand, or that distinct smell of an old book, but it will cut down on the space in both our home and in a box in the garage.
With all that reading comes a desire to write. Granted most of it will probably never see the light of day, there is some that will. This website for example. In all it's glory, both good and bad, the need for an editor at times, and all the constant push to make it better.
All this talk about reading and writing is leading up to a BIG ANNOUNCEMENT Jane and I will have for y'all next week – on Wednesday to be exact. So really this is just me ranting a bit, building some suspense, and stalling until the recipe is ready.
Oh, what's that? Oh ok, we've got confirmation – we're good to go.
Ladies and gentlemen, may I introduce you to a delicious Greek meat pie called: Kreatopita | κρεατοπιτα.
Look. Greek people love to wrap things in phyllo. I mean, let's look at all the Greek recipes we've got that contain phyllo: Baklava, Spanakopita, Kotopita, Galaktoboureko, Bougatsa, Kolokythopita, Tiropitakia, Tiropita, Saragli, Phyllo Ice Cream Cups*, and Phyllo Chicken Pot Pies.* *Greek inspired
The funny thing is, there's still a whole lot more Greek phyllo recipes that we haven't even covered yet. This Greek meat pie being one of them.
A lot of times, most Greek phyllo recipes you'll see are actually considered something like street food – something you'd get when you're out and about or if time is a factor. That's not to say you can't find it in tavernas and restaurants – you most certainly can.
In the states, we get hotdogs and slices of pizza – in Greece they get tiropitas and spanakopitas. C'est la vie I suppose, but it's lovely to stop by a vendor while you're out and about in Greece exploring for some delicious quick bites.
This particular Greek pie recipe is actually perfect for a snack, lunch, or even dinner (paired with a nice Greek salad of course).
Kreatopita can be made a few different ways. Some people add rice, and others cook it with leeks. For Jane and I, we like just using meat, that's been reduced in two liquids for a rich and lovely flavor.
The idea of reducing ground red meat was actually borrowed from Gordon Ramsay. About 6 years ago, we made his shepherd's pie recipe (of which I can't find anymore – not the one we used anyhow) and he reduced the meat in both red wine and chicken stock. It was so dang good, we've decided to do it in a lot of our cooking ever since.
This Greek phyllo dish was the perfect candidate for such a method.
We find that reducing the meat in these two liquids really brings out a nice complex flavor – it keeps the meat juicy, and it just plain old taste delicious (which is really the most important part).
Working with phyllo is always a challenge for beginners. Over time, we've gotten pretty good at it, though since we buy it in the box from the store more than we make it (I know I know, we'll do a post about how to make it fresh soon), it sometimes gives us a little trouble.
The trick is to keep the phyllo covered with a damp towel, and to work fast.
When fresh out of the oven, there is little that can compare to the warm buttery flaky goodness that is phyllo. You may get a little frustrated while using it, but with that first bite it all seems worth it – you'd do it again in a heartbeat.
And for this recipe – the meat mixture — OMG. The combination of cooked onions, meat that's been reduced – twice, herbs, a hint of tomato, and the feta – oh the feta. I could eat this every day. As a matter of fact, this was our dinner and lunch the next day kind of meal. We're phyllo lovers 🙂
So get your phyllo out of the freezer, let it thaw, and get to makin' this recipe. It's perfect for leftovers or to feed a family.
Also, if you prefer it with leeks or any other veggie, feel free to add it in – make it your own and cook it the way you prefer it. Nothing wrong with that.
Okay, if you excuse me – I'm going to go heat up another slice.
Kali Orexi,
Kenton & Jane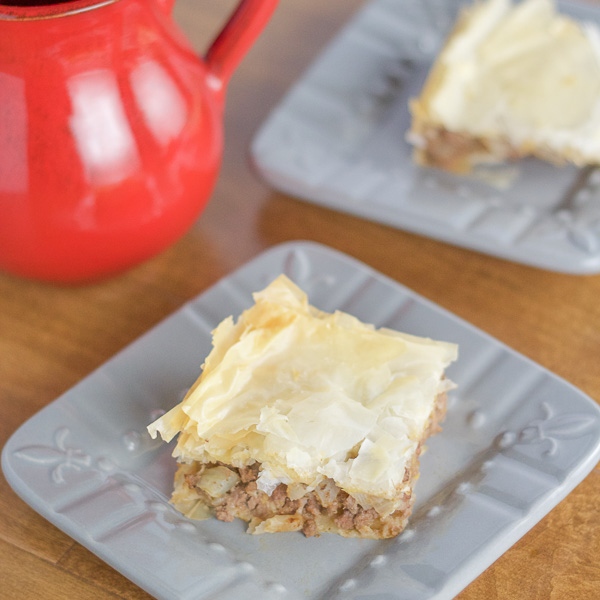 Kreatopita | Greek Phyllo Meat Pie
A delicious Greek meat phyllo pie recipe.
Ingredients
Olive Oil
2 medium onions, diced
1 lb ground beef
½ teaspoon oregano
½ teaspoon fresh chopped dill
pepper
salt
1 teaspoon tomato paste
⅓ cup red wine
¼ cup chicken broth
½ cup crumbled feta
1 egg
½ cup butter, melted
1 lb box of phyllo, 16 oz, 1 roll thawed at room temperature*
Instructions
Add olive oil to pan and heat over medium-high heat.
Add onions to hot pan and cook until soft and translucent, about 5 minutes.
Add ground beef and brown.
Add in oregano, dill, pepper, a little salt, and tomato paste, mix.
Add wine and reduce.
Add chicken broth and reduce.
Once all liquid has been reduced, remove from heat.
Empty into bowl, add feta and egg - mix everything together.
Set meat aside and prepare baking dish.
Preheat oven to 350F.
Brush a square baking pan with some melted butter**
Unroll the phyllo sheets and lay them flat on the plastic.
Cut the sheets to match the size of the pan you're using.
Take one phyllo sheet and lay it in the baking pan.***
Brush with some melted butter and lay another sheet of phyllo down.
Brush that with butter and repeat 6 more times (phyllo sheet, butter, phyllo sheet).
After the 8th phyllo sheet, pour the meat mixture into the pan, and smooth it out evenly with a spoon.
Now, repeat steps 14 -15, placing 8 more phyllo sheets over the meat mixture, spreading melted butter in between each sheet.
When done, score top of Kreatopita and place in oven for 20-30 minutes, or until golden brown.
Remove, cut, and serve hot!
Notes
Notes:
*You'll only use 1 roll. Save the 2nd for the other recipes mentioned above.
**We use a 9 x 9 inch pan.
***Keep the phyllo you're not using covered with a damp towel.
Nutrition Information:
Yield:

4
Serving Size:

1 grams
Amount Per Serving:
Unsaturated Fat:

0g