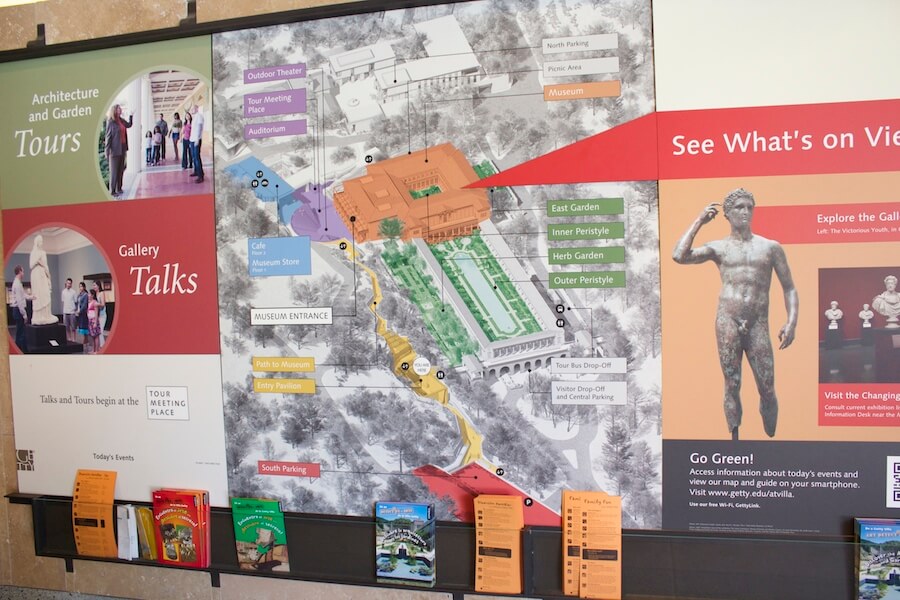 Last weekend while Jane and I were in Los Angeles, we decided to head to the Getty Villa in Pacific Palisades to see a traveling exhibit. The selection of art we went to see was called: Heaven and Earth: Art of Byzantium from Greek Collections.
Jane and I are not art majors/buffs by any means, but we appreciate museums and all they have to share with the world. This particular showing was of course interest to us since it was based around Greek culture.
We brought our camera and wanted to take pictures to document the exhibit to share with all of you. However, as soon as I snapped the first picture while in the exhibit, a security guard ascended on me from what I can only think was the ceiling, to informed me that no pictures were allowed. There is a website, which can be access by clicking the link above. You'll be able to see some images of what we saw as well as some information should you find yourself in LA between now and the end of August. Lastly, there is an iPhone and Android app you can download that will give you some great information, pictures, and audio recording. Get that here: Mobile APP for Byzantium Collection.
There is a brighter end however, as we were allowed to take pictures everywhere else. For those that do not know, the Getty Villa is a beautiful museum that was built to model a villa from Herculaneum that was buried in 79 AD with the eruption of Mount Vesuvius. It was the neighboring town of Pompeii.
Within its walls, it houses one of America's finest collection of Greek, Roman, and Etruscan antiquities. It truly is an experience to see first hand some of these items. Yet have no fear, we've got some stuff to show you, all from the comfort of your own home.
Pictures of Ancient Items
We took so many pictures, and while we can't show all of them, we've selected one's that stand out to us and thought our readers would get a kick out of seeing.
Since olive oil is more or less in every single Greek dish, let us first see how the ancients stored it for easy serving.
Below you will see an ancient terracotta olive oil jar found in Athens and dating back to between 420-400 BC. It depicts two people that were deeply in love, so much so that it lead to the Trojan war. Yes, that's Paris (prince of Troy) and Helen, queen of Sparta. The two start-crossed lovers can thank the goddess Aphrodite, who was responsible for their meeting. Much like their Shakespearian counterparts, it didn't end well and Helen is known as the, "face that launched a thousand ships." If you like to be entertained while learning a bit more about these two, I recommend watching the movie, "Troy." Not for its historical accuracies, but because it shows the two of them and how Troy was burned to the ground all in a quest to get Helen back.
Imagine that at the dinner table being used to drizzle oil over a salad at one time. Pretty cool!
On the subject of olive oil, I must stress how important it was to the ancients. How much you ask? Well, during the Olympic games they would have athletic and musical competitions all over Athens. And what would people be competing for? A large prized vessel of olive oil! What you're looking at below is such a prized vessel. Discovered in Athens and dating back to 490-480 BC, it depicts the patron goddess of the city, Athena. On the left side of the vessel, now hard to see, reads in ancient Greek: "From the games at Athens."
This prized vessel was pretty big. I would say it was at least 3.5ft tall. They didn't say how much it could hold, but I am assuming a few gallons easily. I just imagined a great athlete gripping this vessel by the handles, raising it victoriously, and letting out a loud yell (maybe something the the God of victory – Nike)
Of course they didn't just create large pots to carry olive oil, they had their water jugs, too. They looked very similar to this water jug below. Made in Athens around 550 BC, this jug depicts two Greek gods: Dionysos, holding the vines, and Poseidon, with his trident. The person standing between them has not been fully identified (some think it is the wife of Poseidon).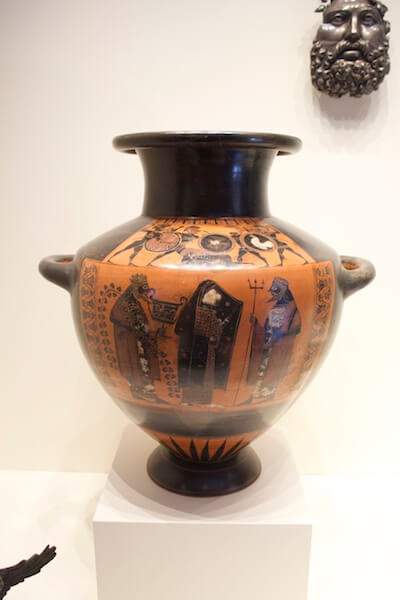 What we noticed between the oil and water pots were that the water jugs tended to be shorter and wider than the olive oil ones. At times, it even felt like the oil jugs were much larger than the water ones, which is kind of interesting, as water is a main source of life.
The Greeks also made epic wine cups as well. I seriously want make one and have it be my official wine cup. The ones I like had wide handles and cool designs. Just look at the one below and tell me you wouldn't look awesome drinking wine from that!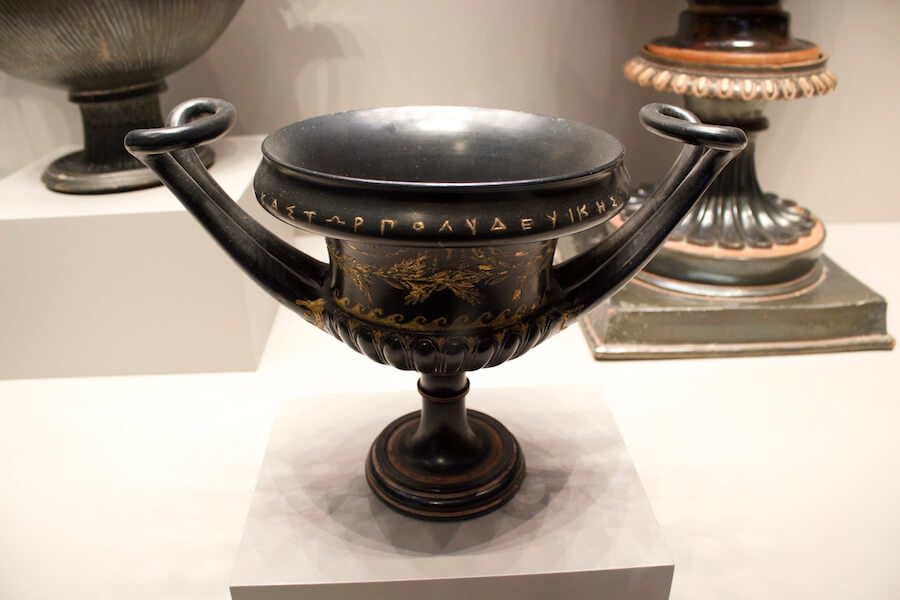 It's smart that they made the handles fold in, because you know, after one cup from this thing, you are going to start getting a little unstable. Besides these styles, there were of course other types, like water pitchers and other style oil and wine jugs, which you can see below.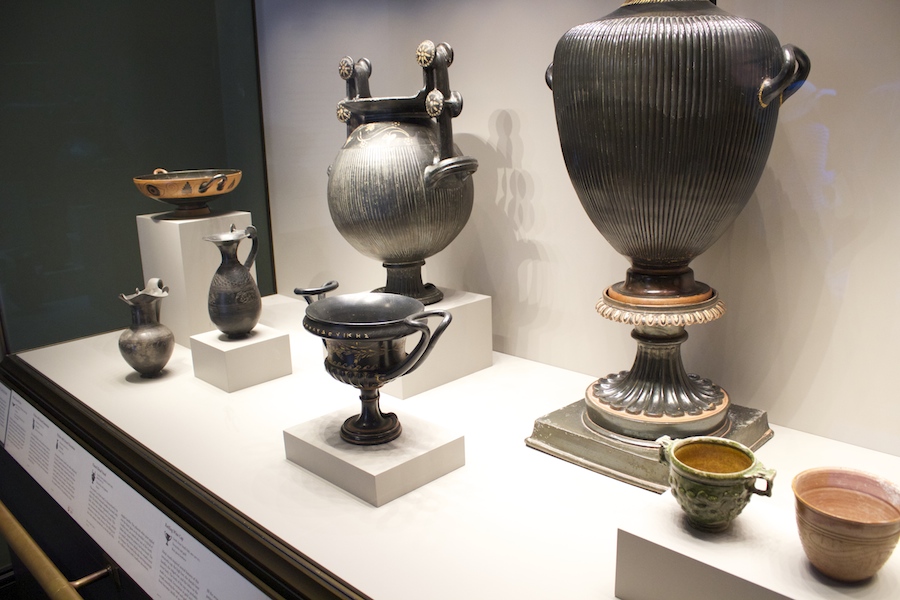 The water pitchers are to the let, as well as a bowl to wash your hands and or face.
One of the rooms at the Villa is reserved from stuff relating to the Trojan war and Achilles. Within the room is something we found to be very fascinating. It was a scroll fragment from the book, The Odyssey. It was written on papyrus and found in Egypt in around 100 BC. Written in Ancient Greek, the fragment you see below is from book 10 and describes the events that took place in the palace of Circe, the enchantress who turned Ulysses's men into swine. If you have a copy, then it's specifically lines 397-404 in book 10. If you don't, I suggest owning a copy as it's a great story. Here is the edition we have: The Odyssey (Penguin Classics)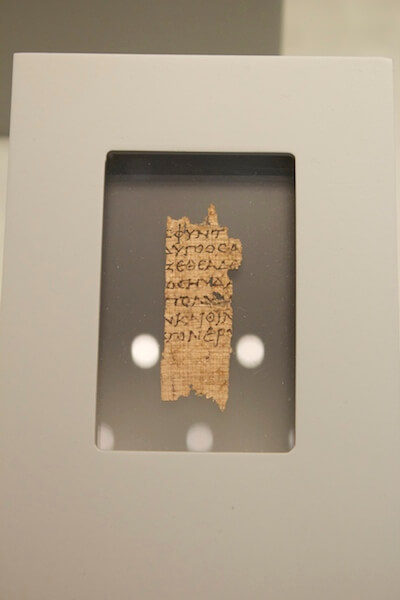 Conclusion
Overall, it was a fascinating experience and we spent a lot of time just walking around taking it all in. They have so much stuff, including statues, paintings, icons, etc., etc.,
If you are able to visit, we wholeheartedly recommend going. Admission, which you must get online in advance, is free. Parking is $15. For ticket info, click here. I am sure Jane and I will be back because there was just so much to see.
Notes: In no way did we know most of the information given about the pictures above. The information was taken from the cards that accompany each piece. So thank you to the Getty Villa and whoever created the cards for each item.