This may just be the single most important post that we have ever published here at lemon and olives. Last weekend I proposed to Jane and she said yes!
I'd been planning it for a few weeks and that didn't make it any easier. I knew she would say yes, but being that it's a big deal, I was totally nervous. I had a whole speech in mind, but as soon as my knee hit the ground, nothing came out like planned. Forgetting my speech, I spoke from the heart.
I know there are so many ways to propose, I saw a few over-the-top youtube videos and thought to get creative. However, at the end of the day, I felt taking her to a place that was important to us would be the most romantic thing. Thus, I took her back to where we met.
It was an emotional and exciting experience. We've now been engaged for 5 days. It's funny because after all the congratulations come in, then next question is – when's the date?
The date? Uhhh… we're still enjoying the high of being engaged. A week hasn't even passed! We did however head to Barnes & Noble last night so Jane could pick up a few wedding planner/bride books. We'll keep our readers posted on the progress.
Now, let's turn to the food.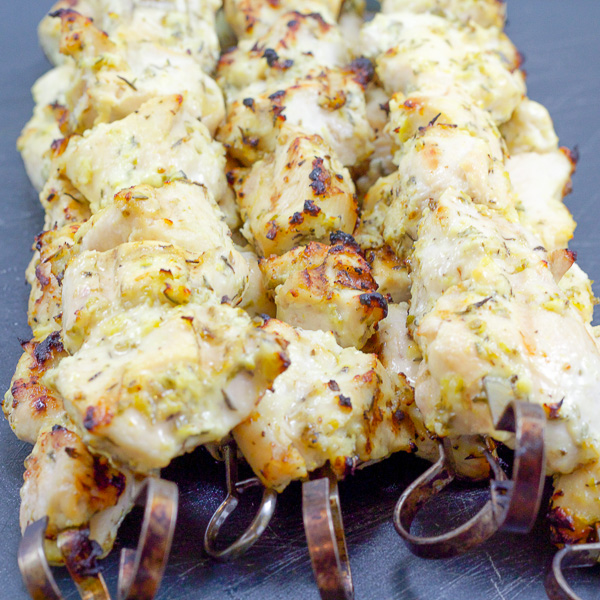 As our first dish made as an affianced couple, we decided to do something we've wanted to do some some time – create a marinade using Greek yogurt as a base. As most will know, Greek yogurt is strained more than traditional yogurt and is thus a lot thicker. We felt that whatever herbs and or spices we'd add, the yogurt would hold them well and keep them on the meat.
We cut the chicken into cubes to serve it like souvlaki. What was funny is that we felt that the Greek yogurt was actually a bit too thick when it came time to make the dish, so we added some olive oil to loosen it up a bit and it became the perfect consistency.
We mixed in all the other ingredients and added the chicken. It coated the poultry wonderfully and we were very happy.
As a side note, we added the chicken last so we could taste the marinade and adjust if needed. We recommend you do the same so it fits your palate preference.
After letting it sit in the refrigerator for about 30 minutes, we skewed them and fired up the grill. We were so happy with how they turned out. It kept the chicken extremely moist and each bite reminded me like the chicken had been coated in a light layer of tzatziki. The herbs all played their part and made this dish really stand out. The garlic was subtle, so if you are a garlic lover, kick in an extra clove or two.
Overall, we plan on making this again soon, tinkering with different herbs. And as always, all delicious results will be posted here.
Kali Orexi,
Kenton

Greek Yogurt Chicken
Delicious chicken marinaded in a Greek yogurt mix.
Ingredients
3 lbs boneless/skinless chicken breast, cubed.
1 cup Greek yogurt
3 tablespoons Greek olive oil
3 large garlic cloves, pressed
2 teaspoons oregano
2 teaspoons dried thyme
Zest of one lemon
Salt and pepper to taste
Instructions
In large bowl, combine all ingredients in order listed above (excluding chicken), mix well.
Taste to adjust as needed.
Once happy, add chicken and mix well so chicken is completely coated.
Place in refrigerator for at least 30 minutes.
Remove and skew.
Place on BBQ over medium-high heat.
Turning twice, cook for 10-12 minutes, or until thoroughly cooked.
Remove and serve!
Nutrition Information:
Yield:

4
Serving Size:

1 grams
Amount Per Serving:
Unsaturated Fat:

0g