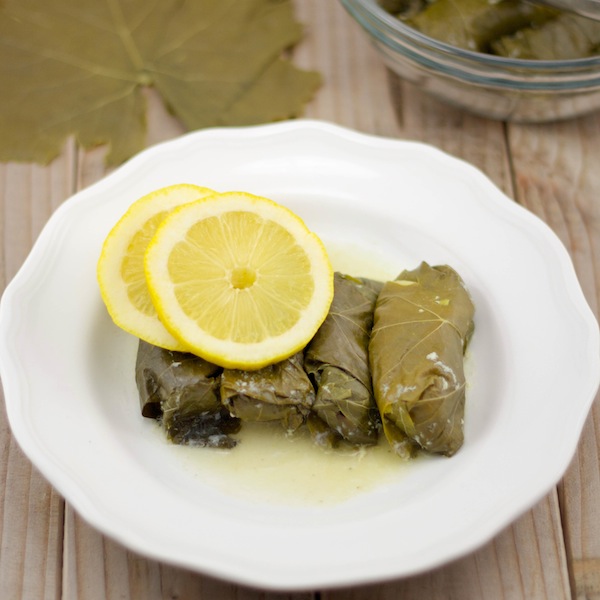 Dolmathes (ντολμάδες αυγολεμονο) – one of our favorite recipes. I've been making this exact recipe for years and it comes from my family in Kalamata, Greece. Passed down from my yia-yia.
What a tender and flavorful treat these turn out to be each and every time they are made. With a little time and a lot of love, dolmades truly are a pleasantry to any plate they may land on. These delicious stuffed grape leave rolls can be eaten as an appetizer along side a glass of ouzo, or as a side dish to one of our other amazing recipes. Either way, you'll be asking for seconds before you realize it.
Dolmathes | Greek Stuffed Grape Leaves
What's wonderful about stuffed grape leaves is the different ways in which they can be prepared. From one yia yia to another, a dolmathes recipes change but the rich flavors do not. Usually prepared by stuffing the grape leave with meat, rice, and herbs, dolmades end up being quite hearty. However, you can make a different variation that is meatless and has lots of lemon and mint – providing for a more light and fresh mouthful. Although it is best to have leaves that are freshly picked during springtime, it is also common to purchase your grape leaves from the local market. I tend to get mine from a farmer's market nearby as the stems are already cut (saves time).
Last but not least, I always suggest serving them in a lemon and egg based broth known as: Avgolemono. This sauce gives it that perfect wholesome finish. Yum!
καλή όρεξη!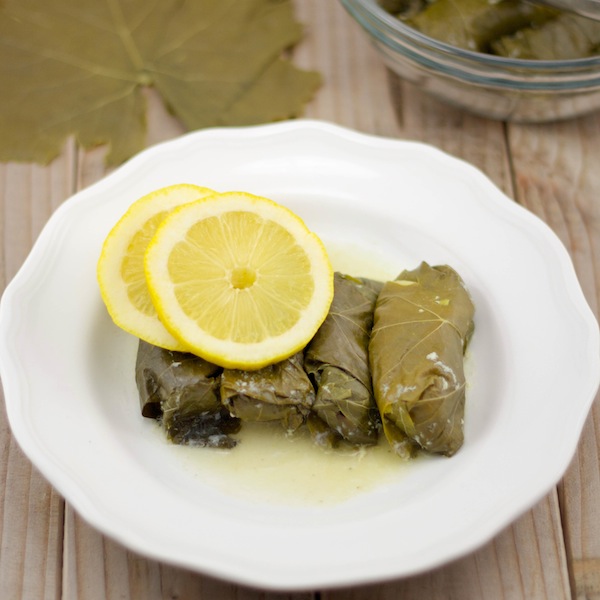 Dolmathes
My favorite! A bit of work, but well worth it. Make a batch and enjoy it over several days. Meat stuffed in grape leafs.
Ingredients
16 ounce 454g jar grape leaves*
1 pound ground beef, 85-90% lean
1/2 cup rice
¼ teaspoon sea salt
¼ teaspoon pepper
1 medium-sized onion, finely chopped (makes about 1 ½ cups)
3 tablespoons olive oil, you can reduce if using meat that has more fat (more than 15%)
1 teaspoon dill or mint
6 cups chicken broth, or enough to cover the dolmathes
Avgolemono Sauce
3 eggs
2 lemons, juiced (you can start here, taste, and add more as needed)
Instructions
Put a pot that is large enough to hold the grape leaves over high heat. Add enough water to cover the leaves and bring to a boil. Add grape leaves and blanch for 5 minutes, drain and set aside.
In a large mixing bowl, combine: ground beef, rice, sea salt, pepper, onion, olive oil, and dill, mix well.
Take a knife and cut off the stem of each grape leaf.
Place about 1 tablespoon of the meat mixture at the bottom of each leaf (ribs up) and fold over the sides of the leaf to cover the mixture. Then roll upwards. Place into a deep pot in layers (should have about 2 layers depending on the size of your pot).
Once all dolmathes are done, cover the tops of them with any broken grape leaves (if you have them).
Add the chicken broth, cover dolmathes with a small plate or lid to keep them down and together. Turn heat to medium.
Bring to simmer, cook on low for about 15-20 minutes, or until the rice is cooked.
Once cooked, prepare the avgolemono sauce.
Beat eggs in a bowl for 5 minutes.
Add lemon juice to the egg mixture and while still beating slowly pour in 1 cup of hot broth from the dolmathes pot into bowl with the eggs – this tempers them so they won't curdle.
Now, pour egg mixture into pot with dolmathes and slowly mix everything together. Add salt and pepper if desired.
Bring to simmer, cover, and remove from heat.
Place a few dolmathes on a plate, pour some avgolemono sauce over them, and serve with lemon wedges!
Notes
*You won't use all of them, but having extra ensures you'll be able to have enough perfect grape leaves to use.
Nutrition Information:
Yield:

4
Serving Size:

1 grams
Amount Per Serving:
Unsaturated Fat:

0g