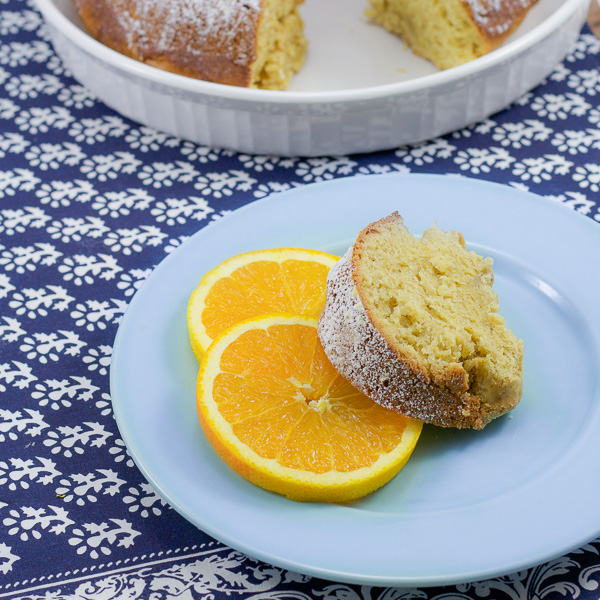 Yes, you read the title correctly, the Greeks have a cake for finding lost things. I know what you're thinking, this could be one of the best solutions ever – misplace something? Make a cake!
I have to admit that both Jane and I have only recently learned about this dish. As I was scanning our cookbooks, I went through an old one we had. It's one we were given some years ago. It's actually a photocopy of a Greek cookbook from the 1920s. There is no title or author name, so sadly I cannot say who first created the edition.
This grabbed my attention, because I'd never heard about a concept like this before. Naturally, I felt it was something we had to make.
Now let me tell you a bit of a background about this cake and why Greeks make it when in search of lost items.
Fanouropita (φανουροπιτα) is a cake that is dedicated to Saint Fanourios (Άγιος Φανούριος), pictured above, and is traditionally made on August 27th, the day reserved for his honor. From what I could gather, he lived during the roman times and was persecuted for his Christian beliefs. His name comes from the Greek verb fanerono (φανερώνω) which means to manifest itself or reveal itself. Therefore, he is the saint Greeks ask to intercede when searching for lost items. He is most popular in Crete, where on this reserved day, Cretans take their baked cakes to local churches where they are blessed. This is especially true at churches named after him.
The original recipe we were working from didn't have much to it, so we decided to spruce it up with what we thought would work. From what we could see, the main ingredients of this cake are: flour, olive oil, and orange juice. However, we thought to take it a step further as you'll see in our recipe below.
I am a big fan of putting brandy in desserts, I don't know why, but it always seems to work. We got a little brave here an added more than usual, along with, cinnamon, vanilla, and walnuts for texture.
Combining all the ingredients and mixing them together created a thicker than usual cake like batter that picked up the different items and created a light brown mix.
We decided to cook the batter in a bundt pan, but you certainly don't have to. It can be done in a cake pan as well as it is to your preference.
When we placed it in the oven, it took about 15 to 20 minutes before the house began to smell wonderful. The spice in the brandy mixing with the vanilla and orange transformed into this lovely smell that brought Jane and I from the other side of the house to hovering over our oven, light on, and a big smile on our faces. We were prepared to make it again should it not turn out well, but with it smelling good, we hoped it wouldn't come to that.
As it finished up, I told Jane that some people top it with powdered sugar, but I wasn't sure what we should do. I was afraid that it would make it too sweet. However, she felt confident that it would not alter the taste in a negative way, so we agreed to add it.
Removing it from the oven revealed this wonderful golden brown cake that smelled like heaven. We flipped it out of the pan and sprinkled it with powdered sugar. The photo shooting time was a killer as we wanted so badly to give it a taste.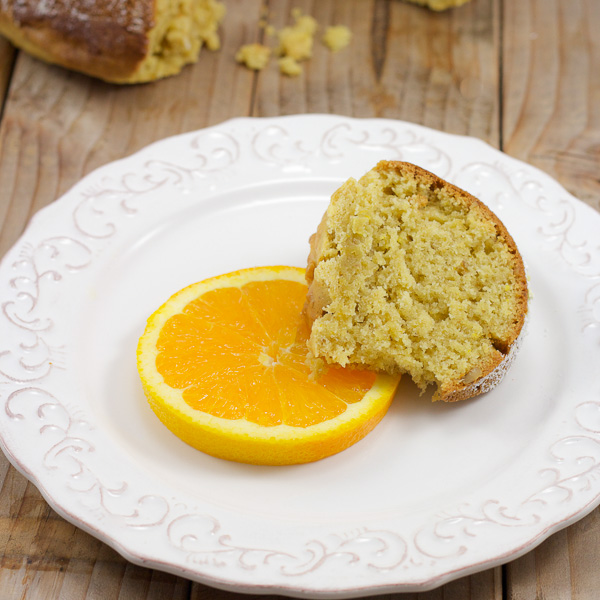 Note: Yes, we have to shoot food before trying it so it stays perfect, and thus sometimes it's a waste since we may have to alter the recipe and cook it again.
At the end of it all, the cake tasted amazing and we really liked it. We thought that the flavor profile and texture complimented each other nicely, and we hope you'll agree!
I can say with confidence that the next time we misplace something, this cake will be made. If at the very least to numb the frustration of losing something, especially a wallet or keys–why is it always a wallet or keys…
Until next time my friends,
Kenton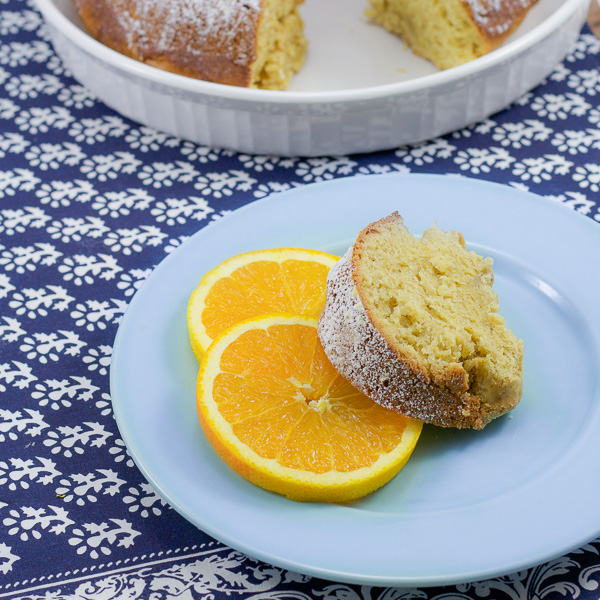 Fanouropita | Greek Cake for Lost Things
A cake for finding lost things.
Ingredients
3 cups flour
1 cup sugar
3/4 cup olive oil
1 tablespoon baking powder
1 teaspoon vanilla
1 teaspoon cinnamon
3/4 cup orange juice
1/4 cup brandy
1/2 cup chopped walnuts
Zest from 1/2 orange
Powdered sugar for topping
Instructions
In large bowl, combine ALL dry ingredients: flour, sugar, baking powder, cinnamon, and walnuts, mix.
Add in remaining wet ingredients: olive oil, vanilla, orange juice, brandy, orange zest, mix well until batter is formed.
Pour into cake pan (we used a bundt pan) greased with some olive oil.
Place in preheated oven at 350F for 40-45 minutes, until toothpick comes out clean and nice color is achieved.
Remove, top with powdered sugar, let cool for about 10 minutes.
Slice and serve!
Notes
**If you are going to use fresh orange juice, which we recommend, zest BEFORE juicing.
**Serving depends on how big you slice it.
Nutrition Information:
Yield:

6
Serving Size:

1 grams
Amount Per Serving:
Unsaturated Fat:

0g