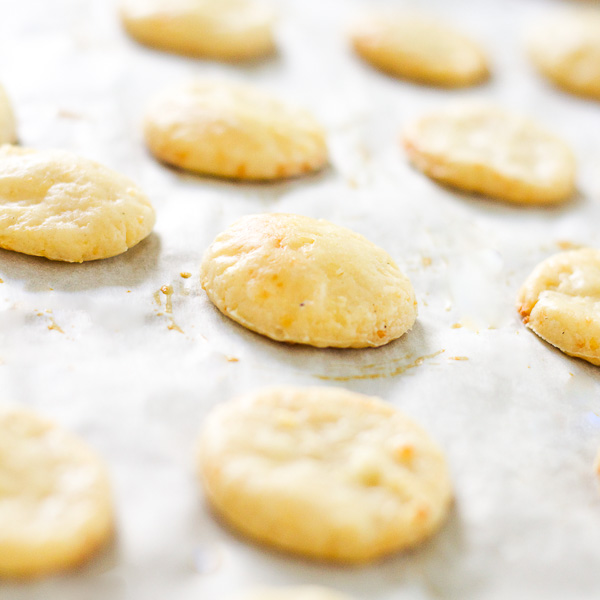 Running a food blog keeps us on our toes, looking at ingredients and foods in new ways. Especially when it comes to our, "Greek inspired recipes," we're constantly looking for new ways to showcase and highlight Greek ingredients and flavors.
Those recipes tend to be the most rewarding, because we're creating something new and exciting that stays true to the flavor profiles of Greek cuisine.
Today, I'll give you an insight into how one of our Greek inspired recipes come to be.
Recently, we were at a restaurant, and they served some type of cheese wafer. It was utilizing parmesan, and it tasted pretty dang good. It's cheese, so clearly it would be delicious.
Obviously, Jane and I immediately thought–what about feta?
The following weekend, we set out to make these feta wafers. We thought about how this could be done and what we should do. We really wanted them to be like pops of feta in your mouth, so we decided to make sure they truly were bite size.
We felt the best way to do all this, would just be to make a butter and flour mixture, add cheese, and work with it that way. We needed the butter to keep everything together.
It turned crumbly in the food processor. I emptied it into a bowl and pressed it together, and to our happiness, it formed a dough type ball. OK, cool, we can work with this.
We rolled it out and and then we discussed.
How can we achieve consistent bite size pieces? Shot glass? Yeah, that'll work.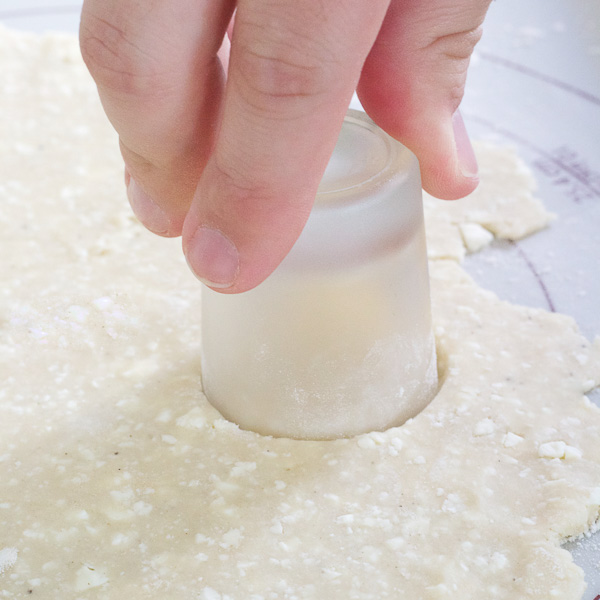 We cut them out, placed them on a baking sheet, remolded the leftover dough, rolled out, and repeated until we used it all.
We did a classic egg wash on top, since we know that gives flour based foods a nice golden color when put in the oven (thanks Gordon Ramsay).
They came out and they looked beautiful. They smelled amazing. Now the biggest test would come – taste.
Let me be clear here, a lot of times, this test doesn't go well. It's either missing something, has too much of something, or just isn't good.
However, on this day – we loved them!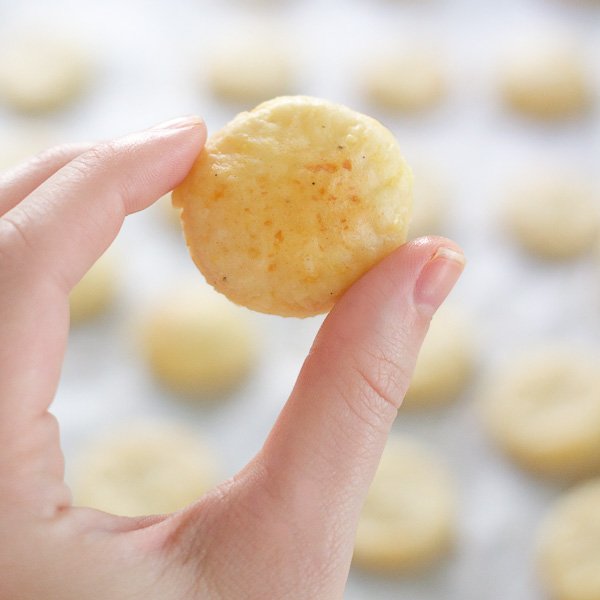 They did exactly what we wanted. They deliver nice burst of feta cheese as you eat them. They are bite size and very addicting (to us anyhow).
Next time, we're going to experiment adding some herbs to them just to see what that will do. If you happen to do this, please let us know how they turned out!
One of these days, I'll post about a recipe that ended badly, because yeah, we've got a lot of those, too.
Kali Orexi
Kenton and Jane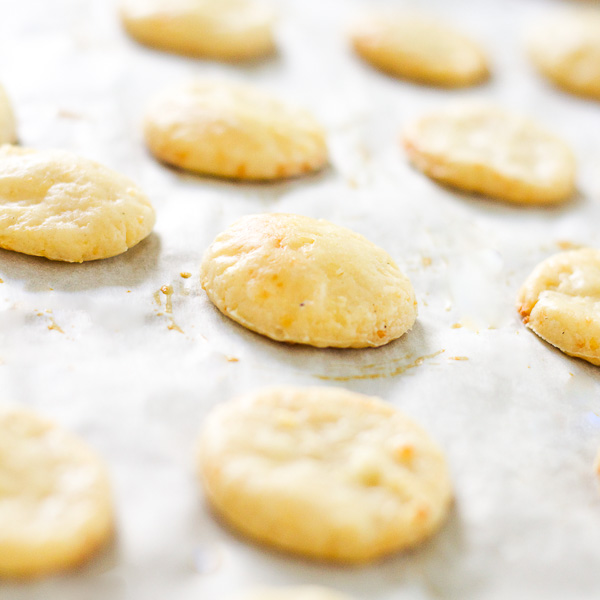 Feta Cheese Wafers
Ingredients
1/2 cup flour
1/2 stick butter, cut into 4 pieces, at room temperature
1/3 cup crumbled feta
1 egg
Salt and pepper
Shot glass
Instructions
Preheat oven to 375F
Add flour, butter, feta, salt and pepper, in food processor, blend until crumbled.
Empty mixture into bowl.
Press and combine into ball.
Sprinkle some flour on work surface and rolling pin.
Roll dough out to thin sheet.
Press shot glass down to create wafers, creating as many as you can.
Remove them and place on baking sheet lined with parchment paper.
Gather up remaining dough, mold into ball, and roll out again, repeat steps above until all dough is used.*
Break egg into bowl and add a little water - this creates an egg wash.
Brush over each feta cheese wafer.
Place in oven and bake for 10-12 minutes, or until golden brown.
Remove and enjoy!
Notes
*Make sure to keep surface and rolling pin well floured to avoid sticking.
**Makes about 35 cheese wafers depending on size of shot glass or whatever you use.
Nutrition Information:
Yield:

7
Serving Size:

1 grams
Amount Per Serving:
Unsaturated Fat:

0g