This post is sponsored by Benbellabooks & It's all Greek To Me
Hello everyone, I'm really excited to share with you a new Greek cookbook written by the talented, Debbie Matenopoulos.
Her team reached out to Jane and I with work of her new book, "It's All Greek to Me: Transform Your Health the Mediterranean Way with My Family's Century-Old Recipes." We knew of her from TV and knew she talked a lot about Greek cuisine and the Mediterranean diet, so we were eager to check out her first cookbook.
She is actually an inspiration for Jane and I, as we would love to one day write a cookbook ourselves. Her mission is similar to ours: spreading Greek cuisine to every corner of the world. Therefore, when asked to participate in her #FALLFORGREEK blog tour, we were honored to help out.
They sent us a copy of the book, and Jane and I immediately combed through it. It's a lovely hardcover book, full of images of her, Greece, and of course food. Debbie acts as your personal guide through Greek food, highlighting the importance of a well balanced diet and how to eat like a Greek.
We were curious not only to her process of putting the book together, but also what she hoped us amature cooks and our readers would take away, so we reached out and asked her, and this was her response:
What was your favorite part about putting this book together?
My favorite part about putting this cookbook together was gathering all of the recipes from my family and translating them into English. There is so much history in these recipes. It was very nostalgic. My mother gave me my grandmother's hand written recipe books that were written in Greek along with her own. There were pages that were coming out that were obviously worn by the years of being referenced time and time again. I felt as if I was holding our most valuable family heirlooms in my hands. I feel very honored that my entire family was willing to share their treasured recipes with me and allow me to share them with the world.
What message would you like to resonate with your readers/home cooks?
I would like the readers of this blog and the home cooks to not only enjoy the amazing flavors of the Mediterranean cuisine of my ancestors, but also the immeasurable health benefits. And, I'd like them to enjoy this food with their family and loved ones, because after all, food is more than just food to Greeks. To Greeks, food represents love and family. So here's to you enjoying the deliciousness of this cookbook with your family!!
Recipe + Giveaway
Mrs. Matenopoulos was kind enough to allow us to publish a recipe from her new book. It's something we'd never had before and is thus a new addition to our blog.
May we introduce you to her, "Paksimathia" or the Greek Biscotti. Yes it's the Greek version of the Italian cookie.

Greek Biscotti
Greece's version of the Italian biscotti
Ingredients
1 cup vegetable oil
3/4 cup granulated sugar
4 large eggs
1/2 teaspoon pure vanilla extract
31/2 cups flour
11/2 teaspoons baking powder
1/2 teaspoon baking soda
1/4 teaspoon sea salt
3/4 cups finely chopped raw unsalted almonds, a high-performance blender or food processor works well
Instructions
Preheat oven to 350 degrees. Line 2 large cookie sheets with unbleached parchment paper.
In the bowl of an electric mixer fitted with the paddle attachment, beat together the oil and sugar on medium-high speed until light and fluffy, about 2 to 3 minutes. With the motor running, add the eggs, 1 at a time, allowing each to be incorporated before adding the next. Then add the vanilla and mix until just combined.
In another large mixing bowl, whisk together the flour, baking powder, baking soda, and salt. With the motor of the electric mixer running on low, slowly add the dry mixture to the wet mixture one-third at a time, pausing after each addition. Mix just until the dough no longer sticks to the sides of the bowl, being careful not to over-mix, or your cookies will be tough. Remove the bowl from the mixer and work the almonds into the dough by hand.
Very lightly oil a marble baking slab or a large plastic cutting board as well as your hands, and lightly oil a large serving spoon to use as a measure. Scoop out a heaping portion of the dough with the oiled serving spoon and shape into the form of a long pretzel roll or a small baguette, about 9 inches long. Continue with the remaining dough. You should end up with 5 (9 × 3-inch) logs of dough. Keep some paper towels nearby in case your hands or the surface gets too greasy. Transfer the dough logs to the prepared cookie sheets, taking care not to place them too close together, as they will expand in the oven.
Transfer to preheated oven and bake for 20 to 25 minutes, until lightly browned. Remove from oven, cool for a few minutes until cool enough to handle, and, using a serrated knife, cut each log into 3/4-inch slices on a slight diagonal angle. Lay the slices cut side down on the same baking sheets, and return them to the oven to crisp up for another 15 to 20 minutes, or until golden. Paksimathia will keep in an airtight container at room temperature for up to 1 week.
Notes
Yield: How many biscotti cookies are made.
Nutrition Information:
Yield:

60
Serving Size:

1 grams
Amount Per Serving:
Unsaturated Fat:

0g
Now onto our favorite part –
The Giveaway!!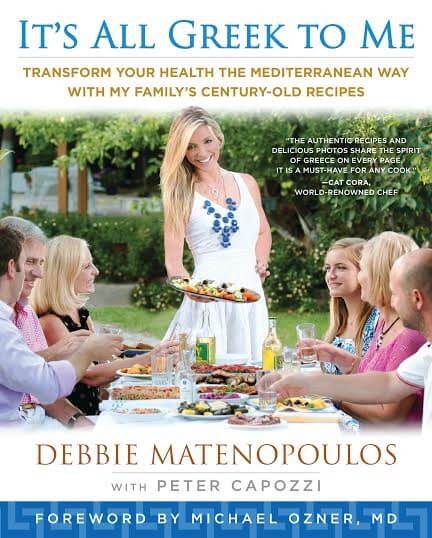 Debbie Matenopoulos is giving away one (1) FREE copy of her new cookbook to our Lemon & Olives readers. We think you'll enjoy this addition to your collection. All you have to do is enter email below., as that's how you'll be notified (you can easily unsubscribe after if you'd like). The winner will be chosen at random and must reside in the USA or Canada. There are multiple things you can do to gain MORE entries, so check it out!
a Rafflecopter giveaway