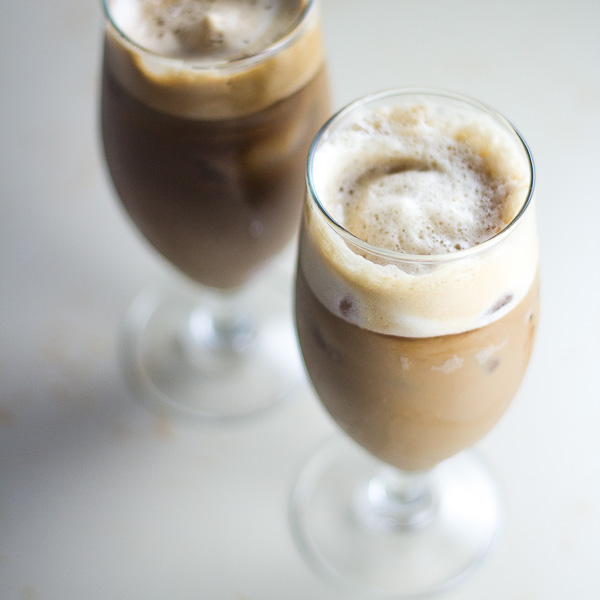 Ah, the Greek frappé (φραπές) – the unofficial summertime national drink of Greece. It's so simple, yet so delicious. Thank you Dimitris Vakondios for your fateful invention in 1957.
This past weekend Jane and I attended a local Greek festival with some friends. We love to go to these events. I mean, it's full Greekness operating at 100%. There's Greek pop and traditional folk music, people dancing the Hasapiko (χασάπικο), and among other things, the food.
There's gyros (Γύρος) (pronounced YEE-ros), Loukoumades (λουκουμαδες), Pastitsio (Παστίτσιο), and Souvlaki (Σουβλάκι). Of course, they also have Ouzo (Ούζο), Greek beer (yay for Fix lager), Greek (turkish) coffee, and today's recipe – frappé!
Overall, it's a pretty fun time for us. I mean, we tend to go to about 4 or more a year and we love every minute of them. We also really like going with friends, so we can maybe shed some light on things and make the experience a bit better (we hope!).
This recent trip, our group had never heard of a frappé. It then struck Jane and I that while this is a common drink we know about and have had before, there may be others out there missing out on this amazing Greek iced coffee.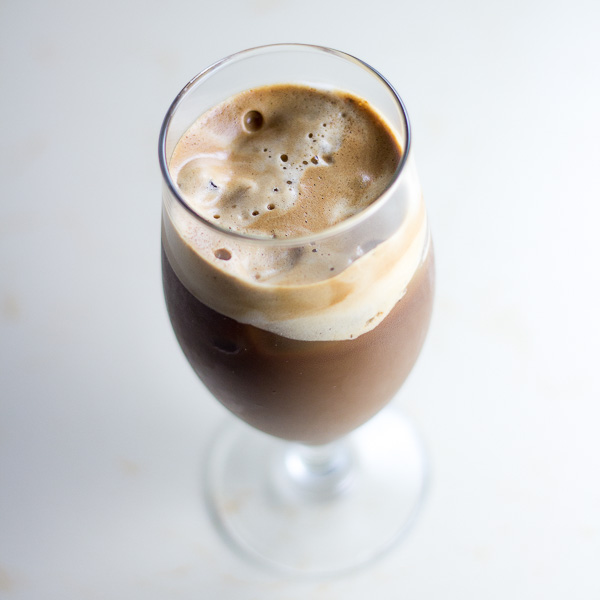 THE GREEK FRAPPÉ
What exactly is this Greek concoction? Well, the Greek frappé is kind of like those iced coffees you'd expect to get at a coffee shop. However, it's a bit different and made with a specific Greek instant coffee from Nescafé. It was first made in Thessaloniki (northern Greece), but now it's served all throughout the country. As a matter of fact, if you've ever visited Greece in the summer, chances are you've either seen or had a frappé.
At its core, it's simply Nescafé instant coffee and water. Both sugar and milk are optional and to your preference; however, you might find that most people enjoy their frappé with some milk and sugar (we do).
The coffee and a little water is shaken in a container until a nice froth forms. This is poured into a glass with ice. It's topped with water and served. Nowadays, you may see people using hand mixers to make them, but at the end of the day, it's all to get that initial coffee foam.
If you've never had one, you're in for a treat. They are delicious and one of our favorite summertime drinks.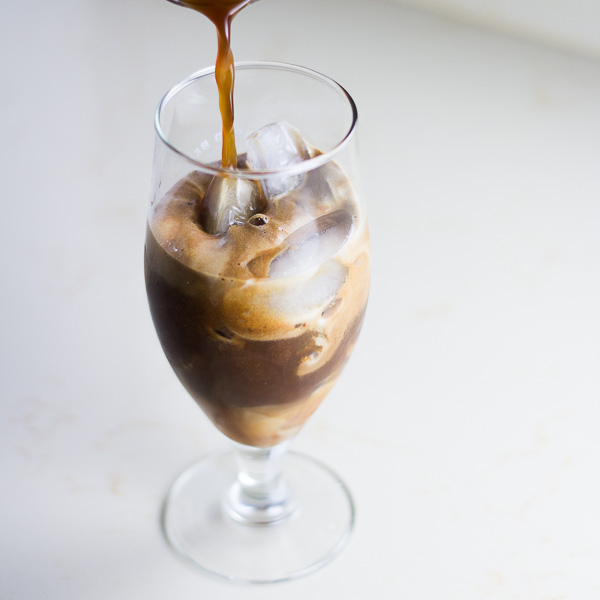 How Sweet Do You Want Your Frappé?
If you do like some sugar, it's important to know how much and what to get. Here is the sugar breakdown for Greek frappés:
Sketos (skeh-tohss) (Σκετος): Unsweetened and therefore no sugar.
Metrios (meht-re-ohss) (Μετριος): Medium-sweet coffee – 1 teaspoon of sugar (our favorite).
Glykos (ghlee-kohss) (Γλυκος): Sweet coffee – 2 or more teaspoons of sugar.
Can I use any Nescafé instant coffee?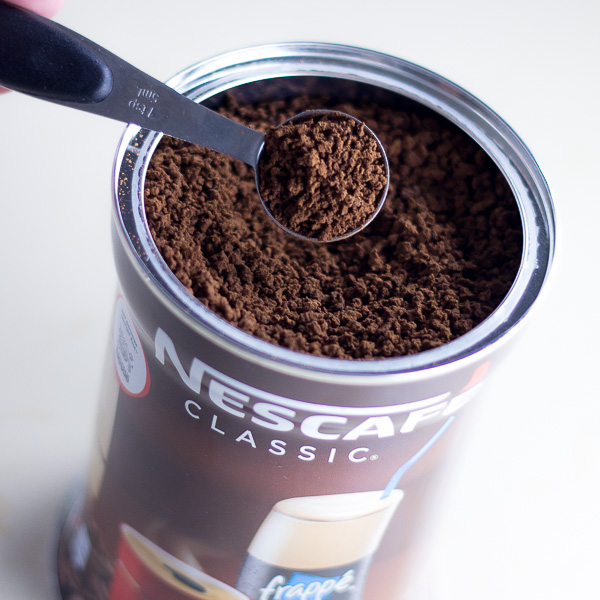 Honestly, the Nescafé that is sold in Greece is different (and stronger) than the ones sold inside of the U.S or elsewhere. It is different and while you can use one from your local store, it won't taste 100% like what you remembered having in Greece.
There is good news however, you can buy Greek Nescafé online from Amazon. Check it out here: Greek Nescafé. This is the exact one we get. Also, we have this shaker from Nescafé as well: Frappé Shaker. You don't need that, you'll just need a jar/container with a lid so you can shake the coffee mixture.
Now that you have the background on the frappé, it's time to enjoy the creamy, velvety, and delicious Greek frappé anytime. Seriously, if you like iced coffee, you need to try this!
PS. If you'd like to warm up, check out how to make Greek coffee.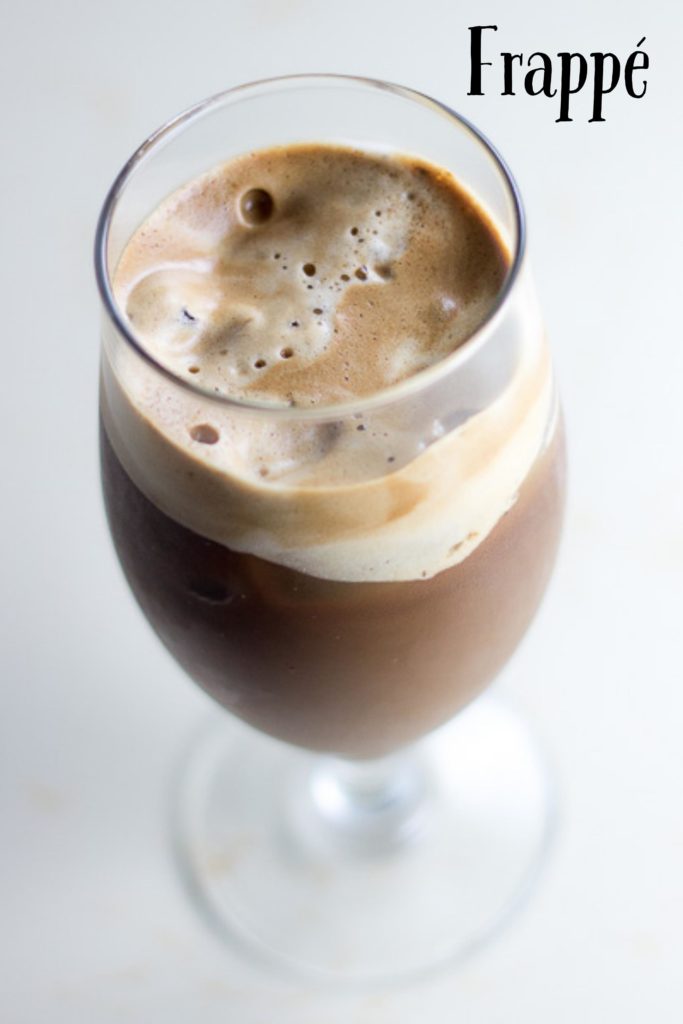 Greek Frappe
The delicious summertime drink of Greece - the Greek frappé. Made with Nescafé instant coffee and water. Milk and sugar optional.
Ingredients
--This recipe makes 1 metrios frappé--*
2 teaspoons Nescafé instant coffee
1 teaspoon sugar
1 tablespoon water, plus extra for filling glass
Splash of milk
Instructions
Add instant coffee, sugar, and 1 tablespoon water to a container.
Seal and shake vigorously for 20-30 seconds or until a nice foam develops.
Pour foam into a glass with ice.
Add some water to container, tighten lid, shake a few times to gather rest of coffee.
Empty into glass with coffee foam.
Add a splash of milk and fill rest of glass with water, mix.
Enjoy!
Notes
*As we mentioned above, it's best to use Greek Nescafé instant coffee. Both the amount of sugar and milk is optional, so make it according to how you like it. See the "How Sweet Do You Want Your Frappé" section above for sugar ratio. Lastly, you may need to make it once or twice to find your perfect mixing ratios, but once you do - you'll want one every day.
Nutrition Information:
Yield:

1
Serving Size:

1 grams
Amount Per Serving:
Unsaturated Fat:

0g