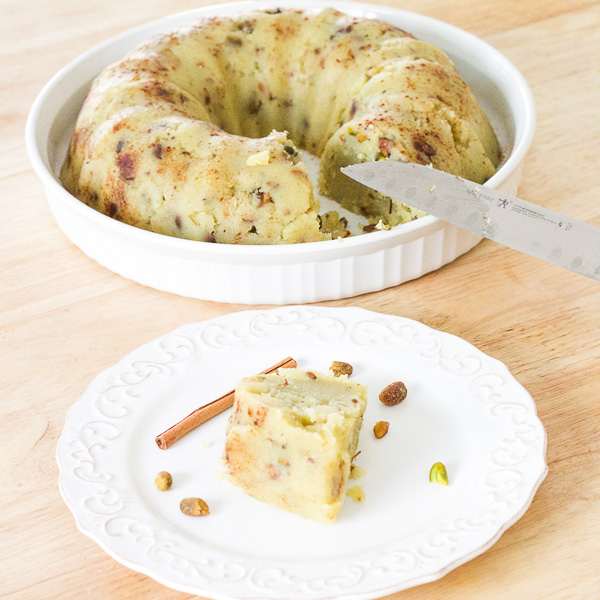 It's been an interesting week for us thus far. Jane and I have been talking a lot about the website, new ventures, and things we'd like to see happen. More than our normal talks, we've began to set dates and timelines. Because as they say, "a goal without a timeline is simply a dream."
We're really excited for what's ahead. We think you'll like it. So stay tuned :)
On an unrelated note, as you probably know by now, actor Robin Williams has passed away. Jane and I were both stunned. In a way we both grew up with him. Mrs. Doubtfire remains a childhood classic. Ask Jane, she can quote every line from that movie. It truly is a sad time for his family and fans. I remember when I found out, I sat in complete silence for a minute or so. It is terrible how it ended. Depression is a serious emotion, and one that often can't be stopped with pills, the go to now-a-days.
RIP Robin Williams. Both Jane and I wish someone could have helped you carry your burden. Personal demons should not be allowed to silence talent. We will not remember you for how you left, but what you did while you where here.
Okay, let's sweeten this post up now – may we introduce our new Greek dessert recipe: Halva (χαλβάς)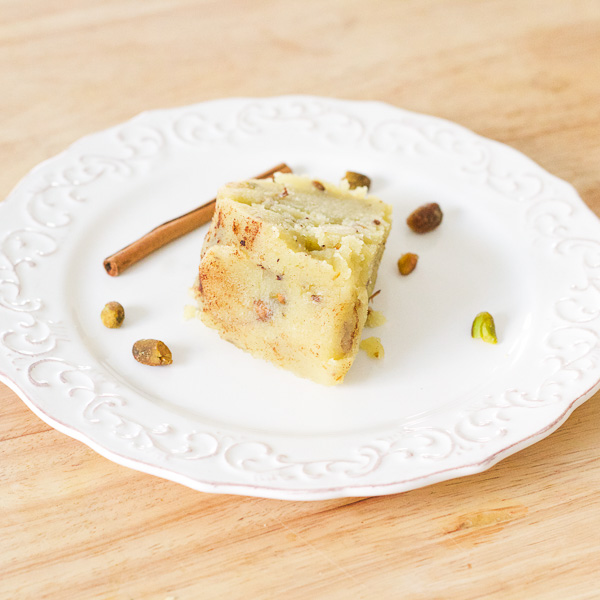 Halva is made all over the place. You can find a similar version of this from Greece to India and everywhere in between. Some countries make it using tahini (ground sesame seeds), and others using semolina. We use the latter, as that is how it's mostly prepared in Greece.
For those of you unfamiliar with halva, it may be one of the easiest desserts around, and one that is interesting to make.
You basically make the syrup and the semolina separate, pour the syrup in, mix it, and add it into a bundt or cake pan, and let it cool. Then serve. Yes, I know what you're thinking. Seriously, you don't put it in the oven? Nope, just spoon the hot flour mixture into a pan, let it cool, and you're good to go. Interesting I know.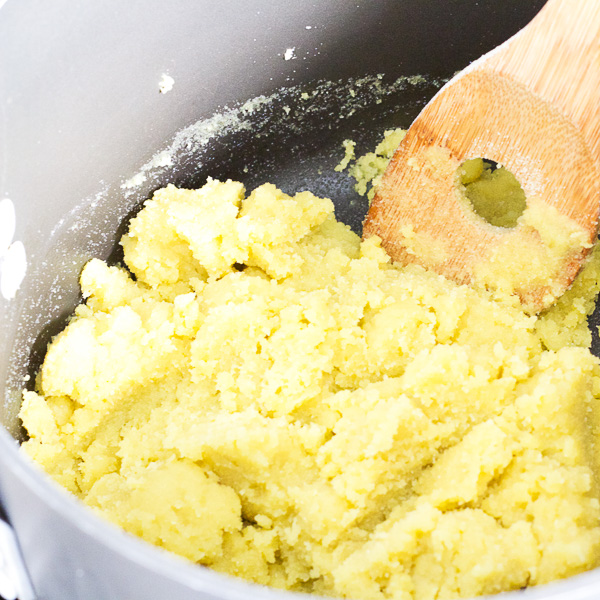 Every time Jane and I visit Greece, or a Mediterranean store (it's a bit cheaper to go there more often), we get some Halva. They have all different kinds full of all types of nuts, but the ones we've listed below our are favorites. So keep that in mind when you're making it – yes, you can use whichever nuts you prefer.
We personally think that you're either going to love halva or not care for it. The reason for this is the texture/consistency of the dessert. It is a crumbly sweet flour mixed with nuts dessert. There is no way around it. It is perfect for lent however to satisfy a sweet tooth, since it doesn't contain eggs; which is why you'll see it around a lot during this time in Greece.
The Original Greek Halva Recipe
I feel like the following has been around for hundreds of years. Growing up, I was taught the traditional halva making method of 1,2,3,4 (Greek readers will recognize this I'm sure). It means: 1 cup olive oil, 2 cups semolina, three cups sugar, and 4 cups water.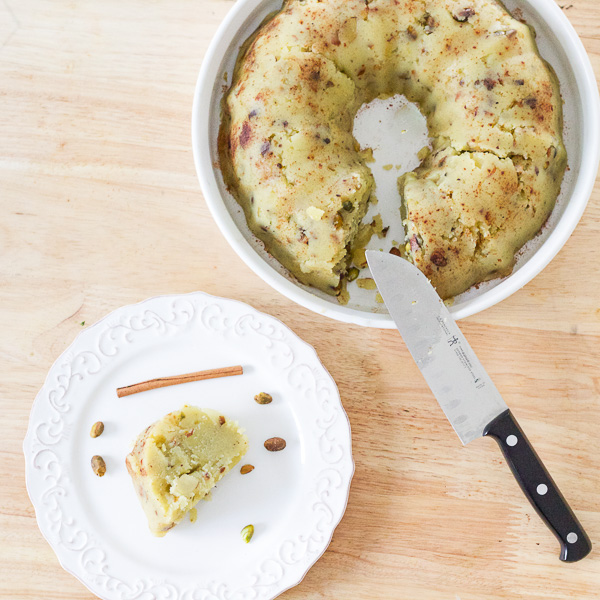 I've had it this way, and it's good. As a matter of fact, if you've had this in Greece, the chances are good you've had it this way, too. However, I love having halva with coffee so a tamer version is preferred. Also, Jane isn't a fan of things overly sweet, so we make some adjustments when we make it, as you'll see below. However, if you make it and desire more of a sweetness or know you'll want it sweeter, then by all means go back to the original method. The directions would be the same, only quantity of ingredients would change.
We hope you enjoy this halva recipe! Whether you're looking for a lent friendly dish or a simple Greek dessert, there is always a good time for some Halva.
See you soon (θα τα πουμε συντομα -Tha ta poume syndoma)
Kenton & Jane
PS. When serving, be careful as it can fall apart/break easily.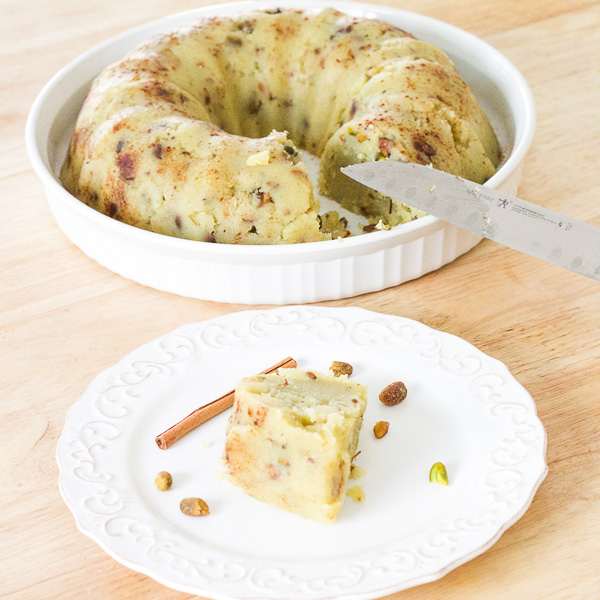 Greek Halva | Pistachio and Almond Halva
Semolina based halva. A classic Greek dessert
Ingredients
1 cup Greek olive oil
2 cups fine semolina flour
3/4 cup pistachios, chopped
1/2 cup almond slivers
Ground cinnamon for topping
-Syrup-
2 cups sugar
3 cups water
2 cinnamon sticks
1-2 lemon peels
1 tablespoon Greek honey
Instructions
Combine all ingredients listed under syrup in pan and bring to boil. Mix well and simmer for 10 minutes. Sugar will dissolve and you'll be left with a clear liquid.
Once 10 minutes have passed turn off heat and set aside.
In a soup pot add olive oil and semolina.
Cook for about 7-10 minutes, until a nice golden color is achieved, stir continuously during entire cooking time.
Once the semolina has a nice golden color, remove from heat.
Remove cinnamon sticks and lemon peels from syrup.
Pour syrup into pot with flour, be careful as it may splatter, and steam up.
Add in chopped nuts.
Stir continuously for 1 to 2 minutes, until everything is well incorporated.
Line bundt pan (or other cake pan) with olive oil, and sprinkle with ground cinnamon.
Spoon in semolina batter and spread evenly.
Let cool at room temperature for about 1-2 hours.
When ready, flip bundt pan over, sprinkle with more ground cinnamon.
Serve!
Notes
**Please read section above called "The Original Greek Halva Recipe" if you like things sweet.
--Serving is based off estimated slices
Nutrition Information:
Yield:

10
Serving Size:

1 grams
Amount Per Serving:
Unsaturated Fat:

0g