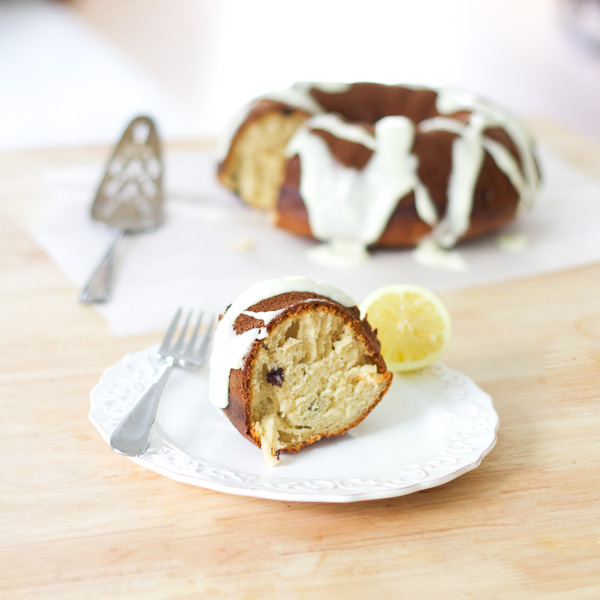 In case you didn't know, today is, "National Junk Food Day." It's that one day a year where we should set aside to indulge in sweets, desserts, cookies, cakes, etc., because obviously we don't eat any of that stuff the other 364 days a year.
So from both Jane and I, happy national junk food day! Please accept this as our contribution to this event
If any of you are interested, there are a ton of other food days (175+), at least here in the USA. Almost every day is something new, and each month has it's own celebration. You can check them out here: food holidays.
The idea for this recipe started when Jane and I wanted to make a dessert for the blog. We'd made a bundt cake before, (see hazelnut cake or fanouropita) but wanted to do something different. As with all of our "Greek Inspired" recipes, we attempt to capture the essence of Greek cuisine and transform them into new and exciting dishes. We focus on flavor/flavor profiles that tie the foods of Greece together.
This recipe focused on two things: greek yogurt and lemon.
With the growing popularity of greek yogurt, many people have been looking for ways to bake with it, and we often get emails from people asking how they can incorporate it into different foods. One of the nice things about cooking with greek yogurt is the fact that it's a low calorie high protein food. We're not food experts, so we're not sure if anything is lost during the cooking process, but it does make cookies and cakes nice and fluffy.
Lemons on the other hand are a staple in Greece. It's the one item that is not only used in cooking, but served alongside dishes more than any other. It's also why it's in our name, the other, olives, is arguably the second – from whole to oils, it's the liquid that binds Greece together. When I was little, I thought all food was made using lemon, because everything I had at home was served with it. I would even add it to my food when out or at a friends house, something I do to this day. What's nice is Jane has a deep appreciation for lemons as well, so you'll always find bags of them in our kitchen.
Therefore, creating a greek yogurt lemon cake seemed like a natural mix.
Jane was against adding the chocolate chips, as she's a 100% or nothing kind of girl. By that I mean it's either got to be chocolate icing on chocolate cake, or no chocolate at all. Me on the other hand, I'll eat chocolate in anything.
In the end, I talked her in to adding it and the results matched our personalities. I loved it and she thought it was better sans the chocolate chips. Luckily, it's an easy fix – either add it or don't. It's up to you. Whatever you prefer, make sure to make it the way you'd like it.
Overall, we both loved it. Despite it being a lemon cake with lemon glaze, it wasn't overpowering. With that said, we'd recommend that you actually like lemons prior to making this.
Give it a try and let us know what you think!
θα τα πουμε συντομα (Tha ta poume sindtoma)
See you Soon!
Kenton & Jane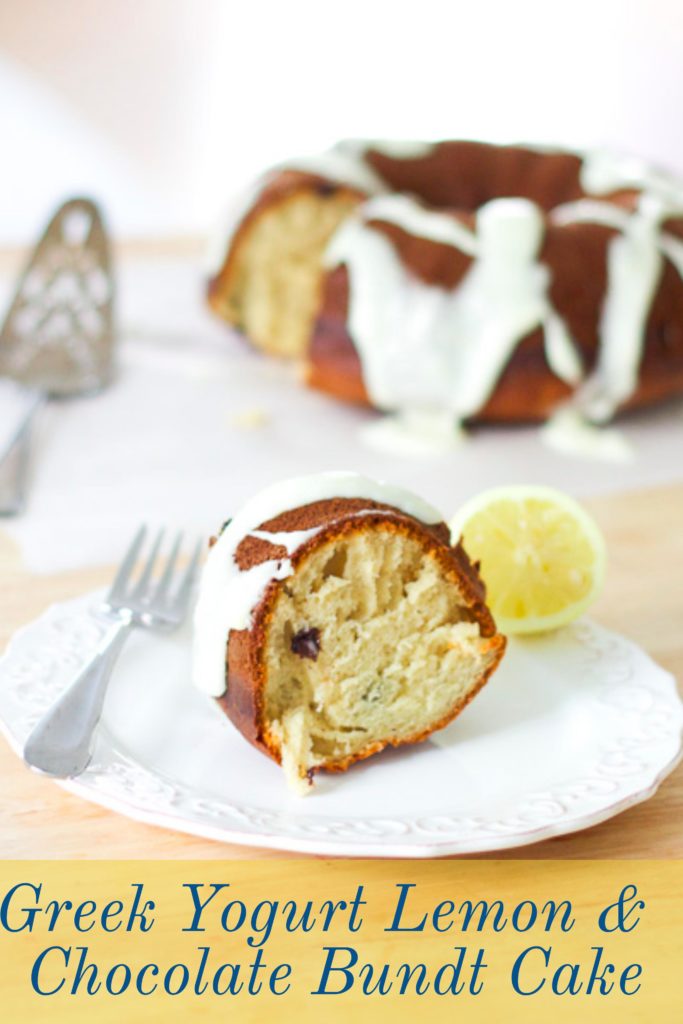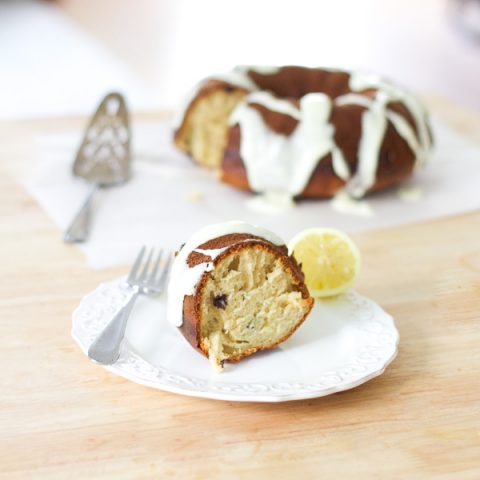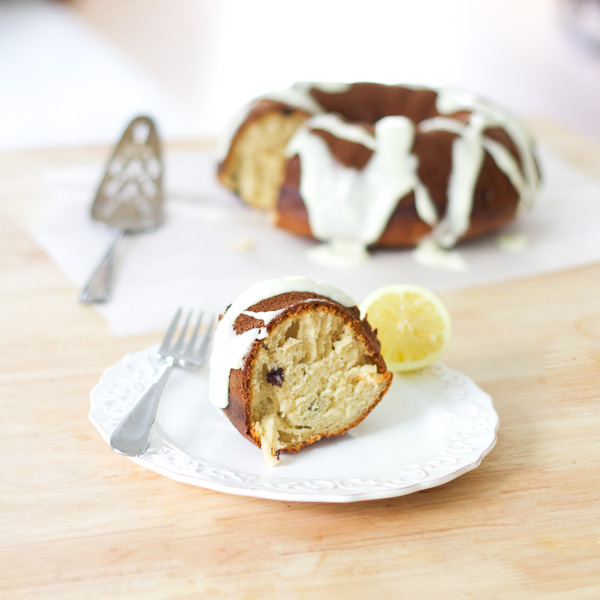 Greek Yogurt Lemon & Chocolate Bundt Cake
Total Time:
1 hour
10 minutes
An easy and delicious bundt cake using greek yogurt and lemon.
Ingredients
-Cake-
2 cups flour
1 teaspoon baking powder
1 teaspoon baking soda
1/2 teaspoon Sea salt
1/2 cup room temperature butter, cut in squares
1 cup sugar
3 eggs
12 ounces Greek yogurt
2 tablespoons olive oil
Zest from 1 lemon
1 tablespoon lemon juice
1 1/2 teaspoons vanilla extract
1/2 cup chocolate chips, optional
-Lemon Glaze-
4 tablespoons butter
1/2 lemon zest
1 cup powdered/confectioner's sugar
1 tablespoon lemon juice, optional
Instructions
Add flour, baking powder, baking soda, and sea salt to bowl and mix well and set aside.
In large mixing bowl, whip butter for 3-5 minutes.
Once butter is creamed, pour in sugar and mix.
Next, add eggs, one and a time, mixing well.
Now add, Greek yogurt, olive oil, lemon zest, lemon juice, and vanilla extract.
While stirring, add in the flour mixture to the yogurt mixture in stages, making sure to blend the flour in well before adding more.
Once all ingredients are mixed and batter is formed, fold in chocolate chips if using.
Pour batter into a bundt pan that is coated with olive oil.
Place in preheated oven at 350F for 50-60 minutes, or until golden brown and toothpick comes out clean.
last 10 minutes of baking, make glaze
-Lemon Glaze-
Melt butter in bowl.
Add lemon zest and mix.
While mixing, add powdered sugar.
Mix until lose paste is formed. If too thick, add more melted butter.
Add lemon juice to taste.
Pour over caked when taken out of oven.
Let cake sit for 10 minutes to cool, then serve!
Nutrition Information:
Yield:

5
Serving Size:

1 grams
Amount Per Serving:
Unsaturated Fat:

0g
Recipe adapted from
Oikos
and glaze from
Betty Crocker