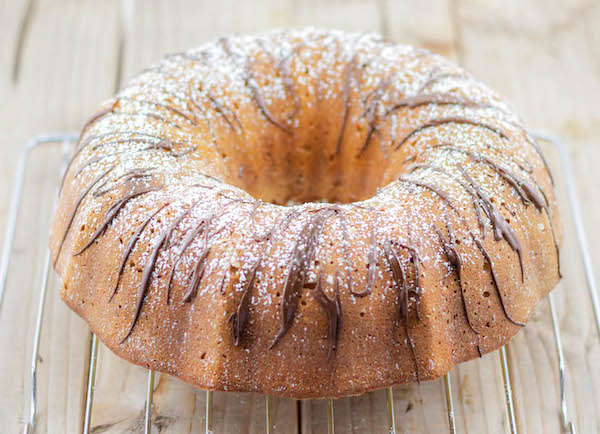 I owe my love for hazelnuts not to my Greek side, but to my Irish – my mom's side. My mom has been a huge hazelnut lover ever since I can remember. From candy to coffee flavoring, she's had a fondness for it. It makes sense then, that I do, too.
My most memorable experience of trying hazelnuts came in the form of something wonderful, something everyone knows and loves – Nutella! Since then, I've gone on to try other things, and this cake is a perfect example.
When I first went to Greece, I was delighted to see that the Greeks had an appreciation for hazelnuts that matched my own (they actually grow and export them). So rest assure, if you love them like I do, you'll be seeing many more recipes to come.
Jane and I baked this hazelnut cake out of a necessity. What I mean by that is when we decided what to cook, we think about what we want, what goes good with the season (both weather and what veggies are in season), and what would go good with our current culinary desires.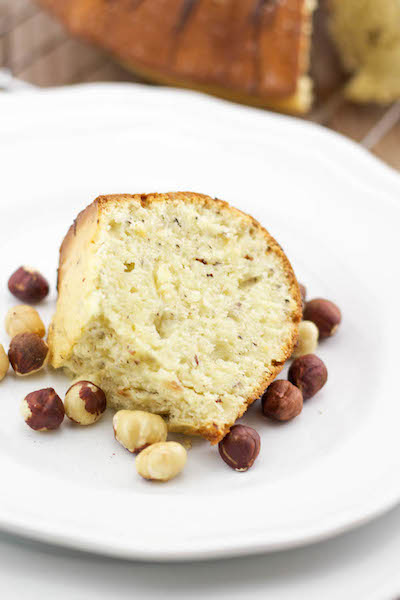 Weather played a major roll in this one. Now that fall is here for us, it's very cold here in southern California. Well, "cold" in the sense of 60 degrees – not Chicago or any other place that gets snow cold, but for us, we need to keep warm. 🙂
With that, we begin to consume large amounts of tea, especially Greek Mountain Tea, and you just need to have some type of bread, cake, or biscuit when you're having tea! We blame this requirement from our time living in England.
Therefore, we decided that a tea style cake had to be made and this recipe came to mind. We've found that this dish tends to be a little less moist than a traditional cake, and thus makes a perfect addition to your favorite cup of tea (even if you're not in to tea, it's still delicious).
Of course since I love sweets, I talked Jane into drizzling some chocolate over the cake once it was done. I'm glad she was on board, because it brought it to a whole new level.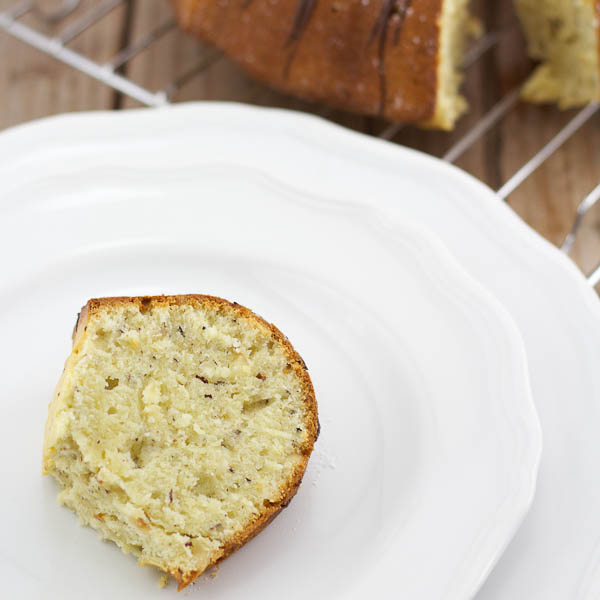 The idea behind this recipe was simple–we started with creating a simple batter (flour, water, eggs, ) and began adding things we thought would go well with the hazelnuts. It turned out to be pretty awesome. We took the leftovers to work, because we would have ate the whole thing otherwise.
So, what are you waiting for? Get out your favorite hot beverage and pair it with a slice of this hazelnut cake now!
As always, let us now what you think!
Kali Orexi (Bon Appétit),
– Kenton

Greek Hazelnut Cake
Total Time:
1 hour
5 minutes
A delicious hazelnut cake with chocolate.
Ingredients
3 cups flour
2 cups sugar
1 cup soften butter
2.5 teaspoons vanilla extract
2/3 cup milk
1 cup hazelnuts, ground
4 large eggs
1/4 cup powdered sugar
1/2 cup melted chocolate.
Instructions
Place 1 cup butter in microwave safe dish for 20 seconds to soften.
Combine butter, flour, sugar, vanilla, milk, and eggs - mix until well blended and a batter is formed.
Place hazelnuts in food processor and pulsate to ground, remove and add to flour mixture - mix well.
Pour mixture into greased bundt cake pan.
Bake for 45 min in preheated oven at 350F.*
Remove and let sit for 10 minutes.
Flip cake out of bundt pan and onto plate.
Sprinkle powdered sugar over cake.
Melt 1/2 cup chocolate and drizzle over cake.
Slice and serve!
Notes
Makes one 10 inch bundt cake.
*insert a toothpick into the cake and remove - it's done when nothing is on the toothpick.
Nutrition Information:
Yield:

6
Serving Size:

1 grams
Amount Per Serving:
Unsaturated Fat:

0g